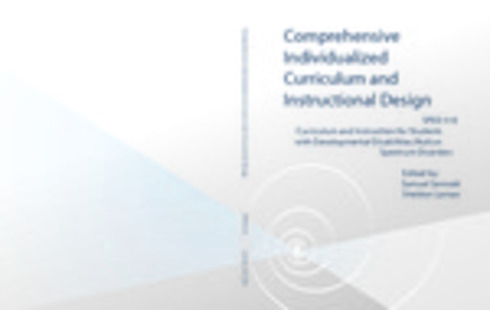 Comprehensive Individualized Curriculum and Instructional Design: Curriculum and Instruction for Students with Developmental Disabilities/Autism Spectrum Disorders
Samuel Sennott, Portland State University
Sheldon Loman, Portland State University
Copyright Year: 2015
ISBN 13: 9781312886872
Publisher: Portland State University Library
Language: English
Table of Contents
Chapter 1: Guiding Principles for Developing Comprehensive and Meaningful Instruction for Individuals with Complex Needs
Chapter 2: Naturalistic AAC Communication Intervention
Chapter 3: Principles of Applied Behavior Analysis to Teach
Chapter 4: Developing Function-based Interventions
Chapter 5: iOS 8 Accessibility
Chapter 6: Using Content Acquisition Podcasts (CAPs) to Improve Vocabulary Instruction and Learning for Students with Disabilities and Their Teachers
About the Book
This open textbook addresses the population of individuals with disabilities that experience complex lifelong needs across multiple areas in their lives. Drs. Sennott and Loman drafted this book (along with the help from some friends) with the hope of providing pertinent, practical, and current resources to future special educators who plan to serve individuals with complex disabilities.
About the Contributors
Authors
Samuel Sennott, PhD, is an assistant professor of special education. He completed his doctorate at The Pennsylvania State University and is the co-creator of the original Proloquo2Go, the popular iOS application that helps people who have difficulty speaking due to a range of disabilities such as autism, Down syndrome, cerebral palsy, and other disabilities. Proloquo2Go has been featured on the front page of the NY Times, by ABC News, and on 60 Minutes. Dr. Sennott's clinical, research and development, and advocacy work focuses on assistive technology, augmentative and alternative communication (AAC), language and literacy, and universal design.
Sheldon Loman, PhD, is an assistant professor of special education. Dr. Loman received his PhD in special education from the University of Oregon, with the focus of his work on instructional practices for people with severe disabilities, educational systems change, and positive behavioral interventions and supports. He has a bachelor's degree in psychology from the University of Hawaii and a master's degree in special education with an emphasis on moderate/severe disabilities from San Francisco State University. His interest areas are inclusive education, instructional practices for individuals with significant disabilities, Functional Behavioral Assessment (FBA), Assistive Technology (AT) and Augmentative and Alternative Communication (AAC), and educational systems change.