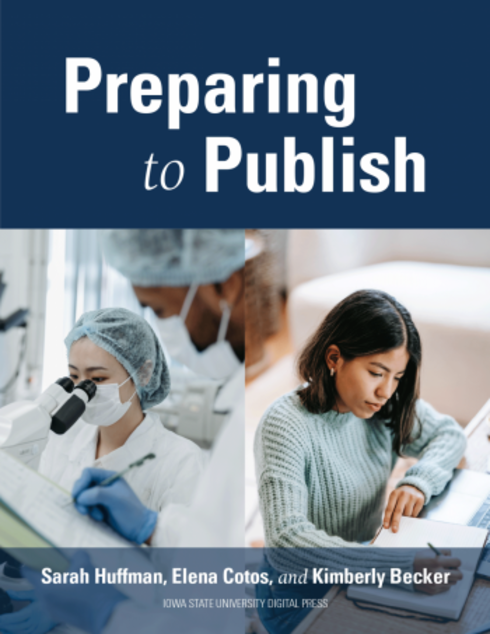 Preparing to Publish
No ratings
Sarah Huffman, Iowa State University
Elena Cotos, Iowa State University
Kimberly Becker, Iowa State University
Copyright Year: 2023
Publisher: Iowa State University
Language: English
Table of Contents
Introduction
Chapter 1

What is a Scientific Argument?
How to Use this E-book
Note to Students
Note to Instructors

Chapter 2

Conceptualizing the Research Article
The Sections of a Research Article
What is Research?
What is a Genre?
Exploring the Anatomy of a Research Article
Chapter 2 Synopsis: The Organization of a Research Article

Chapter 3: Writing the Introduction Section

Conceptualizing the Research Article
Goals of an Effective Introduction Section
Introduction Goal 1: Establishing a Knowledge Territory
Introduction Goal 2: Identifying a Niche
Introduction Goal 3: Addressing the Niche
Some Other Important Points about Introductions
Chapter 3 Synopsis: Writing Introductions

Chapter 4: Writing the Methods Section

Conceptualizing the Research Article
Goals of an Effective Methods Section
Methods Goal 1: Contextualize the Study's Methods
Methods Goal 2: Describe the Study
Methods Goal 3: Analyzing the Data
Chapter 4 Synopsis: Writing Methods Sections

Chapter 5: Writing the Results Section

Conceptualizing the Research Article: Review
Goals of an Effective Results Section
Results Goal 1: Approaching the Niche
Results Goal 2: Occupying the Niche
Results Goal 3: Construing the Niche
Results Goal 4: Expanding the Niche
Chapter 5 Synopsis: Writing Results Sections

Chapter 6: Discussion/Conclusion Section(s)

Conceptualizing the Research Article
Goals of an Effective Discussion/Conclusion Section
Discussion/Conclusion Goal 1: Re-establishing the Territory
Discussion/Conclusion Goal 2: Framing Principal Findings
Discussion/Conclusion Goal 3: Reshaping the Territory
Discussion/Conclusion Goal 4: Establishing Additional Territory
Chapter 6 Synopsis: Writing the Discussion/Conclusion

Chapter 7: Writing Abstracts

Defining Abstracts
Goals of an Abstract
Formal Features of Abstracts: Length, Word Choice, and Grammar
Chapter 7 Synopsis: Writing the Abstract

About the Contributors
About the Book
This book offers a wealth of instructional material on the topic of research article writing for publication and thesis or dissertation completion. The text provides graduate student writers with helpful information, strategies, and tips on navigating disciplinary writing in their fields and how to understand, dissect, and ultimately, construct their own research article. The text is organized according to a standard research article format, breaking down each section of the empirical research in a simple and straightforward manner to help graduate students build a quality, argument-driven manuscript as they write up their empirical study findings.
About the Contributors
Authors
Sarah Huffman, PhD, is the Assistant Director of the Graduate College's Center for Communication Excellence at Iowa State University. Her research interests include genre analysis and academic writing instruction, best practices for training graduate student writing tutors, and systemic functional linguistic approaches to language development. Dr. Huffman teaches graduate-level courses in advanced academic communication and research writing and science communication.
Elena Cotos, PhD, is an Associate Professor in the Applied Linguistics Program and in the interdisciplinary Human Computer Interaction Program at Iowa State University. She is also the Director of the Center for Communication Excellence of the Graduate College. Additionally, she serves as the Book Review Editor for the English for Specific Purposes journal. Her research agenda bridges corpus-based genre analysis, genre-based automated writing evaluation, writing pedagogy, and computer-assisted language learning and assessment – all converging to address language teaching and learning needs.
Kimberly Becker, PhD, is a Communication Consultant for the Center for Communication Excellence at Iowa State University. Her research interests include disciplinary academic writing and corpus linguistics. Dr. Becker leads webinars and workshops related to academic communication development and supports postdoctoral scholars through one-on-one consultations.