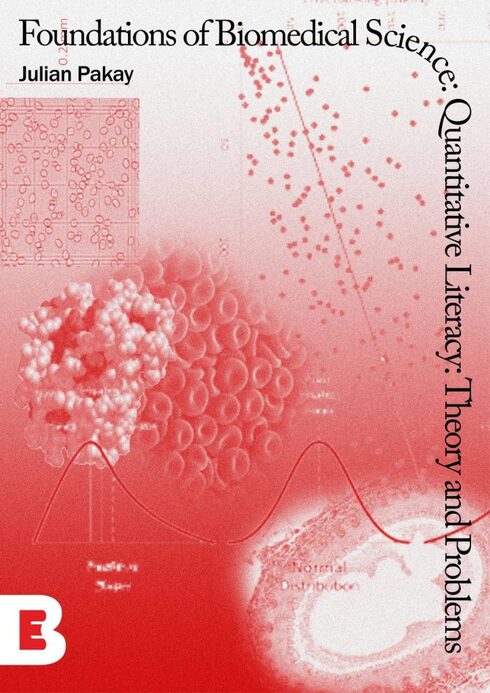 Foundations of Biomedical Science: Quantitative Literacy: Theory and Problems
No ratings
Julian Pakay
Copyright Year: 2023
ISBN 13: 9780648468189
Publisher: La Trobe eBureau
Language: English
Table of Contents
Acknowledgement of Country

Accessibility Information

Main Body

1. Introduction to quantitative literacy
2. Measurement uncertainty and significant figures
3. Estimation (sanity checking)
4. Biological scale
5. Scientific notation and SI units
6. Blood composition
7. Solutions and concentrations
8. Dilutions
9. Medical diagnostics – Measurement, uncertainty and distributions
10. Medical diagnostics – Sensitivity and specificity
11. Correlation, causation and confounding variables
12. Growth and decay – Exponents and logarithms
13. Further reading and bibliography

Appendix: Answers to problems
Versioning History
Review Statement
About the Book
Foundations of Biomedical Science: Quantitative Literacy Theory and Problems is designed to help students develop the fundamental mathematical and quantitative literacy required to navigate and interpret evidence-based Biomedical data. This will provide students with the skills and confidence to habitually question any quantitative data they come across and to use these skills to make informed judgements regarding their veracity.
About the Contributors
Author
Julian Pakay is currently a senior lecturer in the Department of Biochemistry and Chemistry at La Trobe University, Melbourne, Australia.
Following his passion for biology, Julian completed his undergraduate studies and PhD in Biochemistry at the University of Western Australia where he investigated how some animals can control "metabolic time" and survive on stored fuels for extended periods. He continued in research at the Dunn Human Nutrition Unit in Cambridge, Geneva University, and Melbourne University working in diverse fields including bioenergetics, gene regulation and cellular signalling. He is now an education-focused academic, teaching biochemistry at all year levels from first year through to Masters. From his time in research Julian has seen how technological innovation has transformed biology into a more quantita- tive and predictive discipline. One of his major teaching goals is to help students attain proficiency in mathematics and quantitative literacy to help them navigate modern biology.