Estimated reading time for this article: 2 minutes.


The Open Education Network (OEN) congratulates Amanda Larson, Affordable Learning Instructional Consultant at The Ohio State University, recently selected for the OEN 2022-2023 Faculty Fellowship.


Amanda is a longstanding member of the OEN community, having served previously as Steering Committee member and currently as Co-Chair of the Pub101 Committee. She began her new role as Faculty Fellow in September developing our Open Pedagogy Action Pathway.



Faculty Learning Circles
Drawing from her extensive experience in faculty development, she will create and facilitate the OEN Faculty Learning Circle program, including OEN community-wide faculty learning circles focused on open pedagogical practices. She will also develop training for our members to run their own faculty learning circles.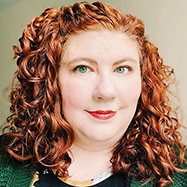 Amanda Larson, The Ohio State University

"A large portion of my work at Ohio State is focused on creating professional development experiences for my colleagues in the libraries and instructors at the institution," said Amanda. "This includes providing informational workshops on open pedagogy and searching strategies for open educational resources (OER). I honestly can't think of a time when my work in open education wasn't actually about open pedagogy and the way that using OER in a classroom transforms teaching and centers student learning."



Opportunities and Challenges
According to OEN Director of Educational Programming Tanya Grosz, open pedagogy can be a difficult concept for faculty to implement, especially without support. Questions arise regarding licensing issues, FERPA concerns, and publishing rights for co-created materials.


"The OEN Fellow will create a curriculum to equip members and help faculty walk through the opportunities and challenges inherent in open pedagogy," said Tanya. "Knowing that it's happening within a safe and supportive community where innovative practice blossoms, we will model both the structure and content of faculty learning circles around open pedagogical practices."



Centering Diversity
Amanda is quick to note that open pedagogy centers not only student learning, but also diversity in the classroom. "Open pedagogy opens the door for students to see themselves represented in academic settings in a way other pedagogies do not," she observed. "I think open itself has a lot of room to help with reparative justice."


Amanda's commitment to diversity permeates her work, including course designs for Kwantlen Polytechnic University (Supporting Open Education) and Ohio State University (Teaching with OER). This spring, she collaborated in redesigning Ohio State's Understanding the Global Information Society, integrating content into an open pedagogy course using Hypothes.is and Pressbooks.


"We have every confidence that Amanda Larson is the right person to build out OEN Faculty Learning Circles for open pedagogy," Tanya concludes. "We are excited about what is to come!"


_________________________



---
Share this post: