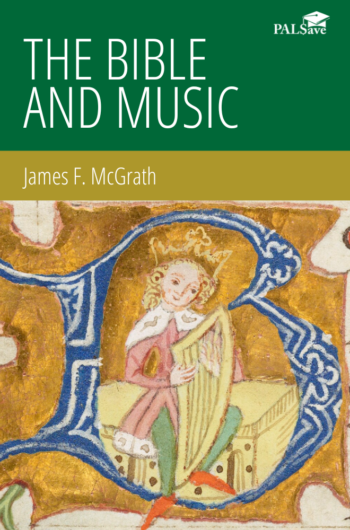 The Bible and Music
James F. McGrath, Indianapolis, IN
Copyright Year: 2023
ISBN 13: 9781956390155
Publisher: PALNI
Language: English
Reviews
Reviewed by Adrian Guiu, instructor, City Colleges of Chicago on 3/8/23
The author seems to have a very general knowledge of the subject; although he is a scholar of religion, it seems he is not a scholar of music; his approach to music is rather general and amateurish. He seems to rely on secondary sources a lot: the... read more
Reviewed by Adrian Guiu, instructor, City Colleges of Chicago on 3/8/23
Comprehensiveness rating: 3 see less
The author seems to have a very general knowledge of the subject; although he is a scholar of religion, it seems he is not a scholar of music; his approach to music is rather general and amateurish. He seems to rely on secondary sources a lot: the book does a good job of sending students to these.
It skips Eastern Christianity almost completely and overall it stays at a very general/superficial level.
There is no glossary or index provided.
Content Accuracy rating: 3
Yes the content is overall accurate and unbiased but I am not sure how informative is it given that it is so general and paints in such broad strokes.
Relevance/Longevity rating: 4
The content is relevant but it stays at a very superficial level: it offers generalizations and broad observations about the influence of the Bible in music.
I do not believe this is enough for a textbook.
The content is up to date and does connect to a variety of resources; in many ways this is what this book does best; it provides a plethora of resources in various formats.
Clarity rating: 4
The text is written lucidly and clearly; it is easy to follow but it does not go into too much depth.
Consistency rating: 3
The book is not very consistent, rather it appears more random: it seems the author collects his ideas and comments about the subject. Some of these are interesting but it is not enough for a text book.
A constant refrain of the book is 'this is complex and we cannot do it justice.' Thus the book stays at an overall superficial level.
Modularity rating: 5
The text provides very good modularity; it uses a variety of divisions in order to enhance organization and clarity.
Organization/Structure/Flow rating: 3
It is overall good with one proviso: it skips from early Christianity and Judaism to Protestantism; this hiatus is between chapters 3 and 4. This historical gap breaks the narrative; it will be hard for students to see the continuity.
Generally the organization seems a little random: e.g. part III, People and Genre: why not have separate chapters? As it is this part seems random and confusing. It talks about people and suddenly it goes into genres.
Interface rating: 4
The interface of the text is excellent; it makes very good use of technology and of graphic features to enhance the accessibility; it includes many hyperlinks [maybe too many].
Grammatical Errors rating: 5
The text contains no grammatical errors.
Cultural Relevance rating: 4
The text is not culturally insensitive...to the contrary! Nevertheless it is focused on Western religion; one wished a little more branching out and discussions of Eastern forms of Christianity or Christianity in other parts of the world.
Comments
To have a textbook connecting the study of the Bible and its influence is a great idea and this textbook is a very nice beginning; however it needs improvement: especially the first and third part of the book; in the first part, the historical continuity has to be developed a little more.
Besides the part which focuses on people, a part which could focus on genre could be added.
One option is to have two authors: the current one as scholar of the Bible and a scholar of music who is aware of the historical, stylistic and genre complexities and is able to convey this to the audience.
Table of Contents
Publisher's Note
Preface
Introduction

1. Ancient Music behind and in the Bible
2. Chanting in Synagogues
3. Chanting in Churches
4. The Protestant Reformatiion and Metrical Psalms
5. Spirituals
6. Contemporary Christian Music

7. Creation
8. Psalms
9. Isaac and Family
10. Exodus
11. King David (and His Famlily, Friends, and Enemies)
12. Elijah
13. Romance in the Bible? Ruth and Boaz, Samson and Delilah
14. Songs of Songs
15. Esther
16. Salome
17. The Magnificat and Nunc Dimittis
18. Our Father
19. Revelation
20. Alleluias and Allusions
21. Biblical Music without Words
22. Bringing Texts Together

III. People and Genres

23. Hildegard of Bingen
24. Salamone
25. Johann Sebastian Bach
26. Passions: Bach and Beyond
27. The Bible as Musical, Oratorio, and Opera
28. Handel's Messiah
29. Lilii Boulanger
30. Arnold Schoenberg
31. John Rutter
32. Christmas Carols
33. Arvo Part
34. Andrea Clearfield
35. Roxanna Panufnik

Conclusion
Appendix 1: Paths through This Book
Appendix 2: Making Music with Apps, Websites, and Software
Appendix 3: For Further Listening
General Bibliography
Media Bibliography
Contributors
About the Book
The Bible and Music by Dr. James F. McGrath provides an introduction and overview of the various ways that music and the Bible have been and continue to be connected. Part 1 focuses on history, presenting what we know about how music in the Ancient Near East sounded, how markings in the Masoretic Text of the Hebrew Bible have been interpreted as musical symbols, how chanting of biblical texts has featured liturgically in synagogues and churches, the impact of the Protestant Reformation, and musical developments in North America as enslaved Africans encountered biblical texts and stories. Part 2 focuses on specific texts in Jewish and Christian scripture and looks at how they have been interpreted through the process of setting them to music, including the soundtracks of cinematic depictions of biblical narrative and allusions to the Bible in popular music. Part 3 focuses on composers from the Middle Ages all the way down to the present day. Throughout the book, musical examples are not merely mentioned but embedded so that reading and listening may be seamlessly combined. The book does not presume prior knowledge of either music or the Bible, and additional links within the text provide definitions and further explanations for those who need or desire them.
About the Contributors
Author
Dr. James F. McGrath is the Clarence L. Goodwin Chair in New Testament Language and Literature at Butler University in Indianapolis. A specialist in New Testament and early Christianity, he has also worked extensively on the intersection of religion and popular culture and the reception of the Bible in both music and film.