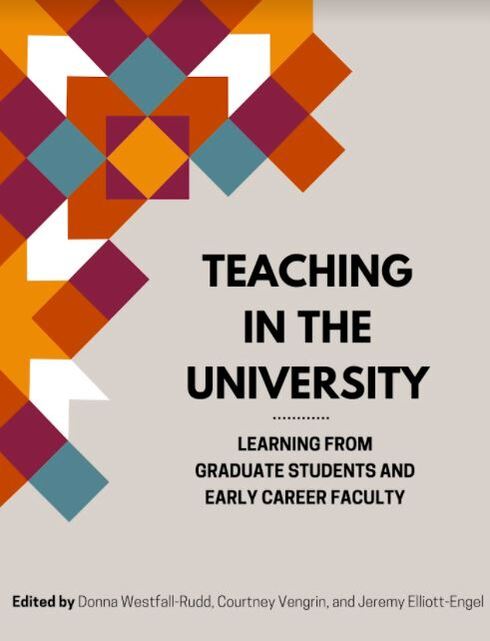 Teaching in the University: Learning from Graduate Students and Early Career Faculty
Donna Westfall-Rudd, Virginia Tech
Courtney Vengrin, International Council for Veterinary Assessment
Jeremy Elliott-Engel, University of Arizona
Copyright Year: 2022
Publisher: Virginia Tech Publishing
Language: English
Reviews
Reviewed by David Plutschack, Associate Professor of Occupational Therapy, Hanover College on 11/29/22
Textbook is well written and encompasses all components of academia. I was impressed by the in-depth reflection and tips to get started as a faculty member. This is a great resource for new or early career faculty. read more
Reviewed by David Plutschack, Associate Professor of Occupational Therapy, Hanover College on 11/29/22
Comprehensiveness rating: 5 see less
Textbook is well written and encompasses all components of academia. I was impressed by the in-depth reflection and tips to get started as a faculty member. This is a great resource for new or early career faculty.
Content Accuracy rating: 5
Accurate and well referenced throughout
Relevance/Longevity rating: 5
It is difficult to find resources for new faculty. The content is well written, up to date, and easy to read.
Clarity rating: 5
Easy to read, great information, and organized well. Chapters are clearly organized with the content available.
Consistency rating: 5
Consistent throughout chapters. Textbook is cohesive.
Modularity rating: 4
Organized well and no errors found.
Organization/Structure/Flow rating: 5
Organization was easy to follow. Headings and content organized well. Great text for new or early faculty. Will definitely recommend
Interface rating: 5
No errors found.
Grammatical Errors rating: 5
No typos or grammatical errors found
Cultural Relevance rating: 5
Textbook is culturally sensitive and stresses the importance of diversity in academia. Well written and easy to relate to.
Comments
This is an easy to read and well organized text for early or new faculty. Will definitely recommend.
Table of Contents
Ch 1: Relational Learning: Creating a "Working Alliance" in the Classroom
-- VIGNETTE: Supporting International Graduate Teaching Assistants
Ch 2: Authenticity
-- VIGNETTE: Structure and Organization to Facilitate Learning in My Large Class During the COVID-19 Pandemic
Ch 3: Indigenizing Your Classroom: A Practice in Inclusion Pedagogy
Ch 4: Teaching Practices for Student-Centered Learning Online
Ch 5: Technology Makes It Easier
-- VIGNETTE: No really, I don't have internet
Ch 6. Fun Fridays: Incorporating Hands-on Learning into Lecture Courses
Ch 7: Using Grade Appeals as a Learning Tool
-- VIGNETTE: Does "Fairness" Get in the Way of Learning and Equity?
Ch 8: How to Oversee a Laboratory Course Taught by Teaching Assistants: Experiences in the Lab and Field
-- VIGNETTE: Use of Personal Response System in Classrooms Ch 9. Teaching, Training, and Mentoring Students in Research Practices Inside and Outside the Classroom
-- VIGNETTE: Lessons Learned as a First-Time Experiential Learning Program Instructor
Ch 10. The Power of Extension: Research, Teaching, and Outreach for Broader Impacts
Ch 11. Program Planning for Community Engagement and Broader Impacts
Ch 12: Personalized Advising that Is Purposely Inconsistent: The Constants of Great Advisors and the Variability that Demands Adaptability
Ch 13. Engaging the Fear: How to Utilize Student Evaluations, Accept Feedback, and Further Teaching Practice
-- VIGNETTE: So You've Landed the Job... (or Surviving Your First Semester)
About the Book
The primary objective of this book is to provide a resource for graduate teaching assistants who are looking for practical strategies and guidance as they begin their careers as postsecondary STEM educators. The text is designed to address a comprehensive list of topics to support the professional development of new faculty, recognizing that those holding academic faculty positions within a college or university are expected to be active in teaching, discovery, and outreach.
Traditional doctoral education programs have historically emphasized preparation for research and scholarly publications, and for outreach. However, to some extent, many candidates who complete doctoral programs have minimal preparation and training in formal teaching.
Contributors to this text have had a unique experience as part of a three-year, college-wide program designed to prepare interested doctoral students for a rewarding academic career. The program is designed to support the professional development of new faculty, recognizing that those holding academic faculty positions within a college or university are expected to be active in teaching, discovery, and outreach. The alumni and scholars of the program have worked collectively to gather resources and implement educational practices in the diverse set of courses they taught in during their three years in the program. Now as new faculty at a variety of postsecondary institutions across the United States, these early-career educators bring their insights and real-world teaching experiences, embedded in contemporary teaching and learning theory to their contributions to this text.
What is this resource? This text is a collection of chapters and vignettes intended to provide practical insight into the challenges and opportunities of teaching at the postsecondary level. It is anticipated that the vignettes provide examples of contexts in which the principles of the topic chapters are applied.
Goals for this book
Support future STEM faculty in their efforts to engage in student-centered teaching practices that create inclusive postsecondary classrooms
Support improved the preparation of new faculty to engage in community education and outreach as part of their professional responsibilities.
Support graduate students preparing to apply and interview for faculty positions with teaching appointments.
If you are an instructor reviewing, adopting, or adapting this textbook, please help us understand your use by filling out this form http://bit.ly/teaching-interest.
About the Contributors
Editors
Donna Westfall-Rudd, Ph.D. is Associate Professor in Agricultural, Leadership, and Community Education in Virginia Tech's College of Agriculture and Life Sciences. In 2012 she was appointed the Program Director and Senior Faculty Scholar for the Graduate Teaching Scholars Program (GTS) and has worked collaboratively with the GTS students, and their faculty mentors to create a unique three-year program for doctoral students from across the departments in CALS. Acceptance in the program is competitive and is designed for graduate students who want to focus on developing their teaching skills along with their research knowledge and skills.
Courtney Vengrin, Ph.D. serves as the Senior Director of Assessment of the International Council for Veterinary Assessment (ICVA). In my role, I conduct research on assessment practices, conduct a variety of data analyses, and develop data visualizations. She holds a B.S. in Biology at Radford University, and M.S. in Agricultural Extension Education and Ph.D in Agricultural Leadership and Community Education at Virginia Tech. Following completion of my Ph.D., she was a postdoctoral research fellow who specialized in academic assessments working under the Vice Provost for Undergraduate Academic Affairs at Virginia Tech.
Jeremy Elliot-Engel, Ph.D. serves as Arizona Cooperative Extension Associate Director—4-H Youth Development and Associate Extension Specialist in Agricultural Education, Technology, and Innovation with The University of Arizona. He completed a Ph.D. in Agricultural, Leadership, and Community Education at Virginia Tech after serving as the teaching assistant for Graduate Teaching Scholars. He previously earned a B.T. in Agricultural Business Management from S.U.N.Y. Cobleskill, M.A.T. from Cornell University, and worked with University of Missouri Extension as a 4-H Youth Development Regional Specialist in Newton, McDonald, and Barry counties.