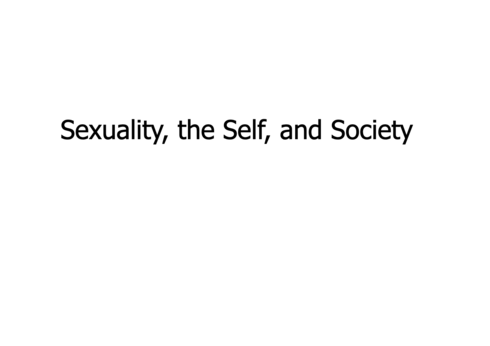 Sexuality, the Self, and Society
Susan Rahman, Kentfield, CA
Nathan Bowman
Dahmitra Jackson
Copyright Year: 2022
Publisher: Susan Rahman
Language: English
Reviews
Reviewed by MaKenzie Johnson, Senior Lecturer, University of Wisconsin - Superior on 2/22/23
This book covers an extensive amount of information on sexuality and its development in ourselves and culturally. The chapters are laid out in a way that makes sense as a reader, and also has smaller subheadings to help readers find information. I... read more
Reviewed by MaKenzie Johnson, Senior Lecturer, University of Wisconsin - Superior on 2/22/23
Comprehensiveness rating: 5 see less
This book covers an extensive amount of information on sexuality and its development in ourselves and culturally. The chapters are laid out in a way that makes sense as a reader, and also has smaller subheadings to help readers find information. I also appreciated the hyperlinks throughout the text that gave additional resources. I appreciated the authors comment in the About the Book section which states this book "...is meant to be accessible, relevant, and inclusive. It also will not remain static meaning that the author will continue to update periodically and those who adopt may do so as they see fit."
Content Accuracy rating: 5
I did not see any areas of concern for accuracy.
Relevance/Longevity rating: 5
This text has up to date information, which is essential in this topic, as research is catching up to the many years in our society where gender and sexuality was considered binary and static. I appreciated the many places in this text that addressed the history of sexuality. It was mentioned throughout the book and gave introductory information on important events, research, people, and places in history.
Clarity rating: 4
This book is for students and faculty who have basic background and knowledge in this content area. There are several introductory chapters and paragraphs that lay out some basic terminology, but I could see the content being overwhelming for a student who hasn't had any gender or sexuality classes previously. I do believe that it is written as an introductory book and could be used as that with some additional introductory information.
Consistency rating: 5
The book is consistent with layout and language. Each chapter is laid out clearly and has the same format throughout.
Modularity rating: 5
The text was easy to follow along. I especially appreciated the hyperlinked table of contents that broke down each chapter into smaller sections. This text could easily be used in full or for more specific content, certain chapters can be assigned to students for a broader knowledge on a certain topic.
Organization/Structure/Flow rating: 5
I really appreciated the organization at the end of each chapter which include; glossary, discussion questions, multiple choice quiz, further exploration, and references. This was very helpful for finding further information and check for understanding on new topics for students. I could also see students using these references as additional exploration areas if they are interested in the topic.
Interface rating: 5
I see no issues with interface in this text.
Grammatical Errors rating: 5
I see no grammatical issues with this text.
Cultural Relevance rating: 5
This text has a high level of cultural sensitivity and encompasses all facets of diversity. This information is sprinkled throughout the text and isn't just put into one chapter, like many current social sciences texts I have used.
Comments
I am very excited to have found this OER and hope to utilize it in our Introduction to Professional Counseling course.
Table of Contents
Sexuality, the Self, and Society
Introduction
Chapter 1: What is Human Sexuality?
Chapter 2: Research Methods and Ethics in Human Sexuality
Chapter 3: Development and Structure of The Human Reproductive System
Chapter 4: Pleasure, Sexual Arousal and Response
Chapter 5: Gender Identity, Gender Roles, and Gender Differences
Chapter 6: Sexual Orientation
Chapter 7: Bias and Discrimination in Human Sexuality
Chapter 8: Attraction, Love and Relationship Formation
Chapter 9: Relationship Styles, Communication, Sexual Behavior, and Fantasies
Chapter 10: Conception, Pregnancy and Childbirth
Chapter 11: Sexuality Through the Lifespan
Chapter 12: Contraception, Abortion, and Sexually Transmitted Infections
Chapter 13: Sexual Health
Chapter 14: Consent, Coercion, and Sexual Violence
Chapter 15: Sex(uality) Work that Engages with the Body
Sexuality, The Self, and Society Conclusion
About the Book
Content included in Sexuality, the Self, and Society is aligned with the typical scope for an introductory, interdisciplinary Human Sexuality Textbook. It is written to be a complete text for a semester length course but could be used, in part, reorganized, or edited in true OER fashion. It is meant to be accessible, relevant, and inclusive. It also will not remain static meaning that the author will continue to update periodically and those who adopt may do so as they see fit.
About the Contributors
Authors
Susan Rahman has been teaching Human Sexuality since 2011. She is a professor of Sociology and Behavioral Sciences with an interest in social justice. She teaches a variety of Sociology and Behavioral Science courses at two Northern California schools. She is also a mother and an activist.
Nathan Bowman earned his undergraduate degree in sociology and labor as well as an MA degree in educational leadership. Nathan works full-time as a democratic and progressive political consultant. Nathan is committed to civic engagement and mission driven work that allows all people to achieve social mobility.
Dahmitra Jackson is a BIWOC with 10 years' experience in non-profit social service work. She has a desire to be a part of intersectional work with the goal of educating, serving communities, and building an inclusive society for everyone