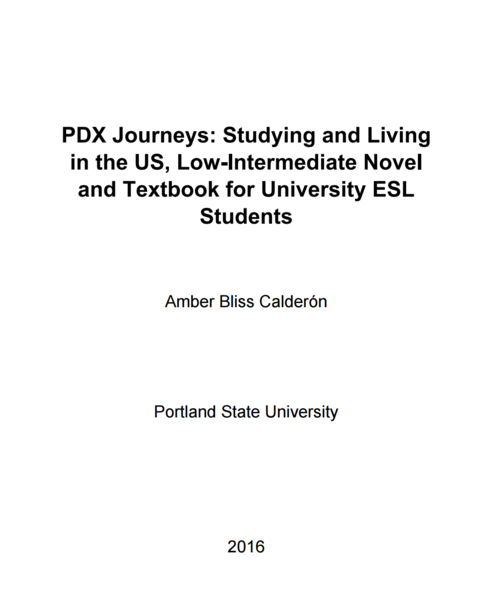 PDX Journeys: Studying and Living in the US, Low-Intermediate Novel and Textbook for University ESL Students
Amber Bliss Calderón, Portland State University
Copyright Year: 2016
Publisher: Portland State University Library
Language: English
Table of Contents
Unit 1: Academic Expectations
Chapter 1: Stephanie's Story
Chapter 2: IELP Expectations of Students
Chapter 3: The Pros and Cons of Studying Abroad
Unit 2: Problem Solving
Chapter 4: Luna and Violeta's Story
Chapter 5: Solve That Problem
Chapter 6: Easier Said than Done
About the Book
Each unit begins with a chapter of fiction about a teacher and students in one ESL class. Reading comprehension and reading skills exercises follow. Prefix and suffix vocabulary-focus exercises are included. Academic Word List vocabulary exercises help students build a strong foundation in both receptive and productive knowledge. The following chapters in each unit expand on unit themes through non-fiction articles focusing on academic preparation, international experiences, and cultural adjustment. Vocabulary is repeated and comprehension and reading skills are further practiced.
About the Contributors
Author
Amber Bliss Calderón is a Senior Instructor I in the Intensive English Language Program at Portland State University. She earned her MA in TESOL from Portland State University in 2004. Her areas of interest include teaching reading, creative writing, and student experiences. She has developed curriculum for several communication and culture experience programs for the IELP. She enjoys teaching reading and makes it a goal to turn non-readers into readers by making reading a fun and exciting way to learn.