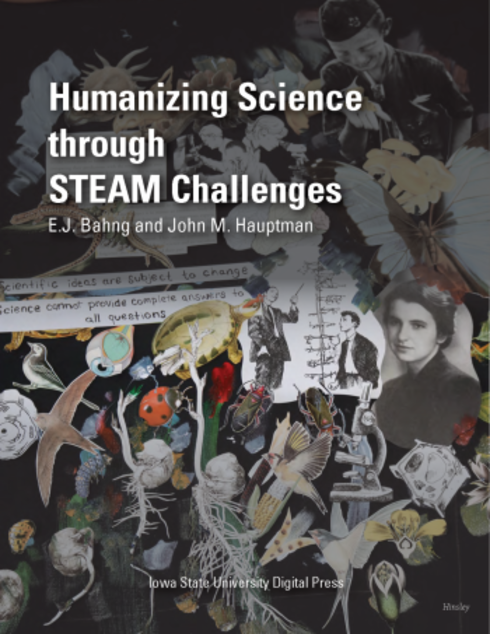 Humanizing Science through STEAM Challenges
EunJin Bahng, Iowa State University
John Hauptman, Iowa State University
Copyright Year: 2021
Publisher: Iowa State University
Language: English
Reviews
Reviewed by Usha Radjev, Professor, Marymount University on 12/13/21
The 51 children's stories and their accompanying audiobooks certainly integrated STEM with Arts to 'humanize science and scientific inquiry with history'. read more
Reviewed by Usha Radjev, Professor, Marymount University on 12/13/21
Comprehensiveness rating: 5 see less
The 51 children's stories and their accompanying audiobooks certainly integrated STEM with Arts to 'humanize science and scientific inquiry with history'.
Content Accuracy rating: 5
Each author read one chapter using a prominent voice for the power and promise of traditional ecological knowledge, and its connection with Western science. I liked the audios accompanying the stories. Not seen this before. Helps students with hearing impairment.
Relevance/Longevity rating: 5
I use teaching STEAM through Project Based Learning with a focus in Engineering and Design. This book would fit right into it. So many connections to STEM with the Arts (STEAM) that can be incorporated at various levels of an integrated approach to teaching methodology.
Clarity rating: 5
Key words for each story were emphasized. Easy to follow especially listening to the YouTube and reading along the words.
Consistency rating: 5
The book followed same format through each story. I am truly interested in this copy to test it out with my students in class.
Modularity rating: 5
This is not a book to cover in a semester. Needs a year's planning. May be in smaller chunks but the beauty is one does not need to cover all in a short time frame. Divided each semester in smaller chunks can bring a longer lasting teaching module. It is well organized and user-friendly. I can envision this being used in the classroom by a teacher, however, it does need to be field tested.
Organization/Structure/Flow rating: 3
I would reorganize the topics: like to like so it can be an easy flow in the teaching of the unit. Example: Lily and the Community Garden, Our Lilies, and The Life of a Lily
Interface rating: 5
There are no distractions apart from trying to have similar topics flow one after the other so a project based learning can be connect to three or so chapters for a better management of topics.
Grammatical Errors rating: 5
I did not notice any.
Cultural Relevance rating: 5
I saw no insensitive or offensive topics leading to culturally diverse population. In fact talked about 'Lily' in the story of 'Where am I from'. It make use of examples that are inclusive of a variety of races, ethnicities, and backgrounds.
Comments
I would like to test it out in the spring with my students!
Table of Contents
Grandpa's Out-Growth Forest
The Gift of Water
Kewanee's Appreciation of Earth
The Life of a Lily
The Storyteller
Now Our Minds Are One
Mother Earth
Honorable Harvest
Loving our land
Windigo Footprints
Grandma's Healing Herbs
The New Neighbor
That's Not Science
The Lost and Found of Beauty in Nature
Lily and the Community Garden
The Gift of Rain
A Spring Day
Summer Camp
Skywoman Falling
The Student is the Teacher
Forest Adventures
Henry's Harvest Life
Marvin's Bountiful Reward
The Gods of Tahawus
Remi's Adventure
Genesis and Willow
Generosity in the Powwow
The Thanksgiving Address
Puhpowee
Jimmy's Yummy Goodness
The Honorable Harvest
Ella's Sweet Surprise
Who Is Hiding in the Rain?
Our Lilies
A Good Home
Grace's Green Beans
Maple Nation
It All Started with a Pond
Jacqui's Garden
The Lichen Tale
Dahila's Summer Garden
Finding Your Roots Again
Be a Good Citizen
The Value of Teamwork
Growing Season
Where Am I From?
The Backyard Forest
The Salamander Hunt
Lilah's Forest
The Bayou
About the Book
In a science methods course during the Covid19 pandemic, 51 future elementary teachers authored children's books and then read them aloud as part of a giving-back, service-learning activity as Open Educational Resources (OER). The 51 children's stories and their accompanying audiobooks aim to integrate STEM and the Arts to humanize science and scientific inquiry with history and philosophy of science in mind.
About the Contributors
Authors
EunJin (E.J.) Bahng is an Associate Professor in the School of Education teaching future teachers how to teach science. She was a full time school teacher and earned her Ph.D. in science education at Arizona State University. She was a state coordinator for a nationwide online mentoring program for newly hired secondary science teachers and engaged in multiple research projects. She was an instructor in the Multilingual Multicultural Elementary Education Program. At ISU, Dr. Bahng teaches science methods and Nature of Science courses for graduating teacher candidates planning to teach in both elementary and secondary schools. Also, she teaches an introductory educational research course to a diverse group of graduate students in the Student Affairs program. Dr. Bahng's scholarship involves the professional development of new science teachers through a number of different subject-specific mentoring programs. Her work also involves exploring innovative and meaningful ways to integrate the Arts into STEM fields (STEAM). With her colleagues, she is a recipient of the Journal of Research in Science Teaching "Paper of the Year, 2012" award. She recently co-authored a textbook, Children Doing Physics (2nd ed) and is also a recipient of a Miller Faculty Fellowship and a Reiman Gardens Science Communication Fellowship, as well as a recipient of a CHS Innovative Teaching Initiative grant. Along with 12 colleagues from various disciplinary areas, she participates in the ISU Sustainable Peace Faculty Learning Community since 2019 and leads an ISU Honors program seminar, Arts and Science of Peace. She enjoys swimming and reciting Shakespeare, and wrote a children's book, "Aari's Arirang Adventure" (Request the Ebook version).
John Hauptman is a professor in the Physics and Astronomy Department at ISU and a research physicist in elementary particle physics. He teaches a wide variety of courses but most recently he concentrates on the physics course for elementary teacher candidates in which the hands-on experiments and measurements include most areas of physics and are directly adaptable to the elementary classroom. He also developed and taught the interdisciplinary Newspaper Physics ISU Learning Community course as well as Honors courses that combined physics with English and physics with philosophy. As an experimental particle physicist, he has been involved in various international, national, and regional experiments at several physics laboratories and now focuses on a novel experiment with professor Sehwook Lee to search for magnetic monopoles at Kyungpook National University in Daegu, Korea.