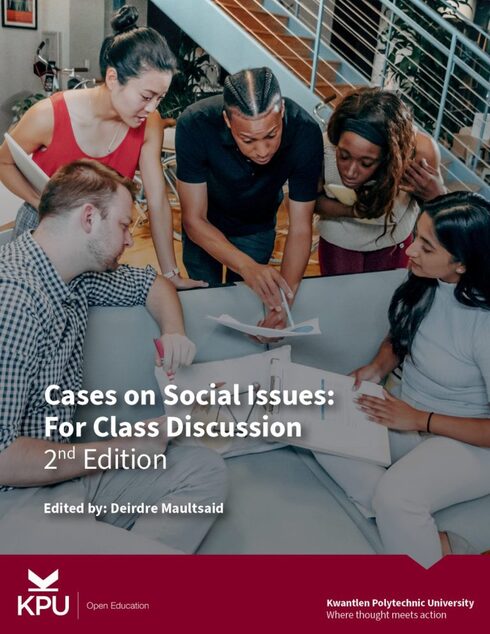 Cases on Social Issues: For Class Discussion - 2nd Edition
Deirdre Maultsaid
Brianna Doyle
Celine Wai Shan Li
Gregory John
Gursimrat Gill
Lee Beavington
Lesli Sangha
Nikhil Garg
Richa Kabaria
Sarah Kulewksa
Simrenprit Parmar
Thalin Htun
Winifred Athembo
Copyright Year: 2023
ISBN 13: 9781989864685
Publisher: Kwantlen Polytechnic University
Language: English
Reviews
Reviewed by Adriana Molina Garzon, Assistant Professor, University of New Mexico on 5/16/23
This book consists of short and easy-to-follow cases, focused on the issues of discrimination, equity, inclusion, and social justice, among others. The events are portrayed in a comprehensive, yet simple and realistic way. It´s an excellent source... read more
Reviewed by Adriana Molina Garzon, Assistant Professor, University of New Mexico on 5/16/23
Comprehensiveness rating: 5 see less
This book consists of short and easy-to-follow cases, focused on the issues of discrimination, equity, inclusion, and social justice, among others. The events are portrayed in a comprehensive, yet simple and realistic way. It´s an excellent source for a stimulating discussion about social issues and it encourages critical thinking, analysis, judgment, and decision-making among the students.
Content Accuracy rating: 4
The cases describe facts and events in detail. Some cases need additional background information or supplementary footnotes to understand better the scenarios and their complexities. This, however, can be an opportunity for the students to seek additional contextual information surrounding the facts or the dilemmas.
Relevance/Longevity rating: 4
Although the cases refer particularly to situations that occur in Canada, they are timeless and refer to issues that apply to various cultural contexts.
Clarity rating: 5
The writing is clear, concise, and easy to read. The terminology is understandable and each case is supplemented with discussion guidelines and questions, notes for teaching strategies, and other reading sources
Consistency rating: 5
The text follows consistent terminology across the different cases presented. Whenever is needed new terminology is sufficiently explained.
Modularity rating: 5
This is the greatest strength of the book. The cases are diverse and can be used for various learning purposes and in various contexts. It is up to the educator to decide on their use, applicability, and analytical approach.
Organization/Structure/Flow rating: 5
The text is well organized and the overall structure is easy to follow.
Interface rating: 4
The text is accompanied by images that do not necessarily contribute to the discussion. It is an aspect that could be improved in future editions.
Grammatical Errors rating: 5
I didn't find any grammatical errors on the text.
Cultural Relevance rating: 5
The text is sensitive to the issues of gender, race, living conditions, etc. in various contexts. From this perspective, it is inclusive and also promotes discussions around the issues of equity and social justice. Students can learn how better to engage in a conversation and see beyond their own biases.
Comments
Very interesting cases of study, well presented and well-suited for class discussions.
Table of Contents
Licensing Info
Accessibility Statement
List of Contributors
Acknowledgements
Introduction
Case 1: Homophobia at Work
Case 2: Safety in an Indigenous Community 
Case 3: The Family Ranch and Oil and Gas Pipelines

Case 4: Invisible Disabilities in the Workplace

Case 5: Employee Anxiety in the Restaurant Industry

Case 6: Safety for Women, Transgender Women and Non-Binary People at Work

Case 7: Bullying of Immigrants and Refugees at Work

Contributor Biographies

Versioning History
About the Book
This Open Education resource, "Cases on Social Issues: For Class Discussion – 2nd Edition", includes valuable cases for student use on issues of discrimination, diversity, equity, inclusion and general social issues in the workplace. Included are cases for discussion on workplace scenarios as follows: homophobia; working with Indigenous communities; oil and gas pipelines and the family ranch; invisible disabilities; employee anxiety; safety for women, transgender women and non-binary people; and the bullying of new immigrants and refugees. The critical events portrayed in the cases are realistic and emotional, and most feature the experiences of under-represented and marginalized people. These thoughtful, contemporary cases pose ethical dilemmas about social issues that encourage post-secondary students and instructors to have stimulating, inclusive, and compassionate discussions. Inspired by input from post-secondary students and authored by students and people who are usually under-represented in education material, this resource is designed for upper-level undergraduate or graduate students in the humanities, social sciences, business, healthcare, science, agriculture, environmental studies, Indigenous studies, land use studies, law and more. Each case is supplemented with modifiable discussion prompts, notes for teaching strategies, and a short reading list.    
About the Contributors
Authors
Brianna Doyle
Celine Wai Shan Li
Gregory John
Gursimrat Gill
Lee Beavington
Lesli Sangha
Nikhil Garg
Richa Kabaria
Sarah Kulewksa
Simrenprit Parmar
Thalin Htun
Winifred Athembo
Editor
Deirdre Maultsaid