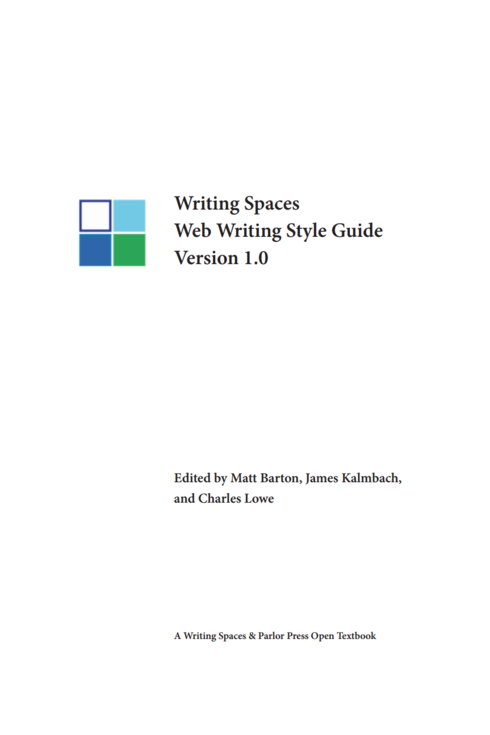 Writing Spaces Web Writing Style Guide
Matt Barton, St. Cloud State University
James Kalmbach
Charles Lowe
Copyright Year: 2011
Publisher: Grand Valley State University
Language: English
Table of Contents
Introduction
Writing in the Genres of the Web
The Rhetorics of Web Pages
About the Book
The Writing Spaces Web Writing Style Guide was created as a crowdsourcing project of Collaborvention 2011: A Computers and Writing Unconference. College writing teachers from around the web joined together to create this guide (see our Contributors list). The advice within it is based on contemporary theories and best practices.
While the text was originally written for students in undergraduate writing classes, it can also be a suitable resource for other writers interested in learning more about writing for the web.
This document is available as a web text for reading online, a printer-friendly PDF, and an EPUB ereader versions.
About the Contributors
Editors
Matt Barton is a professor of English at St. Cloud State University.
James Kalmbach professor emeritus, Department of English, Illinois State University.
Charlie Lowe is an assistant professor in the Department of Writing at Grand Valley State University where he teaches first year composition, professional writing, and web design. He is a strong advocate of open source software adoption and open access publishing.