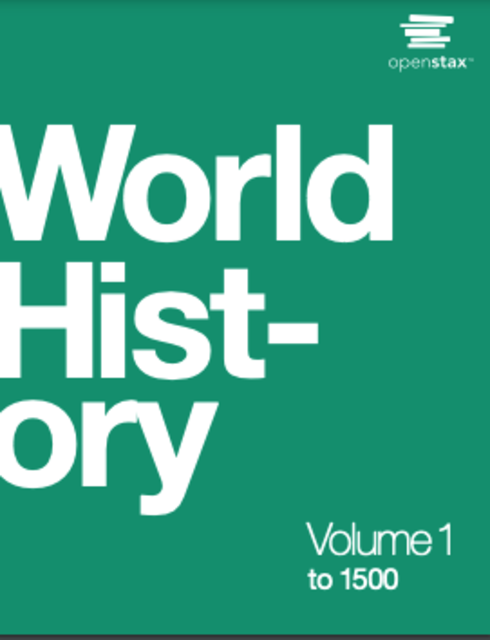 World History Volume 1: to 1500
No ratings
Ann Kordas, Johnson & Wales University
Ryan J Lynch, Columbus State University
Brooke Nelson, formerly California State University
Publisher: OpenStax
Language: English
Table of Contents
Unit 

1 

 

Early Human Societies

Chapter

1. 

Understanding the Past

Chapter 2.

 

Early Humans

Chapter 3.

Early Civilizations and Urban Societies

Chapter 4. The Near East

Chapter 5. Asia in Ancient Times

Unit 2. States and Empires, 1000 BCE-500 CE

Chapter 6. Mediterranean Peoples

Chapter 7. Experiencing the Roman Empire

Chapter 8. The Americas in Ancient Times

Chapter 9. Africa in Ancient Times

Unit 3. An Age of Religion, 500-1200 CE

Chapter 10. Empires of Faith

Chapter 11. The Rise of Islam and the Caliphates

Chapter 12. India, the Indian Ocean Basin, and East Asia

Chapter 13. The Post-Roman West and the Crusading Movement

Unit 4. A Global MIddle Ages, 1200-1500 CE

Chapter 14. Pax Mongolica: The Steppe Empire of the Mongols

Chapter 15. States and Societies in Sub-Saharan Africa

Chapter 16. Climate Change and Plague in the Fourteenth Century

Chapter 17. The Ottomans, the Mamluks, and the Ming

Appendix A. Glossary

Appendix B. Worl History, Volume 1, to 1500: Maps and Timelines

Appendix C. World Maps

Appendix D. Recommended Resources for the Study of Worl History

Index
About the Book
World History, Volume 1: to 1500 is designed to meet the scope and sequence of a world history course to 1500 offered at both two-year and four-year institutions. Suitable for both majors and non majors World History, Volume 1: to 1500 introduces students to a global perspective of history couched in an engaging narrative. Concepts and assessments help students think critically about the issues they encounter so they can broaden their perspective of global history. A special effort has been made to introduce and juxtapose people's experiences of history for a rich and nuanced discussion. Primary source material represents the cultures being discussed from a firsthand perspective whenever possible. World History, Volume 1: to 1500 also includes the work of diverse and underrepresented scholars to ensure a full range of perspectives.
About the Contributors
Authors
Ann Kordas holds a PhD in History from Temple University, and a JD from Boston University School of Law. She is a professor in the Humanities Department at Johnson & Wales University, where she teaches courses in U.S. history, world history, the history of the Atlantic World, and the history of the Pacific World. Her research interests lie primarily in the fields of cultural history and gender history
Dr. Ryan J. Lynch is Associate Professor of the History of the Islamic World and Associate Dean of the Honors College at Columbus State University in Columbus, Georgia. A specialist of pre-modern Islamic history, he completed his DPhil and MPhil in Islamic Studies and History at the University of Oxford, an MLitt in Middle Eastern History and Language at the University of St Andrews, and a BA in History and Religious Studies at Stetson University. Dr. Lynch's research focuses primarily on the period of the early Islamic conquests, the Islamization of the Middle East, Islamic state formation, and Arabic historiography, while he also has a growing interest in how modern terror groups use an imagined Islamic past to justify their extremist views in the modern period. He is the author of the award-winning book Arab Conquests and Early Islamic Historiography (I.B. Tauris, 2020).
Brooke Nelson is the Director of Curriculum at Marco Learning, an edtech company focused on making great educational resources available to all students. Previous to this role, she taught at California State University, Dominguez Hills, and Marymount California University. Her favorite courses to teach were World History, Death and Dying, and Introduction to Western Civilization because they allowed her to share her love of history with both non-major and major students. Her research focus is the late Roman world, with a special emphasis on religious conflicts and gender studies. She has a doctorate from Claremont Graduate University and master's degrees from the University of California, Irvine, and the University of Edinburgh