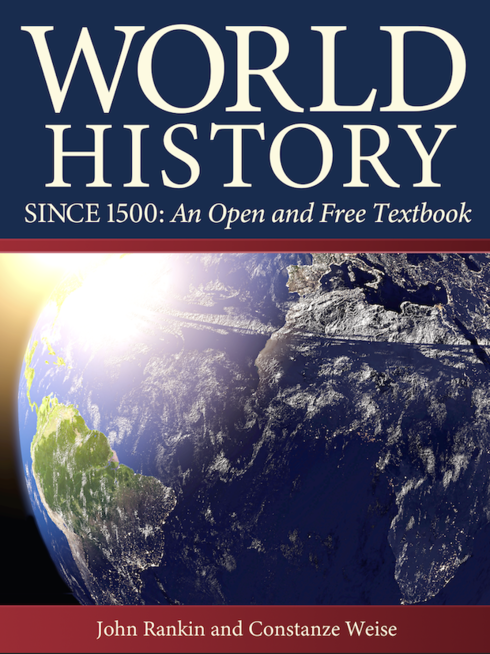 World History Since 1500: An Open and Free Textbook
No ratings
John Rankin, East Tennessee State University
Constanze Weise, East Tennessee State University
Copyright Year: 2023
Publisher: East Tennessee State University
Language: English
Table of Contents
Author Biographies
Acknowledgement
Table of Contents
Chapter 1: The World in 1500
Chapter 2: Expanding Empires, Europe and the Americas 1500-1700
Chapter 3: Cultural Encounters and Expanding Empires in Asia and Eurasia 1500-1700
Chapter 4: Islamic Empires - Mughals, Ottomans and Safavids 1500-1700
Chapter 5: Age of Reason - The Scientific Revolution, Enlightened Thought and its Impact
Chapter 6: Challenging the Old Order - The Age of Revolutions
Chapter 7: Remaking the World - The Industrial Revolution, Workers and a New Economic Order
Chapter 8: Nation Building and Reform 1700-1900
Chapter 9: Managing Modernity in Asia 1700-1900
Chapter 10: The Second Wave of Imperialism 1700-1900
Chapter 11: World in Crisis, Conflict, and the Struggle for Independence - World War I, the Indian Independence Movement and the Russian Revolution
Chapter 12: Interwar Years and the Rise of Fascism
Chapter 13: World War II
Chapter 14: Cold War and Decolonization of the World from 1950
Chapter 15: The Modern World
About the Book
World History Since 1500: An Open and Free Textbook is designed to cover world history from 1500 to the present in 15 chapters. The OER-supported textbook can be downloaded as a pdf or viewed online. The textbook serves to weave insights from many perspectives into stories and narratives that will help students develop a framework to organize and connect ideas, geographical locations, and timelines allowing them to think critically and broadly about the world around them. In addition to helping students master the sequence and scope of world history from 1500, the textbook helps develop empathy for people who live and lived in different parts of the world and during different historical times leading to the creation of empathic and knowledgeable global citizens who are aware of and concerned about the world around them.
About the Contributors
Authors
John Rankin is an Associate Professor in the Department of History at East Tennessee State University. His interests lie in the overlapping themes of imperialism, transnational and global studies, issues of race and racism and the social history of medicine. His monograph, Healing the African Body (University of Missouri Press, 2015) examines the intersection of health, race, and empire in British West Africa, 1800-1860. His research interests also include the Atlantic World, British history, public health, the press and the history of epidemic disease. He teaches courses in the history of medicine as well as English, Scottish, Caribbean and World history.
Constanze Weise is an Assistant Professor in the Department of History at East Tennessee State University. Her interests lie in the History of Africa and the African Diaspora pertaining to issues of politics, religion, ritual and urbanization. Her work has appeared in peer-reviewed journals and edited volumes such as African Arts, The Canadian Journal of African Studies, the Oxford Handbook of Nigerian History and the Oxford Encyclopedia of African Historiography: Methods and Sources. In 2010 she participated in the internationally touring exhibition curated by the UCLA Fowler Museum and the Musée du quai Branly, Paris, titled "Central Nigeria Unmasked: Arts of the Benue River Valley". She contributed to this exhibition with original video footage and images of ancestral masquerades from her field research in central Nigeria. At ETSU she teaches courses in the history of Africa, the African Diaspora and World History.