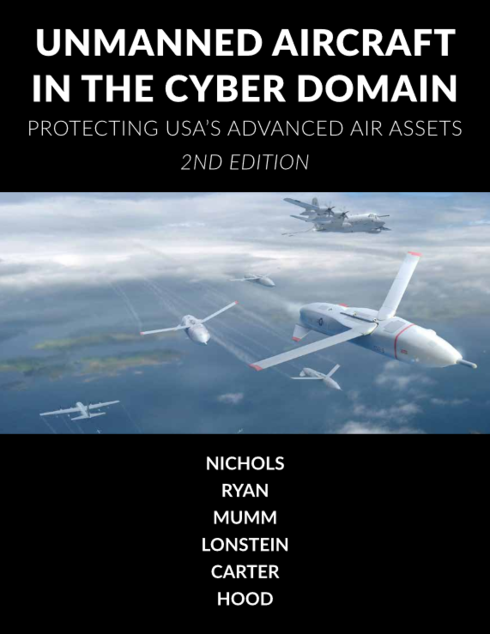 Unmanned Aircraft Systems in the Cyber Domain - Second Edition
Randall K. Nichols, Kansas State University
Hans C. Mumm, California University of Pennsylvania
Wayne D. Lonstein, VFT Solutions
Copyright Year: 2019
ISBN 13: 9781944548155
Publisher: New Prairie Press
Language: English
Table of Contents
Chapter 1 - A View of the UAS Market
Chapter 2 - UAS Law - Legislation, Regulation, and Adjudication
Chapter 3 - Understanding Hostile Use and Cyber-Vulnerabilities of UAS
Chapter 4 - INFOSEC – Protecting UAS Information Channels & Components
Chapter 5 - Intelligence & Red Teaming
Chapter 6 - Case Studies in Risk for UAS
Chapter 7 - UAS SAA Methodologies, Conflict Detection
Chapter 8 - Designing UAS Systems for Stealth
Chapter 9 - Case Study Smart Skies Project
Chapter 10 - UAS Intelligence, Surveillance and Reconnaissance (ISR)
Chapter 11 - UAS Weapons
Chapter 12 - UAS System Deployment and Information Dominance (ID)
Chapter 13 - Data Links Functions, Attributes and Latency
Chapter 14 - Exposing UAS Vulnerabilities via Electronic Warfare (EW) and Countering with Low Probability Intercept Signals (LPI)
Chapter 15 - Africa - World's First Busiest Drone Operational Proving Ground
Chapter 16 - Chinese Drones in Spratly Islands, and Chinese Threats to USA forces in Pacific
Chapter 17 - High-Altitude Platforms (HAPS) – A Promise not Reached
Chapter 18 - C-UAS and Large Scale Threats
Chapter 19 - Audiology, Acoustic Countermeasures against Swarms and Building IFF Libraries
Chapter 20 - Legal and Regulatory – Where It Was, Where It Is and What's Ahead?
Chapter 21 - Chinese UAS Proliferation along New Silk Road Sea/Land Routes
Chapter 22 - Ethics in the New Age of Autonomous Systems and Artificial Intelligence (AI)
About the Book
Unmanned Aircraft Systems are an integral part of the US national critical infrastructure. The authors have endeavored to bring a breadth and quality of information to the reader that is unparalleled in the unclassified sphere. This textbook will fully immerse and engage the reader / student in the cyber-security considerations of this rapidly emerging technology that we know as unmanned aircraft systems (UAS). The first edition topics covered National Airspace (NAS) policy issues, information security (INFOSEC), UAS vulnerabilities in key systems (Sense and Avoid / SCADA), navigation and collision avoidance systems, stealth design, intelligence, surveillance and reconnaissance (ISR) platforms; weapons systems security; electronic warfare considerations; data-links, jamming, operational vulnerabilities and still-emerging political scenarios that affect US military / commercial decisions.
About the Contributors
Authors
Randall K. Nichols is Professor of Practice in Unmanned Aircraft Systems (UAS) – Cybersecurity at Kansas State University Polytechnic (KSUP) in Salina, Kansas. Nichols serves as Director, graduate U AS- Cybersecurity Certificate program at KSUP. Nichols is internationally respected, with 50 years of experience in leadership roles in cryptography, counterintelligence, INFOSEC, and sensitive computer applications. Throughout his career, Nichols has published seven best-selling textbooks. Nichols has provided counsel to the United States government and is certified as a federal subject matter expert (SME) in both cryptography and computer forensics. His most recent work involves creating master and certificate graduate – level programs for KSU and Utica College.
Dr. Hans C. Mumm holds a Doctor of Management with a concentration in Homeland Security from Colorado Technical University (CTU) and an MS in Strategic Intelligence from American Military University (AMU). He gained notoriety during Operation Iraqi Freedom as the officer in charge of the "Iraqi Regime Playing Cards; CENTCOM'S Top 55 Most Wanted List" which was touted by the Defense Intelligence Agency (DIA) as one the most successful Information Operations (IO) in the history of Defense Intelligence Agency (DIA). Dr. Mumm is the former Division Chief for Cyber Security at the Office of The Director of National Intelligence (ODNI) programming and executing a budget of over $140M. Dr. Mumm has earned twenty-three personal military ribbons/medals including six military unit medals/citations, and two Directors Awards, from the DIA.
Wayne D. Lonstein holds a Bachelor of Arts Degree in Political Science from Wilkes University, a Bachelor of Science Degree in Cyber Forensics and Information Security from Syracuse University – Utica Collage, A Master of Science Degree in Homeland Security with a concentration in Information Security from The Pennsylvania State University and a Juris Doctor Degree from Pace University School of Law. Additionally he holds a CISSP Certification from The Pennsylvania State University. He is a member of the state bars of New York, New Jersey, Massachusetts an Pennsylvania as well as being admitted to over 30 United States District Court Bars, Court of Veterans Appeals, United States Tax Court and the bar of the United States Court of Appeals of the 2nd, 3rd and 5th Circuits.