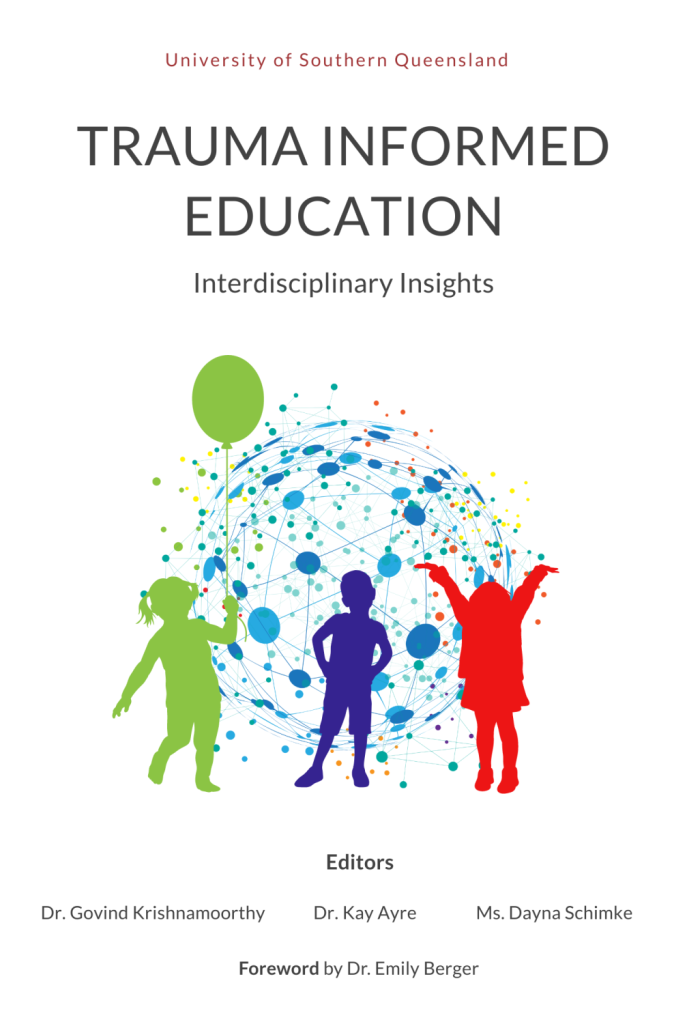 Trauma Informed Education
Govind Krishnamoorthy, Toowoomba, Australia
Kay Ayre, Joondalup, Australia
Dayna Schimke, Queensland, Australia
Copyright Year: 2023
Publisher: University of Southern Queensland
Language: English
Reviews
Reviewed by Caroline Toscano, Instructional Designer (PhD in Educational Psychology), Century College on 3/7/23
This textbook provides a comprehensive review of several important issues in K-12 regarding trauma-informed practice. These issues include helping traumatized children learn, educating students with blocked trust, trauma-informed classroom... read more
Reviewed by Caroline Toscano, Instructional Designer (PhD in Educational Psychology), Century College on 3/7/23
Comprehensiveness rating: 5 see less
This textbook provides a comprehensive review of several important issues in K-12 regarding trauma-informed practice. These issues include helping traumatized children learn, educating students with blocked trust, trauma-informed classroom management, teaching self-regulation, conscious discipline, preventing challenging behaviors, trauma-informed social-emotional learning, and creating sanctuary in schools. The three editors are from Australia, but much of the content is applicable to an international context. It uses neuroscience research and interviews by experts in trauma-informed education. These experts are from Australia, the UK, and the US. Several specific strategies for teaching children using a trauma-informed lens are mentioned. Also included are relevant considerations and chapter summaries listing the main points. Each expert listed in the textbook has a brief biography with an accompanying QR code for more information.
Content Accuracy rating: 4
Trauma-informed education is a constantly developing field, and the experts in the field hail from several interdisciplinary fields such as psychology, education, counseling, and neuroscience. The content appears to be accurate inasmuch as the field continues to change based on new findings in neuroscience and best practices in the classroom. There is some anecdotal evidence used throughout the textbook, which illustrates the experts' observations. There is an overarching view that schools must adopt a trauma-informed lens if they are striving to help all children learn.
Relevance/Longevity rating: 4
Given that trauma-informed practice in education is a relatively new field, the content appears up to date and relevant for the present and foreseeable future. A few external resources from 2013 (Brené Brown on Empathy video) and 2012 (Once upon a Mountain Trailer) are used. If the text is updated, it appears that it would be relatively easy for the authors to add updated resources and new findings. As researchers learn more about brain-based learning and the effects of trauma, it is very likely that this textbook will need successive editions.
Clarity rating: 5
The contents of the textbook appear to be written in lucid, accessible prose. There is not a great deal of jargon used in the text. There is no glossary of terms, but there are book recommendations for readers who want to learn more about the topic.
Consistency rating: 4
There appears to be an internally consistent terminology and framework of trauma-informed practice. For example, there is the "Zone of Regulation" in Chapter 4 that serves as a foundational approach to working with traumatized children in terms of emotional regulation. Several other frameworks are consistent with the trauma-informed approach, such as Socio-Emotional Learning and Trauma-Informed Classroom Management.
Modularity rating: 4
In terms of the modularity, the textbook is arranged as follows: each chapter begins with a small biographical description of the expert being interviewed, along with a QR code to learn more about that expert. Then, the interview is broken up into smaller sections outlining the main points of the expert being interviewed. Some of the chapters appear as long blocks of text; those could stand to be broken down into shorter paragraphs for reading ease. Interspersed in these smaller sections, there is content (text, video, audio) within blue blocks with accompanying QR codes. There is a chapter summary at the end of each chapter with the main ideas listed in bullet points. There is a recording of the interview (QR code), and finally, a list of references.
Organization/Structure/Flow rating: 4
The topics appear to be organized by the main theme of each expert being interviewed. For this reason, there is a logical, clear flow within each chapter. Among the chapters, the logic is less clear; nevertheless, the topics are related to one another. By chapter, they are organized as Helping Traumatized Children Learn, Educating Students with Blocked Trust, Trauma-Informed Classroom Management, Teaching Self-Regulation, Conscious Discipline, Preventing Challenging Behaviors, Trauma-Informed Social-Emotional Learning, and Creating Sanctuary in Schools. A reader with extensive experience in trauma-informed education practice may easily see the logic among the topics. However, a reader new to the field may be confused about what trauma is and how it manifests in the classroom. If the editors want to appeal to readers who are new to this subject, it would be good to have some terms and basic findings from research about how trauma affects the brain, and in turn, learning and behavior for students.
Interface rating: 4
The textbook is free of significant issues. It is easy to navigate using the up/down arrows for the PDF version. Some of the photos of the people highlighted in the book appear a little blurry; professional photos would be much better. Other open-source images are easy to view. Sometimes the text in the smaller blue content boxes spill outside of the box (e.g. p 9 Transition Toolkit) and a quotation in blue font spills into a blue content box (e.g., p. 17). There is an extensive list at the beginning of the textbook outlining the areas of accessibility and how the editors made sure these aspects were addressed, such as accessible tables, images, headings, weblinks, embedded multimedia, formulas, and font sizes. There are a few interactive H5P elements that cannot be used in the PDF version, but there is a Pressbooks links to access them.
Grammatical Errors rating: 5
The textbook is written in a professional manner. It is evident that it has been edited for grammatical errors.
Cultural Relevance rating: 3
The textbook contains an acknowledgement of First Nations Australians, particularly Aboriginal and Torres Strait Islander students, staff, Elders and visitors. Most of the textbook has a westernized psychological and sociological perspectives. This may be because the experts being interviewed are white-presenting men and women from the US and UK. It would be interesting to hear from BIPOC experts, as racial trauma is a significantly emerging area of trauma-informed practice. Page 37 shows illustrations of children from different races and ethnicities; yet, on p. 39, there is a photo of a white female teacher and a class of almost all white students except for one. It is important to represent a wide range of races, ethnicities, and backgrounds when discussing trauma-informed practice.
Comments
This textbook seems suitable for practitioners of trauma-informed practice who already have a background in it. As for students new to the field of trauma informed education, it might be a bit unclear if they do not have a pre-existing background in trauma-informed practice. I applaud the editors for creating this textbook, as this topic definitely needs a larger presence in education and society in general. It is an inherently interdisciplinary topic, and I hope that in later editions it will incorporate more of these perspectives (intergenerational, racial, historical) into the content.
Table of Contents
Acknowledgement of First Peoples

Accessibility Information

Foreword by Dr. Emily Berger

I. Main Body

1. Helping Traumatised Children Learn with Dr. Dave Ziegler

2. Educating Students with Blocked Trust with Dr. Kim Golding

3. Trauma Informed Classroom Management with Betsy de Thierry

4. Teaching Self-Regulation with Ms. Leah Kuypers

5. Conscious Discipline with Dr. Becky Bailey

6. Preventing Challenging Behaviours with Dr. Laura Riffel

7. Trauma Informed Social-Emotional Learning with Professor Maurice Elias

8. Creating Sanctuary in Schools with Professor Sandra Bloom

Conclusion by Dayna Schimke
About the Book
As an educator, have you ever wondered about students, "Why can't she just control her behaviour?" or "Why did he do that?" The demands of the classroom, and the scrutiny of teachers, often leave little time for teachers to consider the complex needs of children experiencing traumatic stress. Drawing on their lived experience and professional expertise, the conversations with trauma-informed education experts in this unique book offer educators an opportunity to develop a deeper understanding of the needs of students and strategies for responding with compassion and empathy. In a time of rapidly emerging scientific discovery, and social and political challenges, this book encourages educational leaders to question the fundamental assumptions of dominant pedagogical practices and sets the foundations for innovation in education.
About the Contributors
Authors
Dr. Govind Krishnamoorthy is a clinical psychologist and senior academic at the University of Southern Queensland. He has over 15 years of experience in child and youth mental health services in both private and public settings. Govind's research focuses on improving equity and access to mental healthcare for priority groups of children, youth and their families. Govind is the developer of Trauma Informed Behaviour Support. This novel mental health program promotes trauma-informed care in education and healthcare settings. He coordinates several innovative industry partnerships to promote mental health in children, youth and their families.
Dr. Kay Ayre is a lecturer in Early Childhood Studies in the School of Education at Edith Cowan University Western Australia. Kay has a background in early years teaching and behaviour support spanning 30-plus years. Kay's research focusses on children's challenging behaviour, positive behaviour support, and trauma-informed practice. Kay is the co-developer of Trauma Informed Behaviour Support.
Ms. Dayna Schimke is a psychologist working in Private Practice in Queensland. She has worked in both not-forprofit and private settings in both QLD and ACT in various roles and has over 15 years of experience supporting children, young people and families with complex needs. Ms. Schimke is passionate about helping young people, and adults heal from complex trauma. She supports and advocates for trauma-informed practices in education to help young people feel safe, connected, and experience positive and successful school environments.