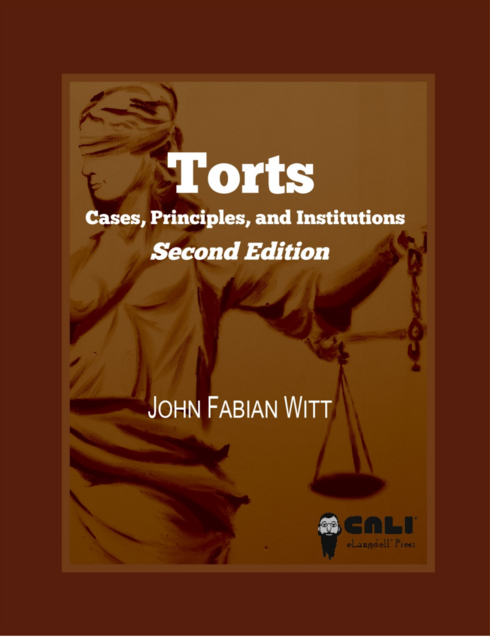 Torts: Cases, Principles, and Institutions
No ratings
John Fabian Witt, Yale Law School
Copyright Year: 2016
Publisher: CALI's eLangdell® Press
Language: English
Table of Contents
Chapter 1. An Introduction To American Tort Law
Chapter 2. Intentionally Inflicted Physical Harms
Chapter 3. Strict Liability And Negligence: History And Introduction
Chapter 4. The Negligence Standard
Chapter 5. Plaintiffs' Conduct
Chapter 6. Causation
Chapter 7. Proximate ("Legal") Cause
Chapter 8. The Duty Problem
Chapter 9. Modern Non-Fault Liability?
Chapter 10. Damages
About the Book
This is the Fifth Edition of Torts: Cases, Principles, and Institutions, a casebook for a one-semester torts course that carves out a distinctive niche in the field by focusing on the institutions and sociology of American tort law. The book retains many of the familiar features of the traditional casebook, including many of the classic cases. Like the best casebooks, it seeks to survey the theoretical principles underlying those cases. But it aims to supplement the cases and principles with editorial notes that focus students' attention on the institutional features of our tort system, including features such as the pervasiveness of settlements, the significance of the market, the role of the plaintiff's bar, the importance of private insurance, the contingency fee, and the jury. These institutional arrangements are what make American tort law distinctive. They are how the substantive doctrines of tort law are translated into the practice of torts lawyers. And they are sociologically fascinating in their own right.
TCPI integrates the institutional materials into the cases and notes rather than segregate them into separate sections of their own. It does so because its aim is not to teach the details of any one institution, such as the mechanics of the law of subrogation or workers' compensation. Few one-semester torts classes can take up so much material. Instead, the book integrates the institutional material into the main text to draw general lessons about the massive, sprawling systems of private administration that American law has created under the umbrella of our torts system.
About the Contributors
Author
John Fabian Witt is Allen H. Duffy Class of 1960 Professor of Law at Yale Law School. His most recent book Lincoln's Code: The Laws of War in American History was awarded the American Bar Association's Silver Gavel Award, was selected for the 2013 Bancroft Prize in American history, was a finalist for the Pulitzer Prize, and was a New York Times Notable Book for 2012. He has taught torts for fifteen years at Yale, Columbia, and Harvard.
Professor Witt's previous writings includes the prizewinning book, The Accidental Republic: Crippled Workingmen, Destitute Widows, and the Remaking of American Law (Harvard University Press, 2004) and Patriots and Cosmopolitans: Hidden Histories of American Law (Harvard University Press, 2007). He has authored articles in the American Historical Review, the Columbia Law Review, the Harvard Law Review, the Yale Law Journal, and other scholarly journals. He has written for the New York Times, Slate, the Wall Street Journal, and the Washington Post. In 2010 he was awarded a John Simon Guggenheim Memorial Foundation Fellowship for his project on the laws of war in American history. Professor Witt is a graduate of Yale Law School and Yale College and he holds a Ph.D. in history from Yale. He is a fellow of the American Academy of Arts and Sciences. He served as law clerk to Judge Pierre N. Leval on the United States Court of Appeals for the Second Circuit.