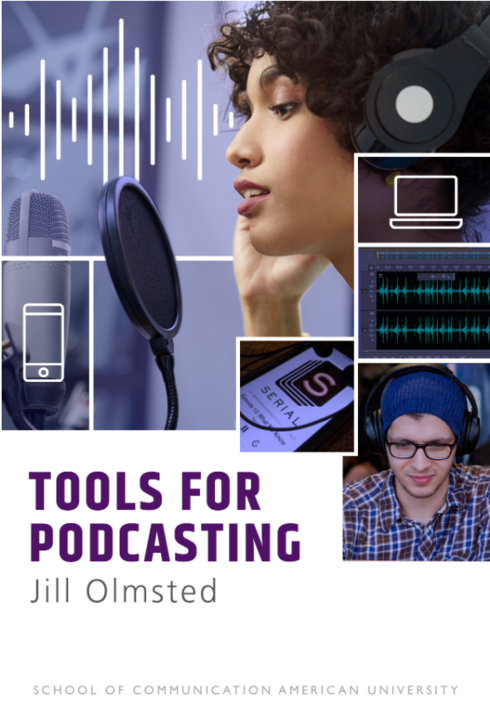 Tools for Podcasting
Jill Olmsted
Copyright Year: 2019
Publisher: American University
Language: English
Table of Contents
Preface
Acknowledgements
About the Author
Chapter 1: Podcasting Growth, Trends, Landscape
Chapter 2: Title, Description, Music, Cover Art
Chapter 3: Microphones, Recorders, Filters
Chapter 4: Best Practices for Recording
Chapter 5: Interview Preparation, Listening, Ending
Chapter 6: Scripting, Opens, Bumpers, Outros
Chapter 7: Voicing Tips, Exercises, Script Marking
Chapter 8: Audacity, Garageband, Audition Editing
Chapter 9: Publishing Hosts, Transcription, Promotion
Chapter 10: How Do You Measure Audience?
Chapter 11: Avoiding Legal Trouble
Appendix A: Newsletters, Podcasts, Conferences
Appendix B: Resources
Appendix C: Podcast Assignments & Examples
About the Book
Welcome! If you're interested in learning about the growing universe of podcasting, how it works and finding tools and inspiration to create your own podcast, this online resource is for you. My focus is on audio podcasting and this practical guide will help you navigate the technology and best practices in an easy-to-understand handbook.
You will also find many audio and video clips that provide examples and video tutorials leading you through editing software, vocal delivery, promotion ideas and more. All videos have closed captioning and there is an extensive section on the importance of transcription of podcasts to enable web accessibility for the deaf, hearing impaired and language learning audiences. There is also an emphasis on diversity and inclusion with resources listing mentorships and employment opportunities. For even more information click on the extensive links throughout this e-book.
In addition, each chapter has learning objectives and there are practice exercises in Appendix C at the end of the e-book along with additional resources about podcasting from newsletters and conferences to how-to-create tools and podcast recommendations.
Podcasting is a dynamic way to use your smarts and creativity to tell stories about compelling subjects. This handbook provides instruction and tools to produce your own podcast — whether you are a professional in journalism, the arts, sciences, business or law, an activist or just someone who has a story to tell. The tools discussed are focused on keeping costs low for entry-level podcasters and designed to help anyone who wants to record, edit and distribute podcasts.
About the Contributors
Author
Jill Olmsted is a full-time professor of Journalism at the American University School of Communication in Washington, D.C. She has taught communication courses for 30 years, specializing in audio and video storytelling and public affairs reporting. She writes and comments about media issues, does freelance voice-over work and has done media training for law enforcement and government agencies. She has worked as an on-air television and radio news anchor, reporter and editorialist as well as a producer, editor, photographer and news manager. As a former Washington, D.C., correspondent for nationally syndicated programs, she covered federal agencies and the White House. She's been a member of professional organizations that include the Online News Association (ONA), Radio-Television Digital News Association (RTDNA), National Association of Hispanic Journalists (NAHJ) and The Association of Educators in Journalism and Mass Communication (AEJMC).