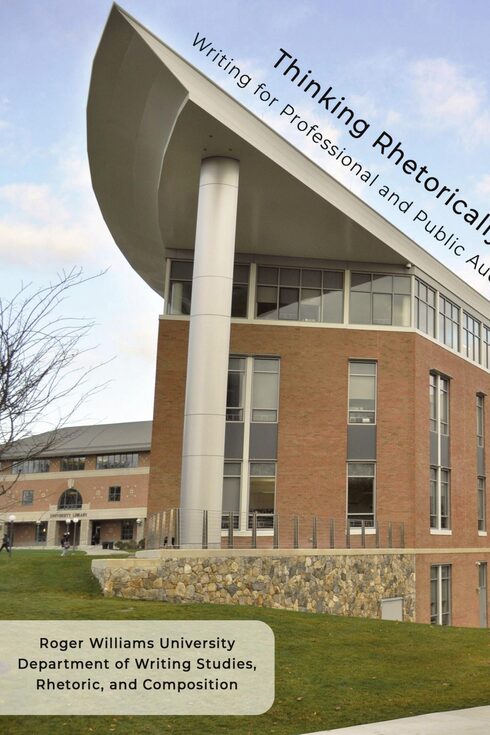 Thinking Rhetorically: Writing for Professional and Public Audiences
Roger Williams University Department of Writing Studies, Rhetoric, and Composition, Roger Williams University
Copyright Year: 2020
Last Update: 2023
Publisher: Roger Williams University Open Publishing
Language: English
Reviews
Reviewed by Cindy Johanek, Writing Faculty, North Hennepin Community College on 10/10/23
This text is a collection of 19 individual chapters, each written by one of eight authors in the same writing program at Roger Williams University. The chapters are divided into focused topics covering a wide range of key terms and concepts... read more
Reviewed by Cindy Johanek, Writing Faculty, North Hennepin Community College on 10/10/23
Comprehensiveness rating: 3 see less
This text is a collection of 19 individual chapters, each written by one of eight authors in the same writing program at Roger Williams University. The chapters are divided into focused topics covering a wide range of key terms and concepts relevant to Professional and Public Writing: Rhetoric, Style, Audience, Visual Rhetoric, etc.
While the organization of the text suggests a comprehensive look at such concepts, each chapter is surprisingly short, offering a general overview or brief summary of the concept. While some examples, hypothetical situations, or analogies occur here and there, the chapters themselves are introductory in nature and very basic such that they appear to be introductions to longer, more substantial discussions that would fill out the remaining chapter if the chapter continued.
The text includes a Glossary of terms at the end, which can be helpful as a memory guide or as a stand-alone reference for students who are new to these terms and concepts (such as Rhetoric, Kairos, Genre, Epistemology, and more).
A lot of ancillary material would be required to make this an effective, stand-alone text in a Professional Writing course. In truth, many of us who teach such courses probably do this regardless of textbooks or textbook types. The basic overviews offered in each chapter here are, perhaps, too basic to develop concrete meaning for many students. Further, of the 19 chapters, only 7 referenced sources or further reading.
Content Accuracy rating: 3
The accuracy of this text is difficult to determine. Yes, it gives accurate definitions of rhetorical concepts and reviews the concepts most important to many writers. Chapter 2, "Making Effective Writerly Decisions," for example, reviews traditional wisdom about examining rhetorical situations, engaging in peer feedback, and understanding genre. Covering this much ground, however, in the short space of two or three screens of text gives short treatment of such large concepts. Further, this chapter's advice about following conventions, "assessing your own writing," and becoming an "effective" writer also seems counter to advice we see in Chapter 15, "Linguistic Diversity, Linguistic Justice," which pushes against such conventions and traditional notions of "effective" or "good" writing.
The general, brief treatment of each rhetorical concept throughout the text results in watered-down, basic, introductory content. When the content of the textbook is focused on the complexities of rhetoric and professional writing, full "accuracy" falls short if we aim for students to engage in more complicated analysis, deeper understanding, and interesting application of these concepts.
Relevance/Longevity rating: 4
The content of this textbook could be considered "timeless" in some ways. Basic rhetorical concepts that stemmed from the philosophies of Aristotle, Plato, and Cicero, for example, are, of course, classic. Hypothetical examples, analogies, and images pull and update these concepts into current lives or situations, such as choosing a movie or reacting to a grade on an exam. Any future updates would be easy to implement. For example, more current illustrations or analyses of texts—spoken or written—could be introduced easily and would further enhance the classic approach to rhetorical study by applying rhetorical terms to today's discourse in diverse settings in a more meaningful, complicated way.
Clarity rating: 5
Since this textbook aims to introduce students to rhetorical concepts and, therefore, the jargon associated with studies in rhetoric, each chapter is focused on defining terminology. Terms such as "Rhetoric," "Kairos," and "Genre" are not just used, but they are also defined and summarized. Further, the text speaks to readers directly in second person or in first person plural in almost all chapters: "As a team, decide on a plan for your work" (Chapter 3); "we have the problem, but also the freedom to choose" (Chapter 10).
Consistency rating: 5
The text is consistent from chapter to chapter in framework and in terminology. Some key terminology (such as "Rhetoric") is repeated across some chapters, but the treatment of such concepts is consistent. The goal of most individual chapters is to introduce students to a new rhetorical concept or term, so while each chapter has its own focus (such as "Audience" or "Genre"), the summary approach guides each chapter.
Modularity rating: 4
This textbook is easily divisible into smaller portions as each of the 19 chapters are quite brief. Linking students in a Professional Writing class to this text could supplement other course materials as it serves best as a dictionary or encyclopedic summary of key terms for those students encountering such concepts for the first time.
Organization/Structure/Flow rating: 5
This text is organized into five main sections: Writing Process Knowledge, Rhetorical Knowledge, Genre Knowledge, Discourse Community Knowledge, and Metacognitive Knowledge. This is a reasonable break-down of sections, and then each section has individual chapters within. For example, Genre Knowledge contains three chapters: Genre, Style, and Page Design. I appreciate the rhetorical foundation the authors aim to provide to a Professional Writing class.
Interface rating: 5
The textbook is easy to read online and is available in pdf. The Table of Contents is clear and navigable, remaining visible in the left sidebar while reading (though it closed the list of specific chapters every time I clicked on an individual chapter). In many chapters, key terms are often hyperlinked to other chapters where those terms are defined.
Grammatical Errors rating: 5
The textbook appears to be free of grammatical errors, but some chapters seem to "hop around" as if they are in the early drafting stage. The chapter, "Writing Audience into Your Text," for instance, aims to define audience(s), explore how writers incorporate research, and explain how audience factors into the writing process in a very short chapter; these elements, however, somehow distract from each other, are somehow out of order, and lack substantial illustrations for students to consider. In the "Genre" chapter, the first half of the text explains Genre via "going to a movie," which is a sensible analogy. However, the chapter is very short, and such an extended analogy leaves little room for discussing Genre in the context of Professional and Public Writing, which is the focus of the textbook.
Cultural Relevance rating: 4
I'm glad to see a chapter about "Linguistic Diversity, Linguistic Justice" in the Discourse Communities section of this textbook. The chapter contains a discussion about how "standard" English became the "standard" and how colonization, systemic racism, and other forces have culminated in language injustice. The chapter ends with four sets of questions for consideration, designed, for example, to help students explore how language changes or how they can interact with discourse communities in a way that values language diversity. Throughout other chapters, much discussion and many definitions in this text occur without examples; however, when authors provide examples, the examples tend to be very general and applicable to many backgrounds most of the time. In the "Visual Rhetoric" chapter, for example, the author wisely cautions readers that not all visuals are interpreted in the same way among all cultures. This is good advice. But at the same time, the author unfortunately shares a sweeping generalization about white dresses worn at weddings in western cultures while white attire is common in Asian cultures. Such a generalization leaves behind cultural considerations that are much more complicated than that, and readers end up with mixed messages here.
Table of Contents
Acknowledgements
Introduction
Defining Professional and Public Writing
Part I. Content Knowledge
Part II. Writing Process Knowledge
Part III. Rhetorical Knowledge
Part IV. Genre Knowledge
Part V. Discourse Community Knowledge
Part VI. Metacognitive Knowledge
RWU Writing Program Glossary
About the Book
Thinking Rhetorically: Writing in Professional and Public Contexts is dedicated to introducing students to a lifelong commitment of engaging with these problems that matter. As an academic discipline, Writing Studies' contribution to engaging with problems can be applied to all areas of study and to all types of problems because we focus on the way language itself—discourse—is created and exchanged in the service of engaging problems. Writing Studies deepens students' rhetorical awareness of how the ongoing conversations between groups of people shape and express the problems that matter.
About the Contributors
Author
Roger Williams University Department of Writing Studies, Rhetoric, and Composition, Roger Williams University