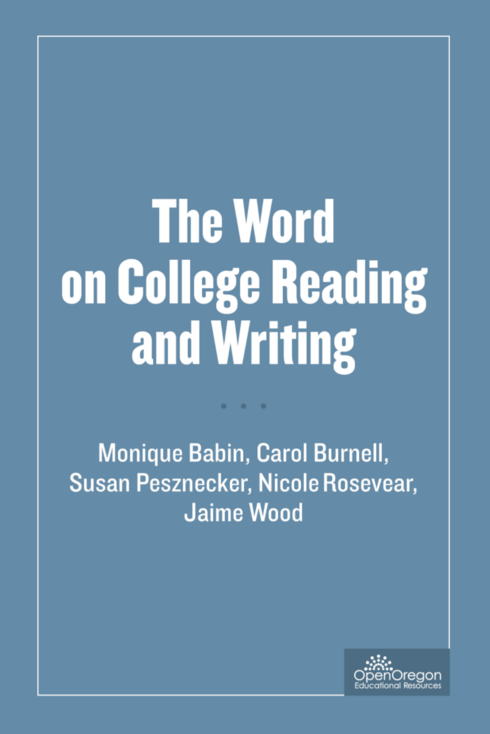 The Word on College Reading and Writing
Monique Babin
Carol Burnell, Clackamas Community College
Susan Pesznecker, Clackamas Community College
Nicole Rosevear, Clackamas Community College
Jaime Wood, Portland State University
Copyright Year: 2017
Publisher: Open Oregon Educational Resources
Language: English
Table of Contents
Introduction
Part 1: Working with Texts
Building Strong Reading Skills
Read Effectively
Create an Optimal Setting for Reading
Use Pre-reading Strategies
Read Efficiently
Annotate and Take Notes
Do Quick Research
Discover What a Text is Trying to Say
Explore the Ways the Text Affects You
Reflect
Troubleshoot Your Reading
Writing about Texts
Reading Critically
Exploring the Structure of a Text
Dialectic Note-taking
Analyzing Content and Rhetoric
Sentence-Level Analysis
Point of View
Word Choice
Paragraph Analysis
Summarizing a Text
Critiquing a Text
Drawing Conclusions, Synthesizing, and Reflecting
What is Information Literacy?
Why is Information Literacy Important?
Finding Quality Texts
Learning About Plagiarism and Guidelines for Using Information
Part 2: Writing
Why Write?
Self-Exploration and Self-Enrichment
Creativity
Comprehension and Academic Performance
Professional Opportunities
Effective Communication and Persuasion
Determining Your Audience and Purpose
Audience
Purpose
Appealing to Your Audience
Exercises
Tone, Voice, and Point of View
Prewriting—Generating Ideas
Selecting and Narrowing a Topic
Strategies for Getting Started
Imagining Your Audience's Needs
Drafting
Organizing Your Ideas and Looking for Connections
Finding the Thesis
Writing a First Draft
Writing Paragraphs
The Paragraph Body: Supporting Your Ideas
Developing Relationships between Ideas
Patterns of Organization and Methods of Development
Writing Introductions
Writing Conclusions
Writing Summaries
Paraphrasing
Quoting
Using Sources Correctly
Crediting and Citing Your Sources
Citing: Identifying In-Text Sources
Citing or Identifying Images in Your Writing
Handling Titles
Proofreading Your Work with Sources
Using Citation Generators
Dealing with Obstacles and Developing Good Habits
Overcoming Writing Anxiety and Writer's Block
Good Writing Habits
Procrastination
Revising
Higher vs. Lower Order Concerns
Reverse Outlining
Editing
Document Format, Documentation Style, and Proofreading
Giving and Receiving Feedback
What's Next?
Appendices
Grammar and Style
Resources for Working with MLA
Creating a Works Cited Page
Results for the "Check Your Understanding" Activities
Glossary of Terms
Works Cited in This Text
About the Book
Written by five college reading and writing instructors, this interactive, multimedia text draws from decades of experience teaching students who are entering the college reading and writing environment for the very first time. It includes examples, exercises, and definitions for just about every reading- and writing-related topic students will encounter in their college courses.
About the Contributors
Authors
Monique Babin, Instructional Designer in Portland, Oregon
Carol Burnell, Faculty Member in the English department at Clackamas Community College, Oregon City
Susan Pesznecker, Adjunct Instructor in the English department at Clackamas Community College, Oregon City
Nicole Rosevear, Faculty Member in the English department at Clackamas Community College, Oregon City
Jaime Wood, Program Manager for Educational Initiatives at Portland State University, Portland