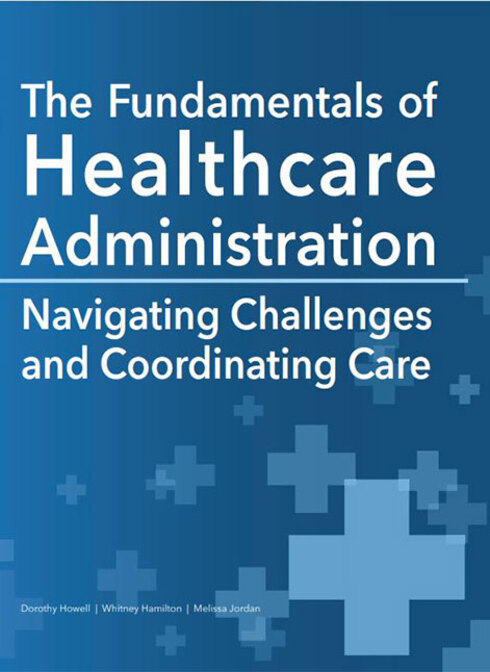 The Fundamentals of Healthcare Administration: Navigating Challenges and Coordinating Care
Whitney N. Hamilton, Macon, GA
Dorothy J. Howell, Macon, GA
Melissa Jordan, Macon, GA
Copyright Year: 2021
ISBN 13: 9781940771885
Publisher: University of North Georgia Press
Language: English
Table of Contents
About the Authors
Acknowledgments
Preface
Managing the Case of Mr. Rodriquez
Part I. Overview of Healthcare Organizations

Chapter 1: Healthcare Organizations
Chapter 2: Overview of Healthcare Management
Chapter 3: Healthcare Technology and Information Strategies
Chapter 4: Emerging Trends in Healthcare Organizations and Their Managerial Implications

Part II: Leadership

Chapter 5: The Convergence of Leaders and Managers
Chapter 6: Building a Foundation in Leadership and Management Theory
Chapter 7: The Role of Leaders and Managers in Establishing Organizational Ethics
Chapter 8: Core Leadership and Managerial Processes

Part III: Organizational Behavior and Models

Chapter 9: Organizational Theory and Behavior Practices in Healthcare: Examining the Three Lenses of the Healthcare Industry
Chapter 10: Analysis of Organizational Models

Part IV: Organizational Culture Performance and Change

Chapter 11: Eliminating Health Disparities in Healthcare Organizations through Cultural Proficiency
Chapter 12: Organizational Culture in Healthcare
Chapter 13: Organizational Performance
Chapter 14: Managing Organizational Change
Chapter 15: Organizational Challenges from a Global Perspective
About the Book
This book is written for those interested in acquiring a thorough knowledge base relative to the intricacies of the organizational theories, customs, and insights significant to the management of health service organizations. It examines the foundational aspects of leadership and management as they relate to establishing and maintaining the principles and practices within healthcare organizations. The book opens with a discussion on the differences between health, healthcare, and health care while providing an overview of healthcare management and organizational trends. It culminates in discussions of leadership, management, motivation, organizational behavior, and management thinking. Additionally, it discusses topics of information technology, teamwork, health disparities, organizational culture, performance, and change.
About the Contributors
Authors
Whitney N. Hamilton, DrPH, MPH is an Assistant Professor of Healthcare Services Administration at Middle Georgia State University. Her research primarily investigates the role of policy on maternal and child health, specifically seeking to further the development of comprehensive policies that will aid in the improvement of healthcare quality and access for vulnerable populations. Her previous research also includes a National Institutes of Health funded project, which sought to identify modifiable risk factors during the transition from care to home that influence the long-term effects of an Acute Coronary Syndrome event.
Dorothy J. Howell, DHA, MSN serves as the Department Chair/Assistant Professor for the Healthcare Services Administration within the School of Business at Middle Georgia State University. Dr. Howell received her Master of Science in Nursing from Georgia College and State University and a Doctor of Health Services Administration from University of Phoenix. Her current research interest includes student perceptions on improving student engagement in academic programs. Her previous research included Evaluating the Relationship of Computer Literacy, Training, Competence and Nursing Experience to CPIS Resistance.
Melissa Jordan, DHSc, EdD is an Assistant Professor of Healthcare Services Administration at Middle Georgia State University in Macon, Georgia. She was awarded her EdD from the Department of Adult and Career Education at Valdosta State University in Valdosta, Georgia. Dr. Jordan has published several scientific articles in peer-reviewed journals, book chapters, and presented her research studies at several major conferences across Georgia and the U.S. Her current research includes the retention strategies of diverse students in undergraduate healthcare administration programs within the University System of Georgia. Previous research includes teen pregnancy with a focus on understanding the problems of teenage motherhood with the development of preventative strategies and interventions to break the cycle of poverty, poor education, and risky behaviors that can lead to health and child welfare issues.