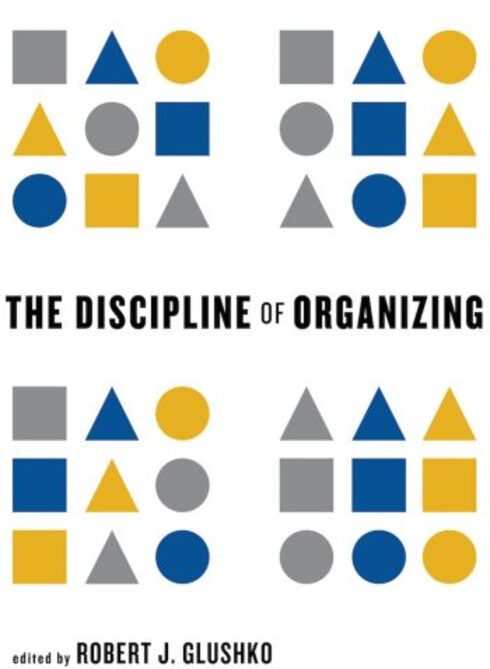 The Discipline of Organizing: 4th Professional Edition
Robert J. Glushko
Copyright Year: 2013
ISBN 13: 9780999797013
Publisher: University of California, Berkeley
Language: English
Reviews
Reviewed by Bobbie Long, Assistant Professor, Emporia State University on 10/18/21
Glushko provides excellent foundational information for any organization of information class. Using this resource as a supplemental textbook or as a spine with newer, supplemental readings will provide students with both an overview of the topic... read more
Reviewed by Bobbie Long, Assistant Professor, Emporia State University on 10/18/21
Comprehensiveness rating: 3 see less
Glushko provides excellent foundational information for any organization of information class. Using this resource as a supplemental textbook or as a spine with newer, supplemental readings will provide students with both an overview of the topic as well as a basic for further studies in cataloging, metadata, and similar coursework.
Content Accuracy rating: 5
Glushko is only limited by the date in which the book was written.
Relevance/Longevity rating: 4
Glushko does a great job of make organization relatable to everyday topics and situations.
Clarity rating: 4
This textbook uses introductory language that students can easily understand.
Consistency rating: 3
Instructors may find that some of Glushko's terms are not what is currently used in the field. However, to be fair, some terms are ambiguous among scholars, so the fault is not the author's.
Modularity rating: 4
Chapters are a good length for students and easily mesh with supplemental readers or another textbook as a spine.
Organization/Structure/Flow rating: 4
Glushko begins with little assumed knowledge and walks the reader through the topics in a meaningful way.
Interface rating: 4
Glushko is clear in presentation.
Grammatical Errors rating: 4
None noticed.
Cultural Relevance rating: 4
None noted.
Reviewed by Kristine Woods, Instructor, Emporia State University on 5/14/21
This text is comprehensive and the linked footnotes broaden its scope. Due to the reiterative manner the text introduces concepts, perhaps it would be good practice to only assign relevant sections to students for required reading. Students may... read more
Reviewed by Kristine Woods, Instructor, Emporia State University on 5/14/21
Comprehensiveness rating: 4 see less
This text is comprehensive and the linked footnotes broaden its scope. Due to the reiterative manner the text introduces concepts, perhaps it would be good practice to only assign relevant sections to students for required reading. Students may find the material kind of dense, so berry pick from the sections and encourage reading the whole thing for those who want more comprehensive coverage. Then they can use the links and key points to access the sections that expand the explanations as in an encyclopedia.
Content Accuracy rating: 4
Content is accurate but sometimes written with an assumed technical background and so is either too
high level or too technical for those new to these ideas. Unfortunately it could be deemed too basic
for those with technical backgrounds who could benefit from understanding the legacy processes inherent
in memory institution practices which have stood the test of time.
Relevance/Longevity rating: 5
It is relevant and the interlinkages available throughout connect themes and topics. Strives to expand the boundaries of the Discipline of Organizing and may seem too Information School for some and too Library Science for others. For example, a basic explanation of the meaning of bibliographic control is unfortunately glossed over. From a traditional standpoint the abstract definition of resources to be organized, without enough corresponding attention to the more granular aspects of the discipline of organizing, renders it approachable but not foundational.
Clarity rating: 4
Although the Svenonius (2000) quotes provide a good framework, her ability to translate complex and philosophical themes into practical applications for examples is not achieved due to too much use of technical terms without sufficient explanation. Parts such as the allegory of organizing a kitchen are helpful and useful. Students may find it dense and conceptual: more theoretical and philosophical than practical and suited to a survey course in information science. There are numerous real world examples, preferring principles over specific applications or implementation.
Consistency rating: 4
Style is inconsistent as it a compendium from different contributors without sufficient structure to smooth
it out and fit together. Some topics are covered in-depth and others only in passing, especially tradition
aspects of bibliographic and other library centric practices. This collaborative process used in creating the text is both a strength and weakness. The scope is broader but the topics lack cohesion. The writing is uneven, with some sections very relatable and others abstruse.
Modularity rating: 5
This e-book version has a lot of features that are not available in the print edition including the ability to link to and from the author's notes, expanded illustrations, interactive self-checks of chapter content, case studies to help convey content, and the ability to add bookmarks and your own notes to the text.
Organization/Structure/Flow rating: 4
The book is entertaining with examples that will likely keep student interest, but may lead to following rabbit trails. Unfortunately classical foundations are obscured by the forward focus and this undermines the stability and structure. Using other resources portraying more of the historical and traditional grounding would improve and contextualize the concepts and provide a scaffold for appreciating the long roots of the field and prepare for the future of this interdisciplinary field.
Interface rating: 4
The e-book and online formats make the links more accessible than in the pdf version.
The tags are color coded with different fields to show connections and themes.
The companion website (https://www.ischools.org/Discipline-of-Organizing) and case studies (https://www.ischools.org/Discipline-of-Organizing-Case-Studies-Overview/) are helpful
Grammatical Errors rating: 5
The book is written with correct language and I did not notice any grammatical errors.
Cultural Relevance rating: 5
Seems good for a basic overview of the information science and theory, but does display a somewhat automated digital bias and fails to capture the appreciation for the important role and work of catalogers and metadata specialists in organizing and making resources accessible and doing so following informed judgment and ethical guidelines. This is essential to honoring the important function of providing access as well as understanding bias and the need to keep a human in the loop to provide oversight and correction.
Comments
I have used whole chapters and significant excerpts of the text for several years in an organization of information course. I purchased a previous edition which I found valuable and worth the price, and still for sale on Amazon, so an open text version, especially an updated and expanded digital version would be beneficial to students and educators alike. Overall, I enjoyed the book and find the new edition better integrated and evolving. However, I do not recommend this as a book to be read from cover to cover in a semester.
Table of Contents
I. Foundations for Organizing Systems
II. Design Decisions in Organizing Systems
III. Activities in Organizing Systems
IV. Resources in Organizing Systems
V. Resource Description and Metadata
VI. Describing Relationships and Structures
VII. Categorization: Describing Resource Classes and Types
VIII. Classification: Assigning Resources to Categories
IX. The Forms of Resource Descriptions
X. Interactions with Resources
XI. The Organizing System Roadmap
XII. Case Studies
About the Book
We organize things, we organize information, we organize information about things, and we organize information about information. But even though "organizing" is a fundamental and ubiquitous challenge, when we compare these activities their contrasts are more apparent than their commonalities. We propose to unify many perspectives about organizing with the concept of an Organizing System, defined as an intentionally arranged collection of resources and the interactions they support. Every Organizing System involves a collection of resources, a choice of properties or principles used to describe and arrange resources, and ways of supporting interactions with resources. By comparing and contrasting how these activities take place in different contexts and domains, we can identify patterns of organizing. We can create a discipline of organizing in a disciplined way.
The 4th edition builds a bridge between organizing and data science. It reframes descriptive statistics as organizing techniques, expands the treatment of classification to include computational methods, and incorporates many new examples of data-driven resource selection, organization, maintenance, and personalization. It introduces a new "data science" category of discipline-specific content, both in the chapter text and in endnotes, marked with [DS] in editions that contain endnotes.
About the Contributors
Author
Bob Glushko is an Adjunct Full Professor at the University of California at Berkeley in the Cognitive Science Program, which he joined in 2017 after fifteen years at the School of Information.
Before joining the Berkeley faculty in 2002, he had more than twenty years of R&D, consulting, and entrepreneurial experience in information systems and service design, content management, electronic publishing, Internet commerce, and human factors in computing systems. He founded or co-founded four companies, including Veo Systems in 1997, which pioneered the use of XML for electronic business before its 1999 acquisition by Commerce One. Veo's innovations included the Common Business Library (CBL), the first native XML vocabulary for business-to-business transactions, and the Schema for Object-Oriented XML (SOX), the first object-oriented XML schema language. From 1999-2002 he headed Commerce One's XML architecture and technical standards activities and was named an "Engineering Fellow" in 2000. In 2008 he co-founded and for several years served as a Director for Document Engineering Services, an international consortium of expert consultants in standards for electronic business.
From 2005-2010 he was a member of the Board of Directors for OASIS, an international consortium that drives the development, convergence, and adoption of "open standards for the global information society," and and also served on the Board of Directors for the Open Data Foundation, dedicated to the adoption of global metadata standards for statistical data. He is the President of the Robert J. Glushko and Pamela Samuelson Foundation, which sponsors the annual Rumelhart Prize in Cognitive Science and the Glushko Dissertation Prizes for outstanding Cognitive Science Ph.Ds.