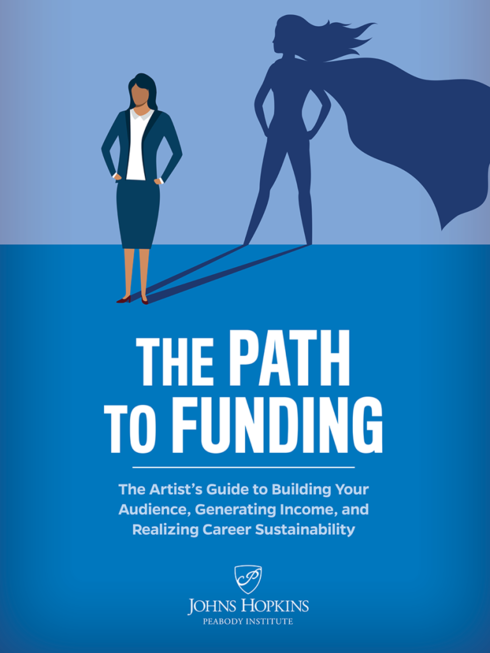 The Path to Funding: The Artist's Guide to Building Your Audience, Generating Income, and Realizing Career Sustainability
Zane Forshee, Baltimore, MD
Christina Manceor, Baltimore, MD
Robin McGinness, Baltimore, MD
Copyright Year: 2022
Publisher: The Peabody Institute of The Johns Hopkins University
Language: English
Reviews
Reviewed by Renee Woodfin, Adjunct Professor, The University of the District of Columbia on 12/28/22
The outline of the book and the informationi presented match and is orderly in a manner that the reader can follow or use as a reference to skip around and reveiw subject matter not in a chronological order. read more
Reviewed by Renee Woodfin, Adjunct Professor, The University of the District of Columbia on 12/28/22
Comprehensiveness rating: 4 see less
The outline of the book and the informationi presented match and is orderly in a manner that the reader can follow or use as a reference to skip around and reveiw subject matter not in a chronological order.
Content Accuracy rating: 4
Information is timely and process presented easy for anyone to use to get up and running.
Relevance/Longevity rating: 4
In a time whereby artist are not in high esteem as other careers such as engineers or athletes, this book helps the artist navigate the process and give excellent guidelines on how to thrive.
Clarity rating: 5
No hard to read. Anyone with a middle school reading level will be proficient enough to graps what the author is suggesting.
Consistency rating: 5
Concepts presented throughout the book match outline and the introduction for intened use.
Modularity rating: 4
The grouping are functional so that the reader is clear on what will be presented in that section.
Organization/Structure/Flow rating: 4
The book flow well and is thoughtfully written with the audience in mind.
Interface rating: 4
The layout is easy to follow making it simple for the reader to apply concepts
Grammatical Errors rating: 4
Do not recall any error in the reading.
Cultural Relevance rating: 5
Anyone can use this book and get something out of it although it is written for artist types.
Comments
Enjoyable and gave me some things to consier in my next project.
Table of Contents
Title
Foreward
Preface
Acknowledgements
I. The Artist

1. Introduction
2. Your Artistry and Values

II. The Community

4. Your Audience
5. Funders and Other Partners

III. The Creative Project

6. Project Descriptions
7. Project Budgets
8. Project Timelines
9. Project Viability
10. Make It Happen

References
Glossary
About the Artists
About the Team
About the Peabody Institute
About the Book
Based on coursework developed at Peabody Conservatory, this book breaks down the process of developing an artist mission statement, generating new ideas for creative projects, and creating an engaging project description. It also covers methods for artists to identify their audience, generate a comprehensive project budget, collect compelling work samples, and identify potential funders to support their creative work. Written by a team of active artists and educators, this resource provides creatives with tools and strategies to communicate passionately and effectively about their work and take control of their financial and artistic future.
About the Contributors
Authors
Zane Forshee serves as the Marc C. von May Distinguished Chair of Professional Studies, Director of Peabody LAUNCHPad, and is a guitar faculty member of the Peabody Conservatory of The Johns Hopkins University.
Forshee's work as an artist has led to appearances worldwide including: the Palacete de Amezúa (Madrid), the Joseph Joachim Konzertsaal (Berlin), the Library of Congress (Washington, D.C.), and the Chimei Museum (Taiwan). His wide-ranging collaborative projects include choreographer danah bella, percussionist and composer Gene Koshinski, film composer Christian Biegai, and an upcoming collaboration with artistic polyglot Wendel Patrick.
His most recent recording, Valenciano: Guitar Works of Asencio, Esplá & Rodrigo, reached Number 1 on Amazon's Classical Music Chart and No. 6 on Billboard's Classical Crossover chart. He is a Fulbright Scholar, Wigmore Hall Charitable Trust recipient, D'Addario Foundation Grant Winner, Maryland State Arts Council: Independent Artist Awardee, and received a Peabody Institute Dean's Incentive Grant for his collaborative research project with the Department of Neurology at Johns Hopkins that explored the Impact of Weekly Guitar Lessons on Functional Movement and Well-being in Parkinson's Disease Patients, among others.
Forshee has presented masterclasses, key notes, guest lectures, and workshops at the Royale Conservatoire of Scotland, San Francisco Conservatory of Music, Staffordshire University (UK), North Carolina School for the Arts, University of Edinburgh, St. Olaf College, Johns Hopkins University, and the Cleveland Institute of Music, among others.
Of him, Baltimore City Paper writes: "As the old adage goes, those who cannot do, teach. Apparently Zane Forshee didn't get the memo. . . do not miss out on the chance to learn a thing or two from the man who makes music his life in the classroom and on stage."
Christina Manceor is a percussionist, career educator, and entrepreneur who integrates problem solving and collaboration to enhance and innovate experiences for students, audiences, and arts organizations. Currently, she works at the Peabody Conservatory as Assistant Director of  LAUNCHPad (career services), and serves as adjunct Professional Studies faculty for Peabody's innovative Breakthrough Curriculum. As a Baltimore-based freelance percussionist, she pursues artistic collaborations in a variety of genres and styles.
As an educator passionate about helping emerging artists further their careers, Manceor enjoys teaching both artistic and professional skills. In addition to her work designing and teaching Professional Studies courses at Peabody, she is a career coach at the conservatory and manages experiential learning programs, grants, and other resources for students and alumni. She was previously percussion faculty at Mount St. Mary's University, and her experience in music education spans over a decade of private percussion instruction.
As a performer, Manceor is co-founder of the flute and percussion group Duo Sila, and also performs with the samba band Bateria Terra Maria and the jazz/funk/soul fusion band the Kris Johnson Group. Additionally, Christina's extensive background in performing arts management informs her work as both a performer and educator, having previously served as Managing Director of Community Concerts at Second, and co-founded About\face, a cross-genre and cross-disciplinary concert series in Baltimore.
Christina earned her B.M. in Percussion Performance with a minor in Performing Arts Management at the University of Michigan in Ann Arbor, and completed her M.M. in Percussion Performance at Peabody. Currently she is pursuing an Ed.D. at the Johns Hopkins University School of Education, specializing in Entrepreneurial Leadership in Education.
Robin McGinness is an operatic baritone and career coach interested in finding ways to use theater and games to facilitate professional development, self-management for performers, art song house concerts, and modernizing the operatic repertoire.Currently an instructor of Professional Studies at the Peabody Institute, McGinness helped create core classes of the Breakthrough Curriculum, Building a Brand and Portfolio, and Pitching Your Creative Idea. A staff member of LAUNCHPad, Peabody's career services office, since 2015, McGinness has invested years in helping both undergraduate and graduate students prepare for their lives after school. McGinness also co-hosts MaxQ, Peabody LAUNCHPad's podcast focused on exploring what life is like for recent Peabody graduates.
As a baritone soloist, McGinness has performed in the Kennedy Center Concert Hall and Carnegie Hall's Stern Auditorium. Other recent performances include Carmina Burana with Maryland Symphony Orchestra, Duruflé Requiem with the Peabody Symphony Orchestra, and Brahms Requiem with The Washington Chorus, a performance praised by the Washington Post for its "warm baritone."
McGinness holds degrees from Oberlin Conservatory and the Peabody Institute. Previously, McGinness has been a resident artist at Opera Theater St. Louis, Pittsburgh Festival Opera, Teatro Nuovo, and Bel Canto at Caramoor and was the Baritone Studio Artist in the Arizona Opera Marion Roose Pullin Opera Studio. An award-winning performer, McGinness placed first in the Sylvia Greene Vocal Competition, second in the Piccola Opera Competition, and received the Patricia A. Edwards Award in the Annapolis Opera Vocal Competition.