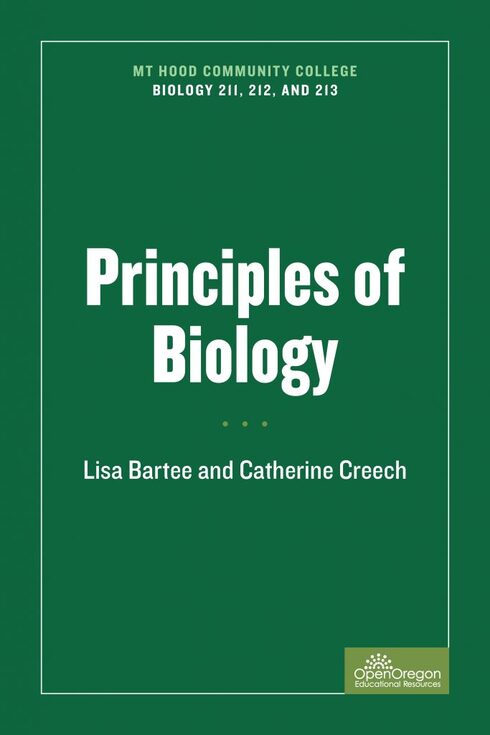 Principles of Biology: Biology 211, 212, and 213
Lisa Bartee, Mount Hood Community College
Walter Shriner, Mount Hood Community College
Catherine Creech, Mount Hood Community College
Copyright Year: 2017
ISBN 13: 9781636350400
Publisher: Open Oregon Educational Resources
Language: English
Reviews
Reviewed by Jan Just, Instructor of Biology, Portland Community College on 6/13/21
Principles of Biology: Biology 211, 212, 213 is missing the diversity of life unit, the plant anatomy and physiology unit, and the animal anatomy and physiology unit. The missing units constitute approximately 1/3 of the material covered in most... read more
Reviewed by Jan Just, Instructor of Biology, Portland Community College on 6/13/21
Comprehensiveness rating: 3 see less
Principles of Biology: Biology 211, 212, 213 is missing the diversity of life unit, the plant anatomy and physiology unit, and the animal anatomy and physiology unit. The missing units constitute approximately 1/3 of the material covered in most publisher-based majors biology textbooks.
Content Accuracy rating: 4
Topics in this book are not discussed at the level of detail consistent with other publisher-based majors biology textbooks.
Relevance/Longevity rating: 5
I like that this textbook contains current information on topics such as biodiversity and climate change. These aspects will need to be frequently updated and I believe that the format of this book will make that relatively easy.
Clarity rating: 4
This textbook often uses a tone that sounded conversational to me. I would be interested to hear a student's point of view about whether this makes the textbook more accessible and less intimidating.
Consistency rating: 5
This book is organized in a consistent pattern throughout.
Modularity rating: 5
Each topic is broken down into logical subtopics and the format of these subtopics is consistent throughout the book. Whole sections, or subunits could be utilized independently.
Organization/Structure/Flow rating: 5
The overall topics for this book are consistent with the order in which they are typically presented in majors biology textbooks. Within each section there is a general description followed by a logical progression of subunits.
Interface rating: 4
Some charts and graphs were too small to read and understand easily. In one instance there is a n image related to phenylketonuria that appears between two unrelated paragraphs and the image is repeated in the appropriate place.
Grammatical Errors rating: 4
As a whole the text is grammatically correct
Cultural Relevance rating: 3
Humans are not the primary source of examples throughout this textbook, which is appropriate and consistent with other similar books. With topics such as inheritance and population growth there are opportunities for inclusive examples or for clarifying details that would more fully encompass a variety of races, ethnicities, and backgrounds.
Comments
It is important to understand that the flagship publisher textbook for majors biology took 9 years to develop its first edition in 1987 and has had many revisions and additions since. Writing an OER text for a major biology course is a monumental undertaking and I believe that this text will continue to improve over time as additional topics and increased detail are added. This textbook could be used for gaining fundamental concepts in conjunction with a course that employs open pedagogy and uses a variety of additional resources and materials.
Table of Contents
Class Descriptions

The Process of Science
Chemistry for Biology
Biological Molecules
What is Life?
Cell Structure and Function
The Cell Membrane and Transport
Cell Communication
Enzyme-catalyzed reactions
How cells obtain energy
Photosynthesis
Cell Division - Binary Fission and Mitosis

BIOLOGY 212 - Genetics


DNA and Chromosome Structure
DNA Replication
Mutations
Protein Synthesis
Gene Regulation
Meiosis - Sexual Reproduction
Patterns of Inheritance
Genetics: Dog Coat Color
Biotechnology

BIOLOGY 213 - Ecology and Evolution


Introduction to Evolution
Evolution in Action
Evolutionary Relationships
Ecology and the Biosphere
Population and Community Ecology
Ecosystems
Conservation Biology and Biodiversity
About the Book
The Principles of Biology sequence (BI 211, 212 and 213) introduces biology as a scientific discipline for students planning to major in biology and other science disciplines. Laboratories and classroom activities introduce techniques used to study biological processes and provide opportunities for students to develop their ability to conduct research.
About the Contributors
Authors
Lisa Bartee, Mount Hood Community College
Walter Shriner, Mount Hood Community College
Catherine Creech, Mount Hood Community College