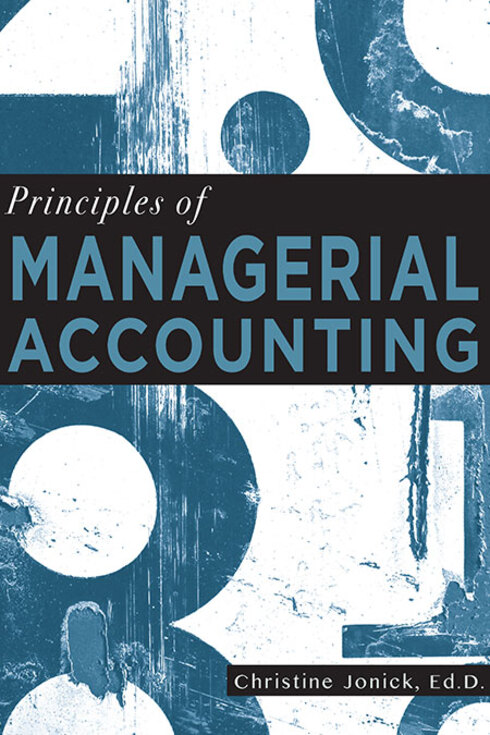 Principles of Managerial Accounting
Christine Jonick, Dahlonega, GA
Copyright Year: 2017
ISBN 13: 9781940771458
Publisher: University of North Georgia Press
Language: English
Reviews
Reviewed by Susan Ortega, Professor, Garden City Community College on 11/29/22
The book was very comprehensive and easy to follow. read more
Reviewed by Susan Ortega, Professor, Garden City Community College on 11/29/22
Comprehensiveness rating: 5 see less
The book was very comprehensive and easy to follow.
Content Accuracy rating: 5
The book gave great examples, and it was easy to follow along with the different concepts.
Relevance/Longevity rating: 5
The material is up to date and very relatable for students.
Clarity rating: 5
The author did an excellent job defining any new terms or concepts that are introduced throughout the book.
Consistency rating: 5
The text uses examples for the different journal entries and refers to them throughout the textbook.
Modularity rating: 5
Each topic is divided up by chapters and each concept is explained thoroughly and then an example is given. The example problems are explained throughout the example which makes it easy for the students to understand. I will use this book as a supplemental piece to the current textbook that I currently use.
Organization/Structure/Flow rating: 5
Each topic is presented in a way that it builds upon the previous topic introduced.
Interface rating: 5
The text was easy to read, and the examples problems were separated so that it was easy to reference without having to dig through the text.
Grammatical Errors rating: 4
I did not notice any grammatical errors.
Cultural Relevance rating: 5
The example problems use generic companies, so it is not insensitive to different cultures.
Comments
I found this book easy to read and it explained the different concepts of managerial accounting very well. Each new concept has an example problem or journal entry. The problem was also thoroughly explained, which will make it easier for students to understand the different steps. I plan on using this text as a supplemental addition to the current textbook that I use because I feel that it does a better job explaining the different concepts.
Table of Contents
Chapter 1: Managerial Accounting Concepts
Chapter 2: Job Order Costing
Chapter 3: Process Costing
Chapter 4: Activity-Based Costing
Chapter 5: Cost Volume Profit Analysis
Chapter 6: Variable Costing Analysis
Chapter 7: Budgeting
Chapter 8: Variance Analysis
Chapter 9: Differential Analysis
About the Book
The University of North Georgia Press and Affordable Learning Georgia bring you Principles of Managerial Accounting. Well-written and straightforward, Principles of Managerial Accounting is a needed contribution to open source pedagogy in the business education world. Written in order to directly meet the needs of her students, this textbook developed from Dr. Jonick's years of teaching and commitment to effective pedagogy.
Features:
Peer reviewed by academic professionals and tested by students
Over 100 charts and graphs
Instructional exercises appearing both in-text and for Excel
Resources for student professional development
This textbook is an Open Education Resource. It can be reused, remixed, and reedited freely without seeking permission.
About the Contributors
Author
Christine Jonick, Ed.D., is a professor of Accounting in the Mike Cottrell College of Business at the University of North Georgia. She has been with UNG for more than 25 years and received the Excellence in Online Teaching Award from UNG in 2016. Dr. Jonick serves as the chairperson of the American Accounting Association SE Member Engagement Committee and president and board of directors member of the Georgia Association of Accounting Educators.