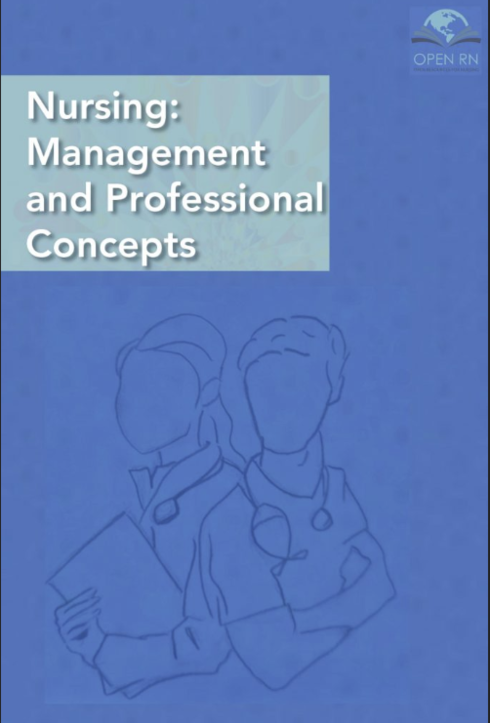 Nursing Management and Professional Concepts
Open Resources for Nursing Open RN, Chippewa Valley Technical College
Copyright Year: 2022
ISBN 13: 9781734914191
Publisher: WI Technical Colleges Open Press
Language: English
Reviews
Reviewed by Carrie Dickson, Nursing Instructor, Normandale Community College on 5/30/23
I have used this book for two semesters in a lower-division nursing leadership/ management course and plan to continue to use it. I believe this is a very comprehensive and appropriately-leveled resource for prelicensure leadership, management, or... read more
Reviewed by Carrie Dickson, Nursing Instructor, Normandale Community College on 5/30/23
Comprehensiveness rating: 5 see less
I have used this book for two semesters in a lower-division nursing leadership/ management course and plan to continue to use it. I believe this is a very comprehensive and appropriately-leveled resource for prelicensure leadership, management, or professional concepts nursing courses. It is especially relevant for associate's degree programs and lower-division nursing courses, and it's frankly refreshing to find resources appropriate to this level. I believe upper-division courses could start with this as foundational knowledge, but may want to build on it with other OER materials, journals, etc.
Content Accuracy rating: 5
I have found the information for be very accurate and unbiased.
Relevance/Longevity rating: 5
I believe this book can remain relevant for quite some time. The book is divided into sections that make it easy to assign small sections that fit the topics needed.
Clarity rating: 5
I am grateful to find a text that is finally at an appropriate reading level for a lower-division, pre-licensure nursing course.
Consistency rating: 5
The book feels very consistent in terminology and layout throughout. In fact, I have read several books from OpenRN and they all have excellent consistency between them, making it easy to pick up another one of their books and jump right in.
Modularity rating: 5
Modularity is among the many strengths of this book and the OpenRN structure overall.
Organization/Structure/Flow rating: 5
I appreciate how the book is organized and yet how easy it is to assign readings outside of the typical organization if I so choose.
Interface rating: 5
The book and interface are incredibly easy to use.
Grammatical Errors rating: 5
I have not seen any grammatical errors in the full year plus that I have now been using this book.
Cultural Relevance rating: 5
The content here around health disparities, social determinants of health, etc. go beyond inclusivity and support effectively teaching these topics.
Comments
My students have supported the use of the book and commented on its ease of navigation and accessibility of language.
Table of Contents
Part I. Chapter 1 - Overview of Management and Professional Issues
Part II. Chapter 2 - Prioritization
Part III. Chapter 3 - Delegation and Supervision
Part IV. Chapter 4 - Leadership and Management
Part V. Chapter 5 - Legal Implications
Part VI. Chapter 6 - Ethical Practice
Part VII. Chapter 7 - Collaboration Within the Interprofessional Team
Part VIII. Chapter 8 - Health Care Economics
Part IX. Chapter 9 - Quality and Evidence-Based Practice
Part X. Chapter 10 - Advocacy
Part XI. Chapter 11 - Preparation for the RN Role
Part XII. Chapter 12 - Burnout and Self-Care
Part XIII. Answer Keys
About the Book
This book introduces concepts related to nursing leadership and management, prioritization strategies, delegation and supervision, legal implications of nursing practice, ethical nursing practice, collaboration within the interprofessional team, health care economics, quality and evidencebased practice, advocacy, preparation for the RN role, and the avoidance of burnout with self-care. Several online, interactive learning activities are included in each chapter that encourage application of content to patientcare situations. Additionally, the Appendix includes a "suite of patients" with suggested prompts for classroom discussion to assist students in applying concepts from the book to real patient-care situations.
About the Contributors
Author
The Open RN project is supported by a $2.5 million grant from the Department of Education to create five free, open source nursing textbooks. However, this content does not necessarily represent the policy of the Department of Education, and you should not assume endorsement by the federal government. More information about the Open RN grant can be found at cvtc.edu/OpenRN. The first three textbooks of the Open RN textbook series, Nursing Pharmacology, Nursing Skills, and Nursing Fundamentals, received a Best OER Awards from OE Global in 2020 and 2021.