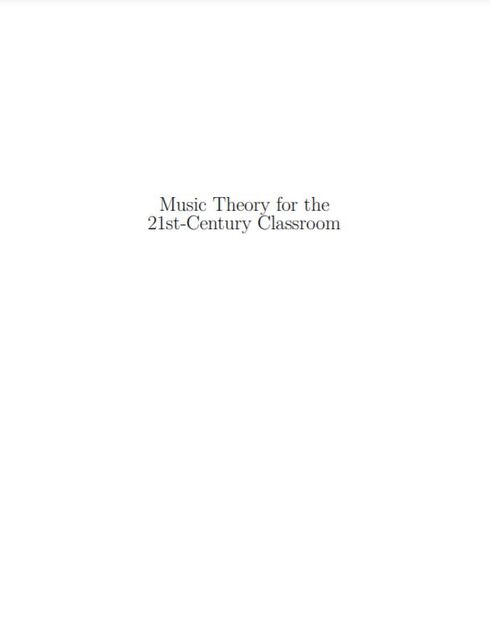 Music Theory for the 21st-Century Classroom
Robert Hutchinson, University of Puget Sound
Copyright Year: 2017
Publisher: Robert Hutchinson
Language: English
Table of Contents
1 Basic Concepts 
2 Major Scales and Key Signatures 
3 Minor Scales and Key Signatures 
4 Basics of Rhythm 
5 Intervals
6 Triads 
7 Roman Numerals and Cadences 
8 Seventh Chords 
9 Harmonic Progression and Harmonic Function 
10 Non-Chord Tones 
11 Melodic Analysis
12 Form in Popular Music 
13 Phrases in Combination 
14 Accompanimental Textures 
15 Creating Contrast Between Sections 
16 Figured Bass 
17 Secondary Dominant Chords
18 Secondary Diminished Chords 
19 Mode Mixture 
20 The Neapolitan Chord
21 Augmented Sixth Chords 
22 Modulation 
23 Enharmonic Modulation
24 Binary and Ternary Forms
25 Sonata and Rondo Forms 
26 Voice Leading Triads 
27 Voice Leading Seventh Chords 
28 Voice Leading With Non-Chord Tones 
29 Voice Leading Chromatic Harmonies 
30 Introduction to Counterpoint 
31 Introduction to Jazz Theory 
32 Impressionism and Extended Tonality 
33 Set Theory 
34 Serialism 
35 Minimalism
About the Book
Music Theory for the 21st–Century Classroom is an openly–licensed online four–semester college music theory textbook. This text differs from other music theory textbooks by focusing less on four–part (SATB) voiceleading and more on relating harmony to the phrase. Also, in traditional music theory textbooks, there is little emphasis on motivic analysis and analysis of melodic units smaller than the phrase. In my opinion, this led to students having difficulty with creating melodies, since the training they are given is typically to write a "melody" in quarter notes in the soprano voice of part writing exercises. When the assignments in those texts ask students to do more than this, the majority of the students struggle to create a melody with continuity and with appropriate placement of harmonies within a phrase because the text had not prepared them to do so.
In Music Theory for the 21st–Century Classroom, students learn about motive, fragment, phrase, and subphrase, as well as types of melodic alteration like inversion, intervallic change, augmentation, diminution, rhythmic change, ornamentation, extension, and retrograde. By understanding motive and subphrase (also known as "phrase segment" or "phrase member"), I believe students will better understand the logic and construction of melodies, which will aid them in creating their own music.
This text is meant to take the student from the basics of reading and writing pitches and rhythms through twelve–tone technique and minimalism over the course of four semesters. Whenever possible, examples from popular music and music from film and musical theater are included to illustrate melodic and harmonic concepts, usually within the context of the phrase.
About the Contributors
Author
Robert Hutchinson, University of Puget Sound