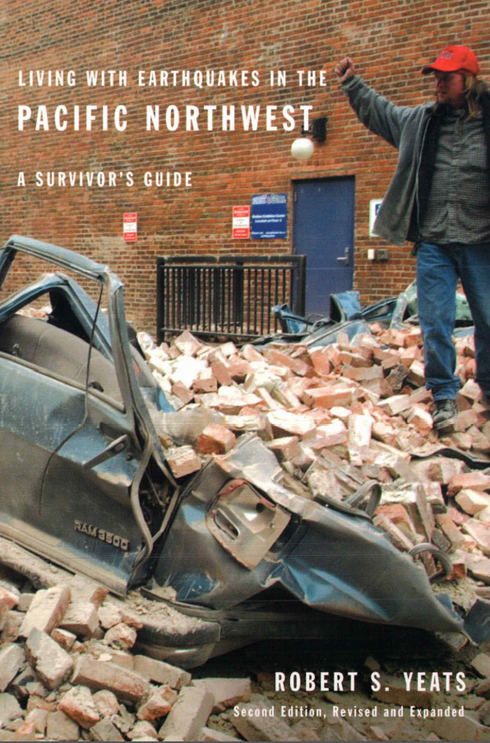 Living with Earthquakes in the Pacific Northwest
Robert S. Yeats, Oregon State University
Copyright Year: 2004
ISBN 13: 9780870710247
Publisher: Oregon State University
Language: English
Reviews
Reviewed by Taryn Oakley, Adjunct Faculty, ESR, Portland Community College on 6/20/20
This book covers all of the main aspects of earthquakes- from science to policy to preparedness. The book includes an index, a glossary, and appendices, as well as further reading for each section. Each section is thorough, all major ideas are... read more
Reviewed by Taryn Oakley, Adjunct Faculty, ESR, Portland Community College on 6/20/20
Comprehensiveness rating: 5 see less
This book covers all of the main aspects of earthquakes- from science to policy to preparedness. The book includes an index, a glossary, and appendices, as well as further reading for each section. Each section is thorough, all major ideas are addressed, and the text gives a great overall introduction to earthquakes in the Pacific Northwest and elsewhere.
Content Accuracy rating: 5
Overall, the book is accurate. The scientific information is correct and complete. There are some minor formatting errors (several places where the space between two words has been left out) and a few other places where words are incorrect (in the Plate Tectonics section it says that rock can flow as a solid (I think the author is trying to say that it can flow like a liquid even though it is technically a solid; in Earthquake Basics the author uses the word "asyncline" instead of "syncline"; and in the last chapter he mentions the "Great Shake Our", which should be the "Great Shake Out". However, these are all very minor mistakes and could be easily fixed. I should also note that I read the online version (not the downloaded pdf) in case that makes a difference.
Relevance/Longevity rating: 4
I was not able to find when this text was most recently updated. The science portions all seem relevant to me, however, this book talks quite a bit about policies, and includes many references to specific scientists and politicians, and as we all know, these things are bound to change over time. I think the only way to keep this text completely relevant (in terms of the policies) would be to update it regularly, however, that is a huge time commitment. I think teachers who use this text should just expect to talk about local policy updates that they find relevant for their areas of concern.
Clarity rating: 5
The book is great- things are clear, one idea flows into the next, and it's easy to follow along. Although there are some earthquake-geology specific terms used, the author almost always explains these as he uses them so that it's easy for even non-experts to follow along. Additionally, there is a glossary included, just in case. I thought this was an easy and straightforward book to read.
Consistency rating: 5
The text is consistent. It's obvious that the same author write the text as the same tone is used throughout. Many stories and examples are discussed during the course of the text, and many reemerge again, referenced for another reason.
Modularity rating: 5
The modularity is great. It would be very easy for instructors to only assign certain sections (which might make sense because there is a lot of both science and policy in this text, and in my experience, oftentimes classes don't cover both in such detail). The sections are divided up into perfect sizes, and presented in an order that makes sense; however, I think all of these sections could be used as a stand-alone, assuming that the reader had an adequate background on the subject.
Organization/Structure/Flow rating: 5
The topics are well organized. The author first goes into the science behind earthquakes, building up from the basics of plate tectonics to more specifics of earthquakes like liquifaction and tsunamis. The material is presented so that more general principles lead into more specific principles.
The second half of the text deals with monetary issues, policies, preparedness, design principles. You would first need to have the science background in order to understand why the policy is so important.
I felt that once topic simply flowed into the next- nicely done!
Interface rating: 4
Interface was mostly great. As I mentioned I was reading the online version. There were no page numbers in this version (even in the index), which does make it harder to reference things. I am not sure if there is any way around this though. Also, sometimes the figures were not in the same section of text that referenced them, so I did have to do some scrolling back and forth.
Grammatical Errors rating: 5
No grammar issues that I came across.
Cultural Relevance rating: 5
The book did a great job addressing the indigenous cultures of the Pacific Northwest and their relationship with earthquakes. I loved the stories that were included, especially the Yurok history of Cascadia. I also appreciated the cultural references to Japan, whose subduction zone is similar to ours.
Comments
This book is an overall great choice for a one-stop-shop about earthquakes in the Pacific Northwest. It does assume that the reader has some basic geology knowledge, so it should not be used in it's entirety for a first-year geology class (at least without some extra explanation), although I think that certain modules could be referenced or assigned even for an introductory level class.
I also REALLY appreciate that there is a book about earthquakes specifically for this region in which I live and love.... as most of us are very interested in the place that we call home. The author gives lots of very specific examples from all over the Pacific Northwest, so teachers may want to have students focus on only certain particular events.. otherwise there are a lot of details to keep track of.
I am so thankful that this book exists and that it was made available to students for free. I think it is a very useful reference!
Table of Contents
I. Part I: Introduction
II. Part II: Tectonic Plates, Geologic Time, and Earthquakes


1. A Concept of Time
2. Plate Tectonics
3. Earthquake Basics
4. Cascadia Subduction Zone
5. Earthquakes in the Juan de Fuca Plate
6. Earthquakes in the Crust: Closer to Home
7. Memories of the Future: The Uncertain Art of Earthquake Forecasting

III. Part III: Shaky Ground and Big Waves


8. Solid Rock and Bowls of Jello
9. Tsunami!

IV. Part IV: Prevention and Countermeasures


10. Earthquake Insurance: Betting Against Earthquakes
11. Is Your Home Ready for an Earthquake?
12. Earthquake Design of Large Structures
13. The Federal Government and Earthquakes
14. The Role of State and Local Government
15. Preparing for the Next Earthquake
16. An Uncertain Appointment with a Restless Earth
About the Book
In this expanded new edition of Living with Earthquakes, Robert Yeats, a leading authority on earthquakes in California and the Pacific Northwest, describes the threat posed by the Cascadia Subduction Zone, a great earthquake fault which runs for hundreds of miles offshore from British Columbia to northern California. New research reveals subtle movements on the deepest part of this fault every 14-15 months — building up strain toward the next major earthquake.
Combining cutting-edge research with practical safety information, Living with Earthquakes:
• introduces new information about the danger from faults beneath major Northwest cities: the Seattle Fault, Tacoma Fault, and Portland Hills Fault
• explores such topics as earthquake forecasting, catastrophe insurance, tsunamis, soil liquefaction, and seismic waves in Northwest lakes caused by Alaskan earthquakes
• reviews earthquake preparedness and disaster response in the aftermath of the 2001 Nisqually earthquake, the worst natural disaster in Washington's history
• suggests actions that citizens can take to protect their families and homes
An essential guide for anyone interested in understanding earthquake science or in preparing for the next earthquake, this book is also a call to action. Vivid descriptions of recent disasters — including the great tsunami that swept down the Northwest coast in 1964, the 1993 Oregon earthquakes, and the 2001 Nisqually earthquake — underscore the urgent need for better earthquake planning and awareness.
About the Contributors
Author
Robert S. Yeats is senior consultant for Earth Consultants International and professor emeritus in geology at Oregon State University. He is the author of Living with Earthquakes in California and co-author of The Geology of Earthquakes. He lives in Corvallis, Oregon.