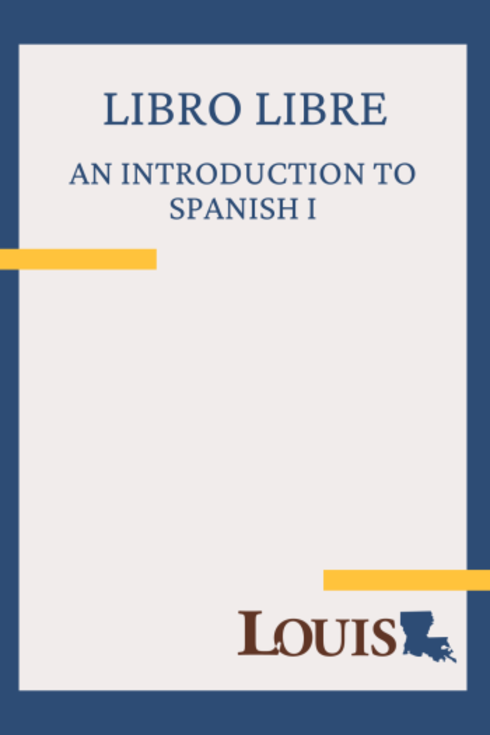 Libro Libre: An Introduction to Spanish I
Erin Huebener, Spokane, WA
Handy Acosta Cuellar, Baton Rouge, LS
Yelani Feldman, New Orleans, LS
Publisher: LOUIS: The Louisiana Library Network
Language: English
Reviews
Reviewed by Angela Pacheco, Assistant Professor of Spanish, Taylor University on 3/30/23
This book is intended for students with little or no knowledge of Spanish who want to begin their path of learning the language. The textbook contains an Index organized into four chapters, each focusing on a specific aspect of Spanish culture,... read more
Reviewed by Angela Pacheco, Assistant Professor of Spanish, Taylor University on 3/30/23
Comprehensiveness rating: 5 see less
This book is intended for students with little or no knowledge of Spanish who want to begin their path of learning the language. The textbook contains an Index organized into four chapters, each focusing on a specific aspect of Spanish culture, grammar, pronunciation, and vocabulary, followed by a reflection on the learning outcomes at the end of each chapter. The chapters are further divided into lessons that include explanations, examples, and practice exercises. The exercises range from simple fill-in-the-blank questions to sentence construction exercises, readings, and speaking activities appropriate for the level. The book received multiple additions from the original source which made it more complex but accurate for the level. The textbook has a good focus on practical usage of grammar. The authors provide numerous examples of how grammar is used in real-life situations, such as with family and friends.
Content Accuracy rating: 5
The grammatical and vocabulary content was accurate and correct. The examples and activities for practice were appropriate for the level. The practical focus and numerous exercises make it an effective tool for both self-study and classroom use.
Relevance/Longevity rating: 5
The textbook contains a lot of current videos and texts showing cultural issues common of the Hispanic world. The organization of the content made it easy to follow. In addition, because it is for language learning, the content was continuous and evocative of previous lessons/ideas.
Clarity rating: 5
When something is culturally different, the authors did a good job at explaining concepts and manners proper of the Hispanic world. The sentences are clear and precise and the language always felt professional, but not extra formal. I liked the user-friendliness of the content.
Consistency rating: 5
The textbook keeps a good structure of the objectives and the terminology associated with it. Each chapter held a clear path for learning the vocabulary and the context in which it is used.
Modularity rating: 5
I enjoyed the multiple ways of learning through explanations, readings, images, and self-quizzes. There were different modules for each topic and it had multiple categories for evaluation. All of it aligned nicely with the objectives too. I liked the practicality of the reflections at the end because it forces the students to study the chapter and its structure and evaluate themselves in that learning path.
Organization/Structure/Flow rating: 5
The books flows well. I thought the variety of activities made it increasingly challenging as you move from one page to the other, but without over-saturating the students minds. It is a smooth and continuous growth. The authors use different sentences length, titles, and subtitles to make the content logical.
Interface rating: 5
The textbook is available in different formats to allow for easy access; among them in PDF, Online, EBook, XML, and MS Word. I found the Online version much easier to follow. It was easier to complete some of the activities by dragging the answers and even checking if those answers were correct immediately after completion. The left tab also made it easy to navigate between chapters without having to scroll up and down like in other versions. Additionally, the surface felt cleaner and more user-friendly. The textbook does have a lot of adaptations of activities from other open source books online. While this does take a bit of originality away from the book, it also makes the newest version more complete.
Grammatical Errors rating: 5
Overall, "Libro Libre: An Introduction to Spanish I," is a great resource for beginning Spanish learners. It is clear and free from grammatical errors in both English and Spanish.
Cultural Relevance rating: 5
The textbook shows attention to diversity, although I would have liked to see more variety in that representation. For instance, more images of people having an indigenous background or from a different socioeconomic status; as this is very common in the Hispanic world. The book does not have offensive content.
Comments
I recommend the book for AP students, college students, self-learning, and online classes.
Table of Contents
Introduction
Author Page
Attribution Statement
Table of Contents

I

. Capítulo Uno: Sobre Mí

II

. Capítulo Dos:¿Cómo somos?

III

. Capítulo Tres: Nuestra Rutina

IV

. Capítulo Cuatro: Mi familia

Appendix
About the Book
Welcome to Elementary Spanish!
This textbook was designed in cooperation with the Louisiana Board of Regents Open Educational Textbook Pilot program. Designed by Elementary Instructors as a cooperative effort across Louisiana, this textbook will introduce you to the basic elements of the Spanish language through the use of self directed and active learning.
This book is an adaptation of the open textbook "¡LIBRO LIBRE!: A free textbook for introductory Spanish" (which can be found at http://librolibre.net/) and was written by Erin Huebener. We have adapted Libro Libre: A Free Textbook for Introductory Spanish, originally released in 2018, to better fit a traditional 16-week semester schedule. "Libro Libre: A Free Textbook for Introductory Spanish" is licensed under CC BY-NC-SA 4.0.
This textbook was created as part of the Interactive OER for Dual Enrollment project, facilitated by LOUIS: The Louisiana Library Network and funded by a $2 million Open Textbooks Pilot Program grant from the Department of Education. This project supports the extension of access to high-quality post-secondary opportunities to high school students across Louisiana and beyond. This project features a collaboration between educational systems in Louisiana, the library community, Pressbooks technology partner, and workforce representatives. It will enable and enhance the delivery of open educational resources (OER) and interactive quiz and assessment elements for priority dual enrollment courses in Louisiana and nationally. Developed OER course materials will be released under a license that permits their free use, reuse, modification and sharing with others.

The target audience for this project and this textbook are dual enrollment students. Dual enrollment is the opportunity for a student to be enrolled in high school and college at the same time. A dual enrollment student receives credit on both their high school and college transcripts for the same course.
About the Contributors
Authors
Erin Huebener, Spokane Community College
Handy Acosta Cuellar, Louisiana State University
Yelani Feldman, Dillard University