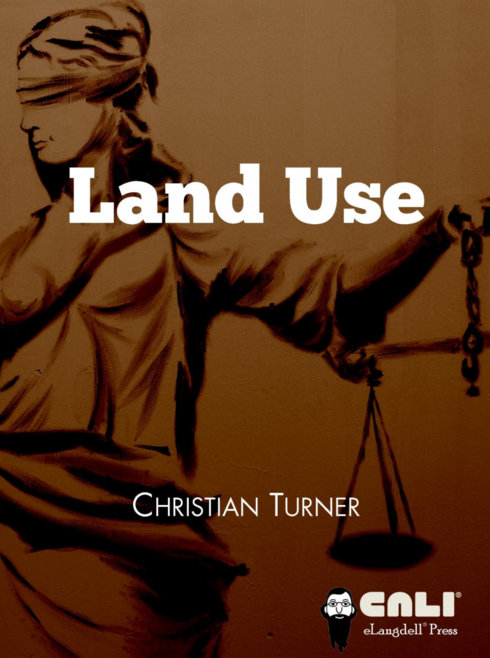 Land Use
Christian Turner, University of Georgia
Copyright Year: 2014
Publisher: CALI's eLangdell® Press
Language: English
Reviews
Reviewed by Jerry Taylor, Assoc. Professor - retired, East Tennessee State University on 4/14/19
This book consists of a compilation of cases covering all of the areas affecting modern land use law. It also contains a sample model zoning enabling act and about 11 pages of material dealing with German takings law read more
Reviewed by Jerry Taylor, Assoc. Professor - retired, East Tennessee State University on 4/14/19
Comprehensiveness rating: 5 see less
This book consists of a compilation of cases covering all of the areas affecting modern land use law. It also contains a sample model zoning enabling act and about 11 pages of material dealing with German takings law
Content Accuracy rating: 5
95% or more of the book consists of published court cases. They seem to be accurately reproduced with footnotes, dissenting opinions and concurring opinions.
Relevance/Longevity rating: 5
The cases in the book are relevant to understanding a history of zoning and land use law, and the more current trends in the law are demonstrated with cases that would be current as of the date the book was written. The cases are arranged by topic and it should be relatively easy to update the book by adding new cases that are pertinent to each topic and removing those that become outdated.
Clarity rating: 2
95% of this book is a compilation of cases with little additional supplemental material. There is nothing in the textbook to guide an instructor or student as to how to weave these together and obtain a comprehensive understanding of land use law. This is a classic case book that is typically used in traditional law classes using a socratic teaching style. As such its a great resource, but the instructor is on their own as to how to put the book to its best use. An instructor who knows the topic well and knows how they want to present the topic will be able to pick and choose relevant cases. But an instructor who doesn't have a good grasp of the topic will need to figure it out without assistance from this text.
Consistency rating: 5
95% of the book is a compilation of published court cases. That's about as consistent as it gets.
Modularity rating: 5
Cases can be selected individually for reading assignments. However, there is little or no value in assigning only part of a case - the entire case needs to be read as a whole.
Organization/Structure/Flow rating: 5
The materials is organized by beginning with a broad overview of the legal framework for zoning, followed by judicial review of the zoning system and ends with regulatory takings law, which is an area of current activity.
Interface rating: 4
A case will be reproduced and then a new case will begin on the same page. It would be helpful if each case started on a new page.
Grammatical Errors rating: 4
95% of the book is a compilation of published court cases. The reader will need to become familiar with legal jargon in order to get the maximum understanding out of these cases. Grammar issues rest with the judges who authored the opinions. Those parts of the book that are written by the books author are clear and understandable.
Cultural Relevance rating: 3
Not applicable
Comments
This book is a classic law school case book. It makes a great teaching tool for graduate students and law school students using a Socratic style. It does not seem suitable for undergraduate college use without a great deal of supplemental instruction by the professor.
Table of Contents
1. Preface
2. The Zoning System
2.1. Introduction
2.2. Variances
2.3. Special Use Permits
2.4. Comprehensive Planning
3. Judicial Review
3.1. Substantive Due Process
3.2. Adjudication and Quasi-Adjudication
3.3. Procedure
3.4. Discriminatory Zoning
3.5. Anticompetitive Zoning
3.6. Spot Zoning
3.7. Contract Zoning
3.8. Nonconforming Uses
3.9. Vested Rights
3.10. Neighbor Consent Provisions
4. Regulatory Takings
4.1. Origins
4.2. Theory
4.3. Doctrine
4.4. Procedural Issues
4.5. Exactions
4.6. German Takings Law
About the Book
This text explores the laws governing the use of land. Sometimes narrowly focused, often intensely local, land use regulation may give the impression of a highly specialized field with small stakes.
The text is divided into three parts:
First, we will survey the ordinary, local administrative scheme of land use regulation. The cases in this section are intended to establish what that system is and what it's standards are.
In the second part of the course, we will turn our attention to cases illustrating litigation attacks on the ordinary administrative scheme. The purpose here is not, as it was in the first part, to understand better the standards the administrators should apply, but to understand the constraints imposed on the contents of local laws, the procedures of enactment and permitting, and the composition of local lawmaking bodies.
In the third part, we focus on the distributive concerns raised by land use regulation. The regulatory takings doctrine has gone from, literally, nothing, to wrestling to disentangle distributive concerns from substantive ones, to trying to craft either rules or standards to identify regulations that go "too far" and should be considered "takings" within the meaning of the Fifth Amendment. We will consider what the doctrine's purposes are, how it should be governed, and how it should be invoked as a procedural matter.
About the Contributors
Author
Christian Turner teaches courses in property, land use, legal theory, and the regulation of information. His research interests are in the public/private distinction and institutional analysis. Drawing from his mathematical training, he is interested in both the logic and illogic of the law— and in understanding seemingly complex and diverse legal principles as consequences of basic, trans-substantive ideas.
Prior to joining the faculty at the University of Georgia, Christian was a Visiting Assistant Professor at Fordham Law School, worked at Wiggin and Dana law firm in New Haven, and clerked for Judge Guido Calabresi on the Second Circuit. He is a graduate of Stanford Law School and holds a Ph.D. in mathematics from Texas A&M University.