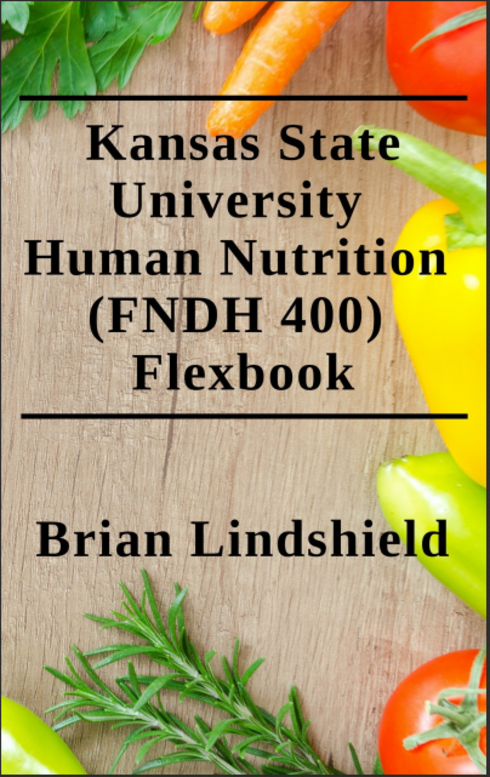 Kansas State University Human Nutrition Flexbook
Brian Lindshield, Kansas State University
Copyright Year: 2018
ISBN 13: 9781944548117
Publisher:
Language: English
Table of Contents
Chapter 1: Nutrition Basics
Chapter 2: Macronutrient Structures
Chapter 3: Macronutrient Digestion
Chapter 4: Macronutrient Uptake, Absorption, & Transport
Chapter 5: Common Digestive Problems
Chapter 6: Macronutrient Metabolism
Chapter 7: Integration of Macronutrient Metabolism
Chapter 8: Micronutrients Overview & Dietary Reference Intakes (DRIs)
Chapter 9: Antioxidant micronutrients
Chapter 10: Macronutrient Metabolism Micronutrients
Chapter 11: One-Carbon Metabolism Micronutrients
Chapter 12: Blood, Bones & Teeth Micronutrients
Chapter 13: Electrolyte Micronutrients
About the Book
The Kansas State University Human Nutrition (FNDH 400) Flexbook is a textbook for students taking Kansas State University FNDH 400 course.FNDH 400 is a 3-hour, intermediate-level, human nutrition course at Kansas State University take primarily by sophomores and juniors because it has prerequisites of a college biology and chemistry courses.
About the Contributors
Author
Brian Lindshield, Ph.D. is an Associate Professor in the Department of Food, Nutrition, Dietetics and Health. He received an A.S. from Pratt Community College in '01, a B.S. in Human Nutrition from Kansas State University in '03, and Ph.D. in Nutritional Sciences from the University of Illinois at Urbana-Champaign in '08.