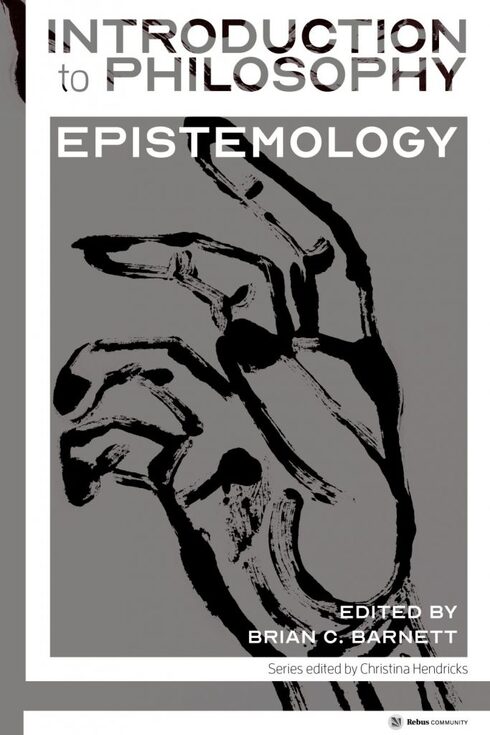 Introduction to Philosophy: Epistemology
Brian C. Barnett, St. John Fisher College
Christina Hendricks, University of British Columbia
Copyright Year: 2021
ISBN 13: 9781989014257
Publisher: Rebus Community
Language: English
Reviews
Reviewed by Martin Roth, Associate Professor, Drake University on 12/31/21
The text is fairly comprehensive, although some topics that have gotten a lot of attention recently, e.g., contextualism, are not discussed much. The glossary provided at the end is useful, but an index is conspicuously missing. read more
Reviewed by Martin Roth, Associate Professor, Drake University on 12/31/21
Comprehensiveness rating: 4 see less
The text is fairly comprehensive, although some topics that have gotten a lot of attention recently, e.g., contextualism, are not discussed much. The glossary provided at the end is useful, but an index is conspicuously missing.
Content Accuracy rating: 5
Each chapter is knowledgeably written.
Relevance/Longevity rating: 5
Some of the material in this book is of "perennial" interest, and the content that is of more recent vintage is nonetheless well established ground in contemporary epistemology and thus will not be made obsolete any time soon. The text is organized in a way that should make for relatively easy/straightforward updates.
Clarity rating: 5
Those new to epistemology will benefit from the clear, accessible explanations of what are often recondite ideas or theories.
Consistency rating: 5
I saw no problems with consistency, and I found the learning outcomes and reflection questions provided in each chapter to be an especially nice way of creating format consistency.
Modularity rating: 5
This is one of the strongest features of the text. Chapters are fairly stand alone, and although the book is on epistemology, many of the chapters can be fruitfully used in other philosophy courses (e.g, philosophy of science) and non-philosophy courses (I think Chapter 6, "Epistemology, Probability, and Science," should be required reading for all science students!).
Organization/Structure/Flow rating: 4
I did not find the division of the book into two parts (Traditional Epistemology and Expanded Epistemology) particularly helpful or well-motivated. As someone who teaches courses that touch on the history of Western epistemology, I think coherentism and externalism can be plausibly included in the section on Expanded Epistemology (since for centuries epistemology was dominated by foundationalism and internalism). However, coherentism and externalism are treated in chapters that fall in the section on Traditional Epistemology. Nonetheless, I don't think this is a substantive shortcoming.
Interface rating: 5
I found it to be a very user-friendly text.
Grammatical Errors rating: 5
There were no glaring problems with grammar.
Cultural Relevance rating: 5
I found the text to be culturally inclusive, especially the chapters on Social Epistemology (Chapter 7) and Feminist Epistemologies (Chapter 8).
Comments
This is a very strong introductory textbook on the topic of epistemology, and I think students and instructors alike will appreciate many of the textbook's features. Especially noteworthy are the learning outcomes and reflection questions provided in each chapter.
Table of Contents
I. Traditional Epistemology


1. The Analysis of Knowledge
2. Epistemic Justification
3. Sources of Knowledge: Rationalism, Empiricism, and the Kantian Synthesis
4. Skepticism

II. Expanded Epistemology


5. Epistemic Value, Duty, and Virtue
6. Epistemology, Probability, and Science
7. Social Epistemology
8. Feminist Epistemologies
About the Book
Introduction to Philosophy: Epistemology engages first-time philosophy readers on a guided tour through the core concepts, questions, methods, arguments, and theories of epistemology—the branch of philosophy devoted to the study of knowledge. The book progresses systematically while placing key ideas and thinkers in historical and contemporary context. Central topics include the analysis of knowledge, the nature of epistemic justification, rationalism vs. empiricism, skepticism, the value of knowledge, the ethics of belief, Bayesian epistemology, social epistemology, and feminist epistemologies.
About the Contributors
Illustrator
Christina Hendricks (series editor) is Professor of Teaching in Philosophy at the University of British Columbia in Vancouver, BC, Canada, where she often teaches Introduction to Philosophy courses. She is also the Academic Director of the Centre for Teaching, Learning and Technology (2018–2023). Christina has been an open education researcher and advocate for a number of years, having been a BCcampus Open Textbook Fellow, an OER Research Fellow with the Open Education Group, the Creative Commons Canada representative to the CC Global Network, and a member of the Board of Directors for the Canadian Legal Information Institute.
Editor
Brian C. Barnett (book editor) is Lecturer in Philosophy at St. John Fisher College and the State University of New York at Geneseo. A first-generation college student and McNair Scholar, he obtained a BS in Mathematics and BA in Philosophy (summa cum laude) with a minor in Religious Studies from the University of Oklahoma, and an MA and a PhD in Philosophy from the University of Rochester. His primary teaching and research interests include epistemology, logic, philosophy of religion, Eastern philosophy, and philosophy of nonviolence. Currently he serves on faculty senate and is editor of the Peace & Nonviolence category on PhilPapers.org. Outside of academia, he enjoys waterfall hiking, nature photography, and all things music.