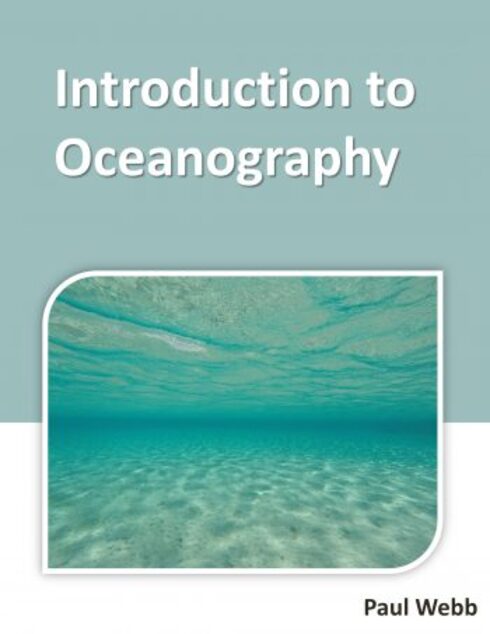 Introduction to Oceanography
Paul Webb
Copyright Year: 2019
Last Update: 2020
Publisher: Rebus Community
Language: English
Table of Contents
Chapter 1: Introduction to the Oceans
Chapter 2: Getting our Bearings
Chapter 3: The Origin and Structure of Earth
Chapter 4: Plate Tectonics and Marine Geology
Chapter 5: Chemical Oceanography
Chapter 6: Physical Oceanography
Chapter 7: Primary Production
Chapter 8: Oceans and Climate
Chapter 9: Ocean Circulation
Chapter 10: Waves
Chapter 11: Tides
Chapter 12: Ocean Sediments
Chapter 13: Coastal Oceanography
Chapter 14: Ice
About the Book
Introduction to Oceanography is a textbook appropriate to an introductory-level university course in oceanography. The book covers the fundamental geological, chemical, physical and biological processes in the ocean, with an emphasis on the North Atlantic region.
About the Contributors
Author
Paul Webb earned a BA in Biology from the University of Richmond, and a MS in Marine Science and PhD in Biology from the University of California-Santa Cruz. At UCSC his research focused on the behavioral and physiological ecology of northern elephant seals. For the past 20 years he has been a faculty member in the Department of Biology, Marine Biology, and Environmental Science at Roger Williams University in Bristol, Rhode Island, where he is a Professor of Marine Biology. At RWU he regularly teaches courses in Oceanography, Marine Mammalogy, Marine Vertebrate Zoology, Animal Behavior, Animal Physiology, Tropical Ecology (in Belize), and Herpetology.