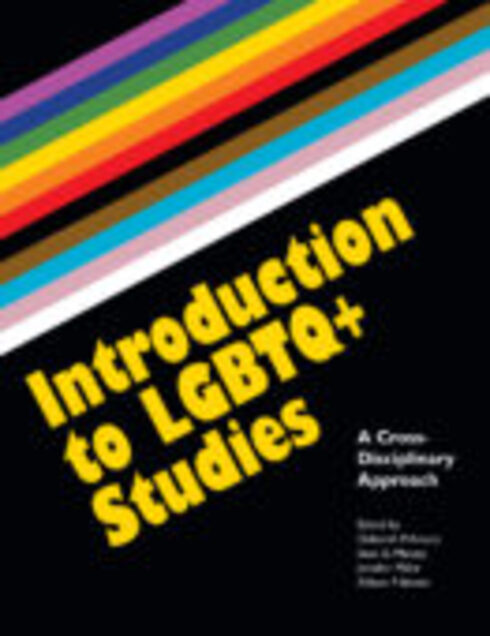 Introduction to LGBTQ+ Studies: A Cross-Disciplinary Approach
Deborah P. Amory, SUNY Empire State College
Sean G. Massey, Binghamton University
Jennifer Miller, University of Texas at Arlington
Allison P. Brown, SUNY Geneseo
Copyright Year: 2022
Last Update: 2023
ISBN 13: 9781438491707
Publisher: State University of New York Press
Language: English
Reviews
Reviewed by Travers Scott, Associate Professor, Emory and Henry College on 7/19/23
While complete comprehensiveness is near impossible for a single book, this text avoids many of the more glaring absences that have occurred in previous works. An overview of thirty years of queer theory opens the book as its foundation. This... read more
Reviewed by Travers Scott, Associate Professor, Emory and Henry College on 7/19/23
Comprehensiveness rating: 5 see less
While complete comprehensiveness is near impossible for a single book, this text avoids many of the more glaring absences that have occurred in previous works. An overview of thirty years of queer theory opens the book as its foundation. This integrative, umbrella approach is a welcome reflection of the current field, as opposed to the chronological presentation often used, in which queer theory/studies are described as more of a later outgrowth of LGBTQ Studies. Global perspectives are then foregrounded via the subsequent chapter, avoiding the Western and anglophone biases of previous surveys. Subsequent chapters cover the scope of humanities as well as social science disciplines. Instructors may wish to augment the text, however, with additional material on trans oppression and LGBTQ+ sport studies, given the current relevance of these in contemporary cultural attacks.
Content Accuracy rating: 5
I found no inaccuracies.
Relevance/Longevity rating: 5
This text is more relevant than ever, given the re-centering of anti-LGBTQ politics by the United States right wing, and many other resurgences globally, as nationalist and populist political movements attempt to roll back or prevent progressive civil rights and protections.
Clarity rating: 5
The text does a remarkable job of maintaining clarity, especially when navigating the specialized terminology of queer theory and cultural studies. Both the style and structure maintain a clear, accessible focus and understandable concepts.
Consistency rating: 4
Consistency is always a challenge with a text that has such a broad scope. The admirable comprehensiveness of this text--global perspectives, multiple disciplines and epistemology, integrated queer theory--does sacrifice a degree of consistency. A more narrow focus would afford stronger consistency in tone and voice, as well as the accessibility of a more familiar narrative structure. However, this would limit the text and in many ways fly against the tenets of queer theory.
Modularity rating: 4
While reading the text straight through will give the reader some inconsistent jumps and juxtapositions, on the positive side, it is a very modular text with chapters that could easily be used independently, or at least in conjunction with the foundational chapter on queer theory. If this first chapter isn't used in conjunction with others, students will need to be familiarized from other sources on queer theory and its terminology.
Organization/Structure/Flow rating: 3
The text first presents foundational queer theory, followed by global and US histories. This organization is sound and effective. However, as a cultural scholar, I found the distinctions made in subsequent sections somewhat concerning: Prejudice and Health; Relationships, Families, and Youth; then Culture. This seemed to replicate some disciplinary silos that the text otherwise avoided, as well as elevating the chosen ones over others. Additionally, the separation of these chapters suggests that prejudice, health, relationships. families, and youth are somehow separate from culture. The culture chapter could have been named Media and Popular Culture, for greater clarity, or, a structure that integrated topics and disciplines more would have been even more aligned with queer perspectives and experiences.
Interface rating: 5
The text is available in PDF, online, and hard copy, so students and instructors can engage with the interface that they find most comfortable and efficient. I found no problems in navigation or display.
Grammatical Errors rating: 5
Grammar and style were consistent and clear throughout. However the book is largely written in "undergraduate textbook voice," which, although helpful for clarity, makes it a bit dry at times.
Cultural Relevance rating: 5
The authors have made an effort to include diverse perspectives and examples, from geographic, racial, and other identifications. More recent evolutions of LGBTQ+ identities, such as nonbinary, are included, although others are missing (e.g., aromantic, asexual).
Comments
Overall this book does exactly what it promises. It provides a clear overview of LGBTQ+ studies that is comprehensive and relatively up to date. However, it reflects some of the shortcomings of "LGBTQ+" as a concept and structuring device. Trans, intersex, and asexual still feel comparatively neglected, as do related social movements, such as alternative relationship structures and practices. Polyamory is briefly discussed, mostly in terms of open relationships. Sex work, BD/SM, and situational bi/homosexuality seem deeply relevant yet are not foci. However, I suggest this is less a flaw in the book than an accurate reflection of potential flaws or shortcomings in LGBTQ+ politics and academic research.
Reviewed by Brooke Friley, Associate Professor, Texas A&M University-Corpus Christi on 11/7/22
This is an incredibly comprehensive text. In my experience with textbooks covering LGBTQ+ topics, I don't recall seeing another book that covers as wide a range of relevant topics as this one does. Additionally, the global perspective presented in... read more
Reviewed by Brooke Friley, Associate Professor, Texas A&M University-Corpus Christi on 11/7/22
Comprehensiveness rating: 5 see less
This is an incredibly comprehensive text. In my experience with textbooks covering LGBTQ+ topics, I don't recall seeing another book that covers as wide a range of relevant topics as this one does. Additionally, the global perspective presented in this book really stands out as this is something that is sorely underrepresented in other books covering LGBTQ+ topics.
Each chapter includes a variety of multimedia resources for readers to engage with, such as videos, cartoons, links to relevant websites, and reading prompts. These help break up the chapters into manageable sections and also provide opportunities for those with different learning styles to take a break from the text and engage with information via other modes.
I love the "quick dip" and "deep dive" resource lists at the end of each chapter that provide readers multiple options for further reading on related topics. This style of organizing will not only help readers select materials that fit their needs but will also help instructors in selecting additional resources to direct students toward.
I would say that I don't necessarily find the chapters on literature and film to be required in this text, simply because I think an entire additional book can be compiled that covers media and LGBTQ+ representation. The information in the chapters is valuable and interesting, but if I had to choose what to cover based on time constraints I would likely save these topics for another course.
Content Accuracy rating: 5
This text is accurate, and sources are clearly cited throughout (and are included in both reference lists and clickable links). Although the topics covered in this text are often at the center of many debates, this text presents balanced and evidence-based accounts of the history, events, and research related to each topic.
Relevance/Longevity rating: 5
The current content in the book is up-to-date and materials span a very wide range of time so there is a good mix of foundational information and new information. It will not be difficult to update this text as there are clear sections within each chapter that will not require many (if any) updates and clear sections where updates will be necessary as knowledge advances. There are current examples but not so many that they would have to be completely overhauled with an update.
Clarity rating: 5
The book is very well-written and flows logically from section to section. Although a great deal of the writing is at a fairly high level (e.g., I would use this book for an upper-level course), the authors do a nice job of providing clickable pop-up definitions for key terms throughout each chapter. Some complex concepts would require additional discussion for student understanding, which would be something to keep in mind for online courses in particular.
Consistency rating: 5
The book is consistent from chapter-to-chapter in terms of language and approach to the content. Multiple perspectives are presented for the purpose of showing the epistemological evolution of this subject area and are consistently explained/compared throughout.
Modularity rating: 4
For the most part the material could be divided into smaller reading sections based on course units. The first 3 sections (chapters 1-5) would be put to best use together in the order they are presented, but one could choose to omit either the global or US section if the focus of a course was specifically on one or the other. Chapter 1 really needs to be read in its entirety to set the tone for the rest of the text. The remaining sections/chapters could easily be broken up depending on special topics in a course or even based on specific assignments.
Organization/Structure/Flow rating: 5
The way the text is divided into sections is generally logical and easy to understand. There are no major leaps between chapters or sections that would disrupt the flow of information.
I like that the glossaries are placed at the end of each chapter so that individuals can easily locate relevant key terms with efficiency.
Interface rating: 5
The interface works very nicely and I did not experience any issues navigating the text or accessing supplementary materials.
Grammatical Errors rating: 5
I found this book to be grammatically correct and free from general errors.
Cultural Relevance rating: 5
Given the focus of this text, it is an exemplar of inclusivity and cultural sensitivity.
Comments
I would use this book for an upper-level course in gender and/or sexuality studies (and any course cross-listed with gender and/or sexuality studies) or in a graduate seminar where this was combined with other readings on specific theories of interest. I would also consider using segments of this book in courses where gender and/or sexuality is related to other course topics.
Lastly, the inclusion of instructor resources is a wonderful addition to this text. The assignment suggestions are particularly valuable and having those right there in the text itself is so much more useful than having a supplementary resource that would have to be referenced separately.
Table of Contents
Acknowledgments
Introduction
Theoretical Foundations
Global Histories
U.S. Histories
Prejudice and Health
Relationships, Families, and Youth
Culture
Research
Contributors
Glossary
Adoption & Feedback Form
Review Statement
About the Book
Designed for an introductory course, this textbook takes a cross-disciplinary approach to the study of LGBTQ+ issues that helps students grasp core concepts through a variety of different perspectives.
Introduction to LGBTQ+ Studies offers accessible, academically sound information on a wide range of topics, including history, culture, and Queer Theory; an exploration of LGBTQ+ relationships, families, parenting, health, and education; and how to conduct research on LGBTQ+ topics. The book explores LGBTQ+ issues from the ancient world to contemporary global perspectives.
Employing an intersectional analysis, the textbook highlights how sexuality and gender are simultaneously experienced and constructed through other structures of inequality and privilege, such as race and class. The text supports multiple learning styles by integrating visual elements, multimedia resources, discussion and project prompts, and resources for further research throughout the textbook.
About the Contributors
Authors
Deborah P. Amory is professor of social science at SUNY Empire State College. She holds a PhD from Stanford University in anthropology, and a BA from Yale University in African studies. Her early work focused on same-sex relations on the Swahili-speaking coast of East Africa and on lesbian identity in the United States. She has served in academic administration and has been energized by the open education movement, especially in relation to developing online open educational resource courses and textbooks, including Introduction to Anthropology, Sex and Gender in Global Perspective, and Introduction to LGBTQ+ Studies.
Sean G. Massey is associate professor of women's, gender, and sexuality studies at Binghamton University and coinvestigator with the Binghamton University Human Sexualities Lab. He received his PhD in social personality psychology from the Graduate Center of the City University of New York. His research focuses on the study of sexuality, gender, anti-homosexual prejudice, attitudes toward same-sex parenting, racial bias in educational and law enforcement contexts, and the relationship between social science and social change.
Jennifer Miller earned a PhD in cultural studies from George Mason University and an MA in literary and cultural studies from Carnegie Mellon University. She is an English lecturer at the University of Texas at Arlington. She researches LGBTQ+ children's literature and culture, digital culture, and sexual subcultures. Her books include The Transformative Potential of LGBTQ+ Children's Picture Books (2022) and The Dialectic of Digital Culture (2019), which she coedited with David Arditi. Her scholarship appears in the Journal of Homosexuality, the European Journal of American Studies, Fast Capitalism, and other journals and edited collections.
Allison P. Brown is digital publishing services manager at SUNY Geneseo's Fraser Hall Library. She oversees the library's publishing program, which includes supporting student journals such as Gandy Dancer and the Proceedings of GREAT Day, and manages the editorial and production processes of the Geneseo Authors and Milne Open Textbooks imprints. She provides education and guidance to the Geneseo community in digital publishing, open access, open educational resources, and copyright. She studied for her MFA in poetry at Emerson College, where she also became interested in design and digital publishing.