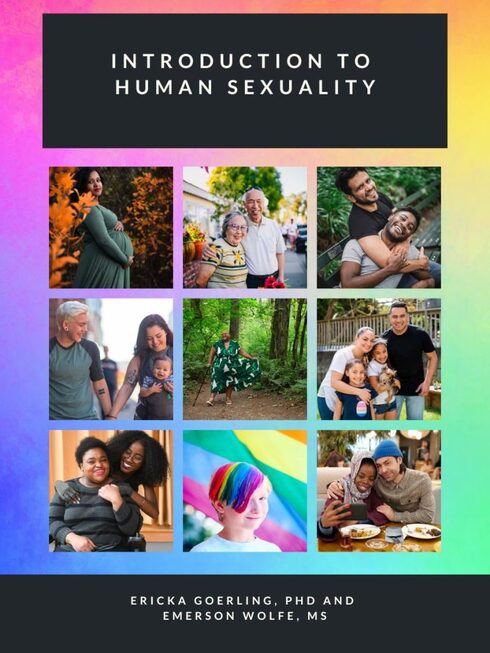 Introduction to Human Sexuality
Erika Goerling, Portland, OR
Emerson Wolfe, Portland, OR
Copyright Year: 2022
Publisher: Open Oregon Educational Resources
Language: English
Table of Contents
Introduction
I. Part 1: Reflections and Explorations in Human Sexuality

1. Chapter 1- Community Agreements and Terminology
2. Chapter 2- Human Sexuality Theories
3. Chapter 3- Sexology through Time and Contemporary Sex Research
4. Chapter 4- Sex Differentiation, Anatomy, and Physiology
5. Chapter 5- Gender
6. Chapter 6- Sexual Orientation
7. Chapter 7- Attraction
8. Chapter 8- Sexual Response and the Biochemistry of Love
9. Chapter 9-

 

Sexual Behaviors (and Safer Sex)
10. Chapter 10-

 

Intimate Relationships

II. Part 2- Professional and Clinical Topics in Human Sexuality

11. Chapter 11- Part 2 Terminology Review
12. Chapter 12-

 

Sexual Development Through the Lifespan
13. Chapter 13- Contraception
14. Chapter 14- Sexually Transmitted Infections
15. Chapter 15- Conception, Pregnancy, and Birth
16. Chapter 16- Variations in Sexual Behavior
17. Chapter 17- Sexual Dysfunction and Treatment
18. Chapter 18- Sexual Marketplace
19. Chapter 19- Trauma, Therapy, and Trauma Informed Care
20. Chapter 20- Ability, Intersectionality, Body Image, and Reclaiming Our Bodies
About the Authors
Appendix
About the Book
This is an introductory human sexuality textbook.
About the Contributors
Authors
From an early age, Ericka remembers pondering why people behave the way they do. This expanded and grew to ongoing curiosity of, and respect for, human experiences. A lifelong learner of psychology, she received her BS in psychology from Portland State University in 2000, her MS in counseling psychology from Lewis and Clark College in 2003, and her PhD in psychology from Fielding Graduate University in 2016, with an emphasis in media psychology. Ericka had the incredible fortune of working with crime and trauma survivors for nearly 15 years, before turning to teaching exclusively in 2010. In her instructional capacity at Portland Community College, Ericka teaches Intro to Psych courses, Personality, Social Psychology and Human Sexuality. She enjoys time with her family- both human and fluffy, traveling and exploring, nature, and a decently embarrassing amount of popculture.
As a non-binary transgender person living with a physical disability, Emerson did not always see themself reflected in textbooks and course curriculum. They wanted to create this resource to provide representation in a way that normalizes the vastness of possibilities that exist based on each individual's intersecting identities. Emerson's passion for criticality was sparked during their experience at UC Berkeley where they received their BA in Peace and Conflict Studies with an emphasis in conflict resolution in 2011 followed by obtaining an MS in Counseling Psychology from CSU, Bakersfield in 2015. Emerson worked as a therapist associate primarily with foster care youth and developed community peer support groups for the transgender, non-binary, and gender expansive community in central California. They began teaching psychology classes in 2017 and are now teaching at Portland Community College, Clark College, and Pacific University. They teach Human Sexuality, LGBT Psychotherapy, Personality, Human Development, and Intro to Psych classes. Emerson loves gardening with his partner and watching the hummingbirds. They have 2 cats and 2 dogs who provide endless amounts of joy. Emerson would like to thank those who have come before and shared their wisdom leading to the present and for those who will continue to expand our understanding of human sexuality into the future!