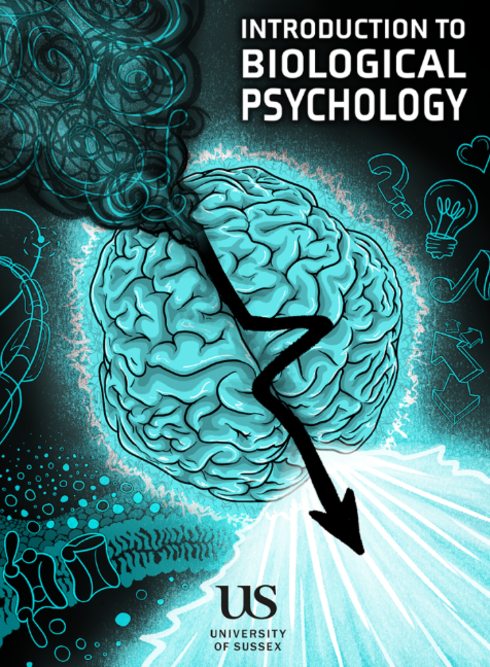 Introduction to Biological Psychology
Catherine N. Hall
Copyright Year: 2023
ISBN 13: 9781739214807
Publisher: University of Sussex Library
Language: English
Reviews
Reviewed by Jay Brown, Professor of Psychology, Texas Wesleyan University on 7/21/23
This text has 20 chapters, it can easily be used in a broad range of courses. Though some of the chapters are specific in a way that would make them useful for anything I teach, many of the other chapters would work great in several courses. read more
Reviewed by Jay Brown, Professor of Psychology, Texas Wesleyan University on 7/21/23
Comprehensiveness rating: 5 see less
This text has 20 chapters, it can easily be used in a broad range of courses. Though some of the chapters are specific in a way that would make them useful for anything I teach, many of the other chapters would work great in several courses.
Content Accuracy rating: 5
I found no errors.
Relevance/Longevity rating: 5
The fundamental basics of Biological Psychology have been relatively stable for a lot of years. This text goes beyond the fundamental basics to include newer research in specialized areas.
Clarity rating: 5
As long as you can ignore the British English, the text is very readable;). All jests aside, the writing seems to be digestible for students at all levels.
Consistency rating: 4
Despite have numerous authors, the text is consistent in presentation.
Modularity rating: 5
I can imagine adopting this text for a Behavioral Neuroscience course and using about 12 of the chapters, then supplementing a few other topics. But I can see also myself using individual chapters in other courses such as Cognitive Psychology.
Organization/Structure/Flow rating: 5
The chapters are organized around a larger thematic approach so that the individual chapters work together to tell a larger story.
Interface rating: 5
The text was easy to navigate. I appreciated the PDF option.
Grammatical Errors rating: 5
British English, LOL
Cultural Relevance rating: 5
No cultural insensitivities were noted.
Comments
I made a commitment a few years ago to eliminate all textbooks that have to be purchased, my students can not afford them. For some courses it was relatively easy as there is a wealth of available materials in the creative commons. But, when teaching Behavioral Neuroscience, materials in the creative commons are scarce. The hardest thing is to find figures that have creative commons licenses. I was thinking of preparing my neuroscience as an online course, but it would not be possible without those figures. This text has that covered. This is my go to text the next time I teach neuroscience.
Table of Contents
Credits
Foreword
Background to Biological Psychology
Organisation of the nervous system
Neuronal communication
Sensing the environment and perceiving the world
Interacting with the world
Dysfunction of the nervous system
About the Book
An open access textbook designed primarily for use by first and second year undergraduate students of British Psychological Society accredited Psychology degree courses in the UK.
About the Contributors
Editor
Dr. Catherine N. Hall