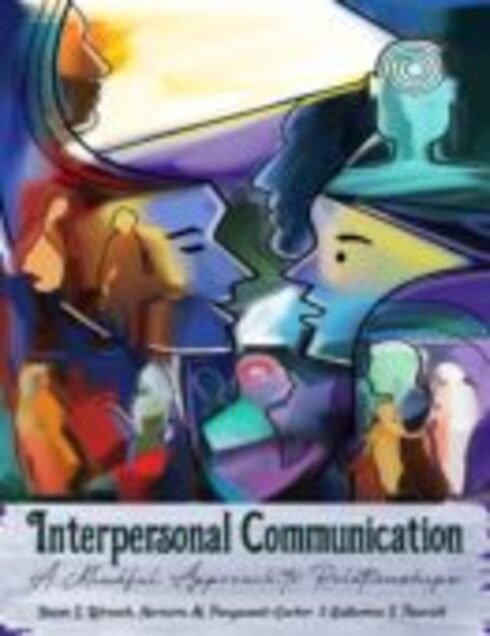 Interpersonal Communication: A Mindful Approach to Relationships
Jason S. Wrench, State University of New York
Narissra M. Punyanunt-Carter, Texas Tech University
Katherine S. Thweatt, State University of New York
Copyright Year: 2020
Last Update: 2023
ISBN 13: 9781942341772
Publisher: Milne Open Textbooks
Language: English
Table of Contents
Chapter 1: Introduction to Human Communication
Chapter 2: Overview of Interpersonal Communication
Chapter 3: Intrapersonal Communication
Chapter 4: Verbal Elements of Communication
Chapter 5: Nonverbal Communication
Chapter 6: Cultural and Environmental Factors in Interpersonal Communication
Chapter 7: Talking and Listening
Chapter 8: Building and Maintaining Relationships
Chapter 9: Conflict in Relationship
Chapter 10: Friendship Relationships
Chapter 11: Family & Marriage Relationships
Chapter 12: Interpersonal Communication in Mediated Contexts
Chapter 13: Interpersonal Relationships at Work
Chapter 14: The Dark Side of Interpersonal Communication
About the Book
Interpersonal Communication: A Mindful Approach to Relationships helps readers examine their own one-on-one communicative interactions using a mindfulness lens. The writing team of Jason S. Wrench, Narissra M. Punyanunt-Carter, and Katherine Thweatt incorporates the latest communication theory and research to help students navigate everyday interpersonal interactions. The 14 chapters in this book cover topics typically taught in an undergraduate interpersonal communication course: family interactions, interpersonal dynamics, language, listening, nonverbal communication, and romantic relationships, as well as exploring emerging areas such as self-compassion, body positivity, friendships, and "the dark side". The writing takes on a purposefully informal tone to engage readers. Each chapter is broken into different sections that have unique instructional outcomes, key takeaways, and exercises, and concludes with real-world case studies and sample quiz questions. Also included is an extensive glossary with over 350 definitions.
About the Contributors
Authors
Jason S. Wrench (Ed.D., West Virginia University) is a professor in the Department of Communication at the State University of New York at New Paltz. Dr. Wrench specializes in workplace learning and performance, or the intersection of instructional communication and organizational communication. His varied research interests include workplace learning and human performance improvement, computer-mediated communication, interpersonal communication, empirical research methods, family communication, humor, risk/crisis communication, and supervisor-subordinate interactions. Dr. Wrench regularly consults with individuals and organizations on workplace communication and as a professional speech coach for senior executives.
Narissra M. Punyanunt-Carter (Ph.D., Kent State University) is a professor in the Department of Communication and assistant dean of international affairs for the College of Media and Communication. She is also an associate professor of Communication Studies at Texas Tech University in Lubbock, Texas. She teaches the basic interpersonal communication course. Her research areas include mass media effects, father-daughter communication, mentoring, advisor-advisee relationships, family studies, religious communication, humor, and interpersonal communication. She has published over 70 articles that have appeared in several peer-reviewed journals, such as Communication Research Reports, Southern Journal of Communication, and Journal of Intercultural Communication Research. She has also published numerous instructional ancillaries and materials. She is also a coauthor of Organizational communication: Theory, Research, and Practice (2014, Flat World Knowledge). Dr. Punyanunt coedited The Impact of Social Media in Modern Romantic Relationship (2017, Lexington).
Katherine S. Thweatt (Ed.D, West Virginia University) is an associate professor at the State University of New York at Oswego. Dr. Thweatt's areas of interest are interpersonal communication, instructional communication, and health communication. She has published in the areas of teasing, teacher immediacy and misbehaviors, cognitive flexibility, and healthcare research. Healthcare publications involved shared medical appointments, heart failure, and infectious disease.