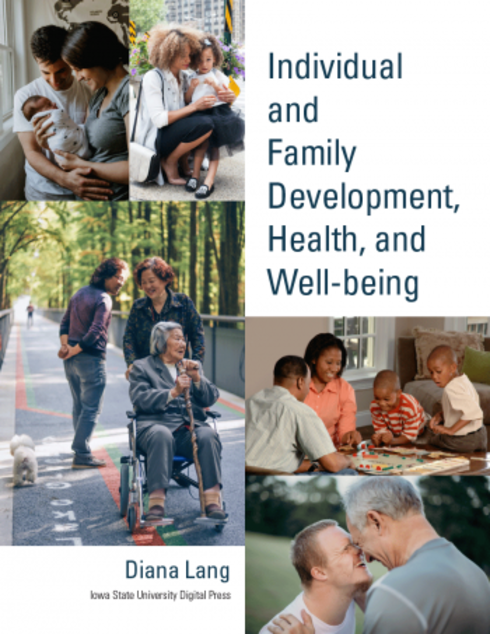 Individual and Family Development, Health, and Well-being
Diana Lang
Nicholas Cone
Copyright Year: 2022
Publisher: Iowa State University
Language: English
Reviews
Reviewed by Jacqueline McMillion-Williams, Adjunct Professor, Bunker Hill Community College on 3/31/23
The text provides appropriate coverage of all areas of the lifespan. The table of contents provides an effective index for chapters, but not sections of the chapters. Although each section is labeled, there is no true insight into what content is... read more
Reviewed by Jacqueline McMillion-Williams, Adjunct Professor, Bunker Hill Community College on 3/31/23
Comprehensiveness rating: 4 see less
The text provides appropriate coverage of all areas of the lifespan. The table of contents provides an effective index for chapters, but not sections of the chapters. Although each section is labeled, there is no true insight into what content is within each section. Key words are bold and defined within the text. Although there is not a glossary at the end, readers can use the search function to locate key words and their definitions.
Content Accuracy rating: 5
Historical and current information about domains, theories and stages is accurate and presented without bias. Theories are presented within a historical context. The primary author also relies on content from several known sources to provide diverse perspectives. The text also provides examples of development across different cultures and accurately discusses a variety life circumstances that influence development.
Relevance/Longevity rating: 5
Contents of the text are relevant to today's learners with up to date language such gender identity. Also, there are links to videos for supplemental learning. Over time these links can easily be swapped out for newer videos.
Clarity rating: 5
The language used in the book is accessible to readers of varying levels. The use of common language and conversational tone makes the content approachable. The author's use of questions provide space for a pause and allow the reader to think about what is already known about a topic before the author provides information that the reader needs to learn or know by end of the course. This also makes the books feel more like a dialogue between the reader and author versus text that must be read for a class. Overall the content is engaging and enjoyable to read.
Consistency rating: 5
The author provides a clear framework of development for the reader to follow and information throughout the text is consistently presented within the framework of the domains of development. Use of language is consistent including the manner in which key terms are defined.
Modularity rating: 5
I appreciate the time spent covering an introduction to lifespan development, research, and theories as separate chapters. This division lends itself to being able to ensure students my adolescent and adult development courses as well as those taking the full lifespan development course can easily be assigned these chapters. Additionally, supplemental materials (videos) are linked within the chapters so readers do not have to go back and forth between an appendix and the chapters.
Organization/Structure/Flow rating: 5
I appreciate the time spent covering an introduction to lifespan development, research, and theories as separate chapters. This allows for reorganization all information. Foundational information can be reorganized so that each chapter does not have to be assigned in order. The manner in which the chapters are divided also lends itself to an instructor being able to reorganize content by domains versus stages.
Interface rating: 5
The author presents information in a logical sequence. Content is divided into chapters with clearly stated learning objectives. Chapters are also divided into subtopics. There is a PDF version of the textbook that readers can use offline, allowing readers to take notes and annotate directly on the text. I also appreciate the manner in which foundational information is chunked across multiple small chapters versus one long chapter.
Grammatical Errors rating: 5
I did not locate any grammatical errors in the text.
Cultural Relevance rating: 4
The text places a heavy emphasis on the ways in which culture can influence development and provides diverse examples of cultural differences across common stages of development. In doing this the author reinforces that although we may be culturally different as humans, generally speaking, our development is the same. However, the pictures used do not reflect the same diversity.
Comments
Although there are sections that I am especially interested in using in the future along with linked videos and knowledge checks within the chapters, I am not certain if I would use the full text. Some adopted content is from a text that I am currently using, but that text does not provide supplemental learning materials. For this reason, there is a high likelihood of my piloting the use of this text with at least one of my developmental psychology courses.
Reviewed by Jacqueline Coogan, Adjunct Faculty, Bunker Hill Community College on 3/29/23
This textbook , INDIVIDUAL AND FAMILY DEVELOPMENT, HEALTH, AND WELL-BEING by DIANA LANG ,Iowa State University Digital Press , Ames, Iowa covered extremely well all aspects of human development. It is particularly well documented, organized and... read more
Reviewed by Jacqueline Coogan, Adjunct Faculty, Bunker Hill Community College on 3/29/23
Comprehensiveness rating: 5 see less
This textbook , INDIVIDUAL AND FAMILY DEVELOPMENT, HEALTH, AND WELL-BEING by DIANA LANG ,Iowa State University Digital Press , Ames, Iowa covered extremely well all aspects of human development. It is particularly well documented, organized and written. It is very thorough, engaging to the reader, offering an ample number of examples as well as concepts and theory. In addition, each topic is followed by references, readings and videos that will enhance comprehension, learning and teaching. In many topics and subtopics, vocabulary and key terms are explained within content, and also in some readings or topics, vocabulary is placed as short learning listings at the end of chapter and /or sections.
Within each major Category/Chapters, learning objectives are also provided, clearly delineating what is to be expected for learning, comprehension and application.
This reviewer was extremely aware of the first three short Chapters setting the stage for the full command of Human Life Development by introducing, Human Development /Lifespans, Theories and finally Research allowing the student/ reader to absorb that this is the construct each stage will be examined, analyzed and reviewed in.
The textbook does not provide for an index but distinctly begins with a well-developed and outlined Table of Contents with corresponding page numbers.
Content Accuracy rating: 4
The Content is very accurate, bringing in many and varied resources to document accuracy. One notable and unfortunate issue is in accessing videos and additional readings, a few of the videos and/or articles access were difficult to manage or information no longer available.
Relevance/Longevity rating: 5
The Content was extremely relevant demonstrating longevity where in many examples indicated historical perspective as well current theory and recognition. It was very interesting to have that very much part of the content so that the reader can easily see the development and updates of theory.
In addition, much of the additional built in articles and videos also demonstrate present and future thought of a particular theory , case study and /or examples.
Clarity rating: 4
This text, grammar and vocabulary are well-organized and comfortable to read, which makes it ideal and suitable for all learning abilities and styles. The references, at times, can be many in number and could cause confusion while reading for content and understanding. Another method of indicating references to studies and cases should be reviewed for placement within the body of the text so not to cause disruption and "reading for instruction/ learning" content.
Consistency rating: 5
The entire textbook is organized in a fashion that is very consistent with all of the Domains of each of the Stages of Human Development. Within each of the domains there is a structure which increases comprehension and learning. Examples of this would be the concepts and theories explained and described with examples, research and additional readings and videos as well as references.
Modularity rating: 5
This textbook does an excellent job of dividing up and organizing its chapters. Every chapter and domain start with learning objectives. Within each chapter, there are many headings and subheadings reflecting concepts in the particular stage. This really makes for terrific organization for the reader/students. This assists the teacher to plan and design lessons on the various concepts within each of the Domains and Chapter Stages. In addition, all the articles and videos provided for the various sub-divisions are extremely helpful and allow for more in-depth learning.
Organization/Structure/Flow rating: 5
All of the stages of development are presented very well and very organized following a pattern that makes for real structure and development of information and learning.
Interface rating: 5
Many informational Charts, photos, videos, additional articles and information provided to interface with content and enhance it for students and teachers.
Grammatical Errors rating: 5
I did not find any grammatical errors
Cultural Relevance rating: 5
The text and content are culturally sensitive, especially in the additional articles and videos. These videos are particularly sensitive to issues in the 21st century. I would like to see additional text photos that are more demonstrative of the text and content within the book.
Comments
I really like this textbook for various reasons as stated above. It is very extensive with many opportunities for students to learn from additional written information and case studies as well as examples and videos explaining what they are reading and learning in the basic textbook.
Table of Contents
Introduction

Theories
Research
Families and Other Influences on Development
Heredity, Prenatal Development, and Birth
Infancy and Toddlerhood
Early Childhood
Middle to Late Childhood
Adolescence
Early Adulthood
Middle Adulthood
Late Adulthood
Death, Dying, and Mourning
About the Book
This book provides an overview of lifespan developmental tasks (physical, cognitive, language, social, emotional) examined from individual and family theoretical perspectives. It covers topics related to families, diversity, individual and family health and well-being, and reciprocal relationships as affected by external factors.
About the Contributors
Authors
Dr. Diana Lang
Nicholas Cone