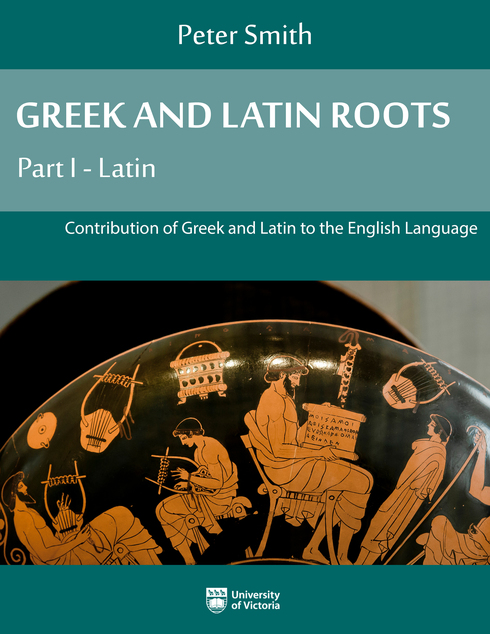 Greek and Latin Roots: Part I - Latin
Peter Smith, University of Victoria
Copyright Year: 2016
Publisher: BCcampus
Language: English
Reviews
Reviewed by Kirsten Day, Associate Professor of Classics, Augustana College on 11/14/18
Smith provides an impressively thorough overview of the many ways Latin has made an imprint on the English language. In doing so, he includes the grammatical principles of Latin that are essential to understanding how a knowledge of Latin roots,... read more
Reviewed by Kirsten Day, Associate Professor of Classics, Augustana College on 11/14/18
Comprehensiveness rating: 3 see less
Smith provides an impressively thorough overview of the many ways Latin has made an imprint on the English language. In doing so, he includes the grammatical principles of Latin that are essential to understanding how a knowledge of Latin roots, prefixes, and suffixes can greatly enhance one's fluency in English, but leaves out the aspects of the language that are extraneous in this context. This book will give native English speakers enhanced appreciation for the vocabulary they use everyday, while providing them the tools necessary to analyze and understand a vast number of words with which they are unfamiliar. Sections on the historical development of the English language are useful in understanding how language is transferred and transformed. Diligent students will undoubtedly complete this text with a much richer appreciation for their own language, as well as some basic understanding of the grammar and vocabulary of Latin. In light of the book's title, however, I did expect to find more specific focus on specialized roots used in scientific terminology. In large part, this text seemed more appropriate to an English linguistics course than to one primarily catering to students in either the sciences or the social sciences. The book provides appendices at the back with answers to the exercises and vocabulary charts, but no index or glossary.
Content Accuracy rating: 4
I did not see any errors in subject matter, and very few typographical or proofreading errors (the few I did notice include "ADN" for "AND" in §26 (p. 70); a space in the first bullet point of the second box in §38 (p. 96) that results in an awkward comma at the beginning of a line; in §78 (p. 188), "armée" is rendered "arme!e"; and §87 (p. 212) note 3 refers to §74 number 4, while the bullet points in this section are not numbered). Overall, however, this is a well-edited and polished text.
Relevance/Longevity rating: 4
The overall subject of this text is timeless and will be useful indefinitely, and for the most part, the author has done a good job in keeping his discussion of word development up to the moment. There are a few references, however, that will make this 2016 text seem dated to today's students: in §31 (p. 77), "Present-Day English" is described as referring to the 19th and 20th centuries (despite the fact that many of today's students were not even born until the 21st century); references to Ben Cartwright's ranch (§42, p. 105) or to Perry Mason (§65, p. 155) will likely be lost entirely upon most students, as too might an excerpt from the Pirates of Penzance (§93, p. 223); while most students will not have heard of actor Lee Marvin (§49, p. 123), the reference might be considered more relevant (though it might need Googling).
Clarity rating: 4
Most explanations are clear and accessible to those who have no Greek or Latin (and indeed, few assumptions are made about students' familiarity with English grammatical terms). For me, the explanation of the Latin pronunciation of vowels in §7 (pp. 17-18) might be cleaned up a bit (that E = "English" is not necessarily to be taken for granted when vowel sounds are being discussed). Some other of the abbreviations that are used in giving the shorthand of etymologies are not explained (like the E); these usually can be figured out, but a key would be nice (modF = modern French: see §23, p. 63).
Consistency rating: 5
Smith's book impressed me with its consistency in treatment and comprehensiveness across sections.
Modularity rating: 5
This text seems very useful in terms of modularity. The reading sections are short, and would allow an instructor much flexibility in terms of how much to assign in each class. While concepts necessarily build on one another, links within each section lead students to appropriate places to fill in or review the concepts that have been covered previously. In addition, there are some sections that might be regarded as supplemental and thereby excluded, depending on the needs of the course and time constraints.
Organization/Structure/Flow rating: 4
While I understand the reasons behind dedicating the first volume to Latin (accessibility/familiarity, volume of material) and the second to Greek, this seems an odd choice to me in terms of chronology. Within the volume itself, the organizational logic and breakdowns of section are usually clear and logical. I did have a few quibbles within chapters: for example, on the first set of exercises, it would be useful to reiterate the numbering scheme rather than referring back to a chart much earlier in the text (§17, p. 45 #3). And while Smith's exhaustive list of examples of words for analysis or consideration is useful, it might be a bit overwhelming in its presentation for many students (i.e. §83, p. 200).
Interface rating: 4
The online version is fairly easy to navigate, but the sections are fairly short: this results in a lot of clicking, but is useful in other ways. The downloadable PDF has a lot of blank pages. §19 (p. 53) has a spacing issue within a paragraph, which also appears in the online version. In both cases, there seem to be some reference errors: for instance, we are told to "consult the Bestiary" in §41 (p. 94), but this should read §42.
Grammatical Errors rating: 5
The breadth and depth of Dr. Smith's language expertise is impressive. I did not find any grammatical errors in this text.
Cultural Relevance rating: 3
There are potentially minor slights to Smith's fellow Canadians in §18 (p. 51) n. 1, and a comment that seems to equate "ardent feminists" with man-haters who are unable to set aside their biases to study language as objectively as male linguists in §42 (p. 105) might best be omitted. And although minor, making light of terms associated with abortion as a political issue (p. 225) also might sit badly with some in today's divisive political climate.
Comments
The text will provide students far more information about the history of English, its relationship to Latin (and other languages), and about the grammar of Latin than many other texts on this subject. In places, I would like to see citations for references (i.e., the references to Juvenal on p. 71 and to Plautus in n. 1 in §56 (p. 137). There are many interesting cultural tidbits (such as the relationship of the political term "fascist" to the Roman fasces (§56, p. 137). Occasionally, the text offers a tease, which in some cases can prompt to further study (the etymology of "vanilla" might make you blush: again, §56, p. 137), but in other cases seems just to assume too much (as with the above noted reference to Lee Marvin and the origin of the word "palimony"). Overall, I think this text is highly useful for a course on English linguistics, but less useful as a stand alone text for a course that focuses on equipping those in the sciences and social sciences with an arsenal of word roots pertinent to their field (though as a supplemental text, for this sort of course, I think it could be very useful indeed).
Table of Contents
Chapter 1: Introduction
Chapter 2: The Latin Noun (Declensions 1 & 2)
Chapter 3: The Latin Noun (Declensions 3, 4, 5)
Chapter 4: Simple Latin Adjectives
Chapter 5: Turning Latin Nouns into Adjectives
Chapter 6: Turning Latin Adjectives into Latin Nouns
Chapter 7: Latin Diminutives
Chapter 8: Latin Prefixes
Chapter 9: The Latin Verb System
Chapter 10: Turning Latin Verbs into Latin Nouns
Chapter 11: Turning Latin Nouns into Latin Verbs
Chapter 12: Latin Present Participles and Gerundives
Chapter 13: Turning Latin Verbs into Latin Adjectives
Chapter 14: Compound Words in Latin
Appendices
I. Key to Exercises (Latin)
Appendix I
Key to Exercises (Latin)
II. Summary of Vocabulary Tables (Latin)
Appendix II
Summary of Vocabulary Tables (Latin)
About the Book
Greek and Latin Roots: Part I - Latin is part one of a two part series. This series examines the systematic principles by which a large portion of English vocabulary has evolved from Latin and (to a lesser degree) from Greek. This book focuses on Latin roots. A link to the second part focusing on the Greek roots can be found below. Part I will try to impart some skill in the recognition and proper use of words derived from Latin. There is a stress on principles: although students will be continually looking at interesting individual words, their constant aim will be to discover predictable general patterns of historical development, so that they may be able to cope with new and unfamiliar words of any type that they have studied. They will be shown how to approach the problem by a procedure known as "word analysis," which is roughly comparable to the dissection of an interesting specimen in the biology laboratory. The text assumes no previous knowledge of Latin, and does not involve the grammatical study of this language—except for a few basic features of noun and verb formation that will help students to understand the Latin legacy in English. Although there will be some attention paid to the historical interaction of Latin with English, this text is definitely not a systematic history of the English language. It focuses on only those elements within English that have been directly or indirectly affected by this classical language. In order to provide the broadest possible service to students, the text emphasizes standard English vocabulary in current use. The more exotic technical vocabulary of science and medicine can be extremely interesting, but is explored in only summary fashion. Nevertheless, this text should be of considerable value, say, to a would-be botanist or medical doctor, if only by providing the foundation for further specialized enquiry.
About the Contributors
Author
Peter Smith (1933 – 2006) was founding Chair of the Classics Department (now named Greek and Roman Studies) and later served as Dean of the Faculty of Fine Arts, both at the University of Victoria.