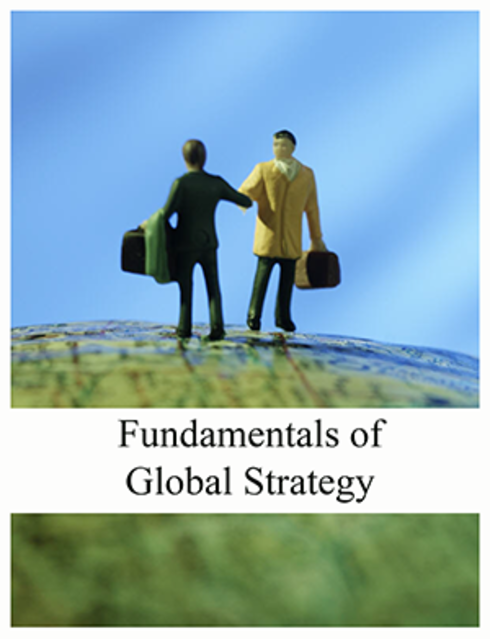 Fundamentals of Global Strategy
Cornelis A. de Kluyver, University of Oregon
Copyright Year: 2012
ISBN 13: 9781453332870
Publisher: Saylor Foundation
Language: English
Reviews
Reviewed by A Buchanan, Adjunct Professor, Chemeketa Community College on 2/8/17
This book is comprehensive and covers the main points that need to be considered when establishing a global strategy for a business. The book would be suitable for a follow-on class after students have been introduced to the major business... read more
Reviewed by A Buchanan, Adjunct Professor, Chemeketa Community College on 2/8/17
Comprehensiveness rating: 5 see less
This book is comprehensive and covers the main points that need to be considered when establishing a global strategy for a business. The book would be suitable for a follow-on class after students have been introduced to the major business concepts (a follow-on to Introduction to Business for example). Its arrangement seems very logical and flows well from one topic to the next. On a negative note, the text does not have a glossary or index which could be used for easy reference. The text is written simplistically so the content can be easily followed and understood by any business students no matter where they are in their program.
Content Accuracy rating: 4
I would describe the content as accurate and a good portion of the material presented was backed by other cited sources. The sources do seem to be slightly dated and could be updated with new information. Since the book was published in 2012 more relevant examples or case studies would make the points covered more relatable. The text is unbiased and the minicases cover different industries. The case studies would benefit from having some preset discussion points that incorporate the case study with the points covered in the chapter.
Relevance/Longevity rating: 3
Several of the examples are relevant, but the content could go into some further explanation and examples. This would be a great area to introduce some videos to back up the content. As mentioned earlier the examples could also be updated with newer more relevant cases that form our global business world today.
Clarity rating: 5
The content flows easily but can get somewhat boring at times. The use of graphs, charts or pictures could liven up the chapters and help reiterate the points that are being made. The list of points to remember at the end of the chapters are a good summary of the main points in the chapters and a good review. Terms are highlighted throughout the text and followed by their definition for easy reference. Another positive is the list and descriptions of major trade agreements as well as the explanation of the role of the World Trade Organization and EU that can be found in the appendix.
Consistency rating: 5
Each chapter in this text has been organized the same way and broken down by logical subtopics. This does provide an overall consistent feel to the book. A list of terms used in each chapter would be helpful as well as some thought provoking questions that cover the main points of each chapter.
Modularity rating: 5
This text can easily be divided into smaller sections that may be covered at different times. The arrangement of the chapters and ideas covered does have a logical flow but is not set in stone. The chapters can be rearranged if necessary for a class.
Organization/Structure/Flow rating: 5
The organizational strategy is clear and is easy to follow. All major points a business has to incorporate in its global strategy are covered in a logical well laid out fashion.
Interface rating: 4
The textbook is free of navigational problems and is presented in a clean readable format. As a whole the textbook is missing colorful images/charts or any other display items that would enhance the text and hopefully help hold the reader's attention.
Grammatical Errors rating: 5
I did not notice any grammatical errors. Sometimes the word choice seemed a little redundant and the use of synonyms could make the text less monotonous.
Cultural Relevance rating: 4
The book does not seem to be culturally insensitive or offensive, however as mentioned earlier the examples are somewhat dated and the points could benefit from more updated and relevant examples.
Comments
I thought Fundamentals of Global Strategy by Cornelis de Kluyver was well written and covered all the main points of international business as well as the steps a business has to consider before going global. I liked the basic layout of the book and found it very easy to follow as well as being able to plan lessons in a systematic order. The book could be improved with visual stimulation of any type to help re-stress the important parts of the chapters. At present the only graphics throughout the book are black and white tables representing information. Also review questions to test content understanding would help motivate and run classroom discussions. The book makes a great starting point for covering all the main concepts that incorporate global strategy but could be enhanced by newer more relevant examples/case studies as well as videos and other technological enhanced material.
Table of Contents
Chapter 1: Competing in a Global World
Chapter 2: The Globalization of Companies and Industries
Chapter 3: Generic Strategies for Global Value Creation
Chapter 4: Global Strategy as Business Model Change
Chapter 5: Target Markets and Modes of Entry
Chapter 6: Globalizing the Value Proposition
Chapter 7: Global Branding
Chapter 8: Globalizing the Value Chain Infrastructure
Chapter 9: Global Supply-Chain Management
Chapter 10: Globalizing the Management Model
About the Book
The globalization of the competitive landscape has forced companies to fundamentally rethink their strategies. Whereas once only a few industries such as oil could be labeled truly global, today many—from pharmaceuticals to aircraft to computers—have become global in scale and scope. As a consequence, creating a global competitive advantage has become a key strategic issue for many companies, and students need to possess an understanding of the impact of global strategies on a business.
Crafting a global strategy requires making decisions about which strategy elements can and should be globalized and to what extent, and de Kluyver's Fundamentals of Global Strategy can help you illuminate these facts to your students.
Fundamentals of Global Strategy poses the following questions for your students to analyze:
What markets and/or regions should a company compete in and why?
To what degree can and should products and services be standardized?
Is it advantageous to adopt a more or less uniform market positioning worldwide?
What value-added activities should it keep in-house, outsource, or relocate for competitive advantage?
How can competitive responses be most effectively coordinated on a global basis?
About the Contributors
Author
Cornelis A. "Kees" de Kluyver is Dean and the James and Shirley Rippey Distinguished Professor of Management at the Lundquist College of Business at the University of Oregon. Prior to coming to Eugene, Oregon, he was the Masatoshi Ito Professor of Management at the Peter F. Drucker and Masatoshi Ito Graduate School of Management at Claremont Graduate University. From 2000–2006 he served there as the Henry Y. Hwang Dean of the School and as Executive Director of the Peter F. Drucker Research Library and Archives.