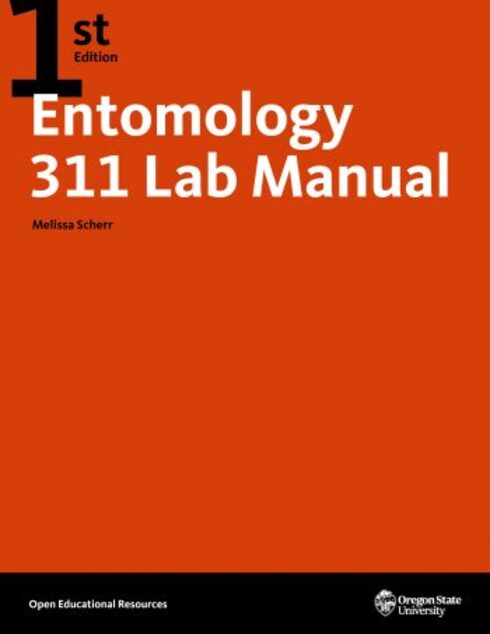 Entomology 311 Lab Manual - 1st Edition
Melissa Scherr, Oregon State University
Daniel Adams, Oregon State University
Baylee Bullock, Oregon State University
Copyright Year: 2019
Publisher: Oregon State University
Language: English
Reviews
Reviewed by Amy Obringer, Professor of Biology, University of Saint Francis on 12/14/22
Entomology has the potential to be very complicated considering the vast number of insects. However, I think the author did a good job of keeping it simple to highlight the different/unique features of each order. I think if anything is missing,... read more
Reviewed by Amy Obringer, Professor of Biology, University of Saint Francis on 12/14/22
Comprehensiveness rating: 4 see less
Entomology has the potential to be very complicated considering the vast number of insects. However, I think the author did a good job of keeping it simple to highlight the different/unique features of each order. I think if anything is missing, perhaps a chapter on the effects of pesticides, etc on insect diversity and population loss.
Content Accuracy rating: 5
Very accurate. The images were extremely helpful and of high quality.
Relevance/Longevity rating: 5
The only potential area that could read outdated over the years is Week 9.
Clarity rating: 5
Very clearly written
Consistency rating: 5
Presentation of material was consistent
Modularity rating: 5
very appropriate for short undergrad course or even advanced biol course in high school
Organization/Structure/Flow rating: 5
Easily readable and organized. The same layout for each chapter is very helpful. The only think you might add would be occassional reminders about the entire semester long project, the insect collection.
Interface rating: 5
Images looked great; all links worked
Grammatical Errors rating: 5
Concise and clearly communicated
Cultural Relevance rating: 5
Seemed ok to me
Comments
Week 9 topics were great - however, I don't think the lab activity matched the subject matter. I think the collection should be a different chapter and a new week 9 activity should be designed.
When I was asked to review an open-book, I went in with a negative attitude. Previous OpenStax books I have reviewed in the area of human physiology were very disappointing. This semester I taught invert biology and I wish I had seen this entomology manual when we were covering insects.
Reviewed by Darren Pollock, Professor of Biology, Eastern New Mexico University on 11/11/21
The lab manual attempts to do FAR too much. It is a combination of very basic information and very advanced, applied aspects of entomology. read more
Reviewed by Darren Pollock, Professor of Biology, Eastern New Mexico University on 11/11/21
Comprehensiveness rating: 5 see less
The lab manual attempts to do FAR too much. It is a combination of very basic information and very advanced, applied aspects of entomology.
Content Accuracy rating: 3
I'm giving the "accuracy" component a score of "3" because there are too many errors in the text, figure captions, etc. Included are errors in fact, and errors in spelling, grammar, word usage, etc.
Relevance/Longevity rating: 5
I think that everything included in the lab manual is relevant....there's just too much of it and it's presented in an illogical way
Clarity rating: 4
I think that there is a good mix of general to complex terminology - it is easily understood (except for the too many errors in the text).
Consistency rating: 2
The chapters/weeks seem to be almost "randomly" put together.
Modularity rating: 4
Yes, the book is divided into "modules" consisting of labs/weeks. Each "week" has three components: background reading, a pre-lab, and then an assignment. All of these are easily accessed.
Organization/Structure/Flow rating: 1
This is one of my major complaints! This lack of organization may be a consequence of the authors attempting to include very general entomological information overlaid by more complex, applied aspects of entomology. The way that orders are presented is illogical also.
Interface rating: 5
interface seems very good
Grammatical Errors rating: 3
There are too many errors in sentence construction, word usage, grammar etc. They don't really impede an understanding of the information presented, but in my opinion, if you're going to require students to use this lab manual, then the grammar etc. should be perfect (or VERY nearly so).
Cultural Relevance rating: 5
No obvious cultural insensitivity or offense noted.
Comments
I was pleased to see an entomology lab manual among the available titles in the "Open Textbook Library". This manual is divided into nine weeks, each of which is supplied with background reading (much like a traditional textbook), a pre-lab (an assessment of knowledge), and then an assignment (these vary in length and effort required, and quite often involve field sampling/collecting). This lab manual was written for students taking Entomology 311 – Integrated Pest Management – at Oregon State University, Corvallis. Many useful illustrations are included within each week's lab.
The amount of information presented in this lab manual is appreciable, but the order in which the many different topics are presented is seemingly almost random. For example, Lab 3 consists of three very different subunits: 1) Coleoptera and Lepidoptera, 2) insect development, and 3) degree day models. I feel that the authors tried to include far too much information in this lab manual; the content is all good and very useful, but could easily be divided into two different lab manuals for two entomology courses: one on basic identification/collection and the other on more applied aspects. If this was written with the upper division student in mind, there is probably too much general or introductory material that the student would have already taken in a lower division course. I am assuming that in order to take Entomology 311 at OSU students would need a "general" entomology prerequisite.
Some insect orders are given the spotlight in certain units while others, notably the Diptera and Hymenoptera, are hidden within sections such as "pollinators" and "the human body biome". It seems very strange that Coleoptera and Lepidoptera are treated together in a single week, while Hemiptera are given their own week. Also, the sequence in which the orders are presented is atypical, i.e. introducing two holometabolous orders before the orthopteroids and Hemiptera.
There are far too many errors in the text, both in fact and in spelling, grammar, etc. Two examples of the former: "…p. 121: the tiny mosquito (of which there are several species globally)… and p. 53: "All members of this group [orthopteroids] are phytophagous except the Dermaptera (earwigs)". Scientific names throughout the manual are spelled incorrectly and too many of the figure captions contain "fatal" flaws. Here are a couple of examples: Fig. 1-5 "Pitfall traps are ideal for collection nocturnal and ground crawling species", and Fig. 1-7 "Light traps are used to collect nocturnal insects that are attracted to light and their predators". As well, Fig. 1-14 has a completely incorrect caption. With the amount of information presented in this manual, there are bound to be a few mistakes that creep in; however, a more complete proofreading would have easily caught many if not all of those still present in the reviewed version of this lab manual.
Table of Contents
Week 1: Introduction to Collection and Curation
Week 2: Paleoptera and the Primitive Insects
Week 3: Coleoptera and Lepidoptera
Week 4: Orthopteroid Orders
Week 5: Hemiptera
Week 6: Pests, Predators, and Parasitoids, Pt. II
Week 7: Soil Insects
Week 8: Pollinators
Week 9: The Human Body Biome
Insect Collection
About the Book
Labs in this book supplement the information gained in lecture, as well as providing some perspective and experience with hands-on applications of ideas in pest management. The labs are presented in week-by-week order, so the pre-labs and reading for week 1 are labeled "Pre-Lab 1" and "Week 1 Reading".
Pre-Labs are assignments to be done before lab meets, and will be due at the beginning of Lab. Complete the labs using your textbook, web resources, or the reading assigned for the week.
Readings are short 1-3 page "chapters" covering background topics pertinent to the upcoming lab, particular groups of insects/arthropods, or methods used in Pest Management. This should be read before coming to Lab each week.
Lab Assignments need to be printed and brought to class so that they can be completed as a group in Lab. It is sometimes helpful to read through the assignment ahead of time to get an idea of the subject matter for the week.
About the Contributors
Author
Melissa Scherr, Oregon State University
Editors
Daniel Adams, Oregon State University
Baylee Bullock, Oregon State University