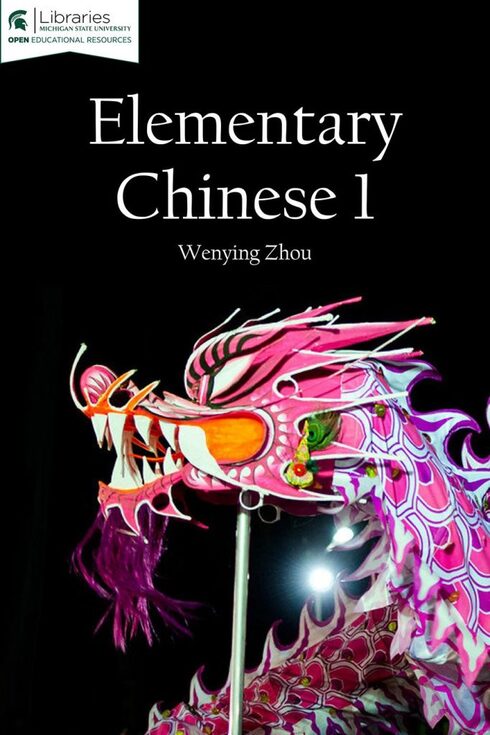 Elementary Chinese I
Wenying Zhou, East Lansing, MI
Copyright Year: 2022
ISBN 13: 9781626101159
Publisher: Michigan State University
Language: English
Reviews
Reviewed by Leihua Weng, Assistant Professor, Kalamazoo College on 1/29/23
It is comprehensive with dialogues, grammar explanation, exercises, and cultural notes. However, I would like to see more exercises. read more
Reviewed by Leihua Weng, Assistant Professor, Kalamazoo College on 1/29/23
Comprehensiveness rating: 4 see less
It is comprehensive with dialogues, grammar explanation, exercises, and cultural notes. However, I would like to see more exercises.
Content Accuracy rating: 5
The content is unbiased, which is great! And I do not see any error so far.
It would be great if all the sentences are written as grammatically complete sentences for instance "Subject + Verb + Object," when it is allowed by the context. I noticed that in some places, subjects are omitted, even when the preceding clauses carry a different subject. I think a Chinese language beginner at this level needs to constantly be reminded that subject needs to be consistent with the verbs in the same sentence/clause.
Relevance/Longevity rating: 5
Yes, the content is quite up-to-date.
Clarity rating: 5
Very clear!
Consistency rating: 5
It seems to be quite consistent.
Modularity rating: 4
There seems to be quite a lot of flexibility in re-arranging the modules. I only have some trouble in understanding the first module (see my input in "Organization").
Organization/Structure/Flow rating: 4
In general, units are arranged in accordance with learners' development in working toward Intermediate Chinese, with the perspective of young learner. However, the book starts with a conversation between a mother and a father talking about their daughter, and thus requires the learner to be already at an intermediate level or even at advanced level to describe and to narrate the scenes beyond their focal viewpoint of "I." It might be a good idea to move the first conversation to a later part of this book.
Interface rating: 4
I like the convenience of having different formats ready. The fonts in the pdf document could be further adjusted.
Grammatical Errors rating: 4
It would be great to see some grammatical exercises to go with grammar explanation.
Cultural Relevance rating: 4
The cultural notes are quite updated. It would be nice to have some images or videos available in the cultural note sections.
Comments
It is a good elementary Chinese textbook. Simple and handy. I could use it for an intensive summer course. But for a regular semester/quarter course of elementary Chinese, I would still prefer a more comprehensive textbook with a workbook that contains both controlled, semi-controlled, and open exercises in speaking, listening, reading, and writing exercises. Using this textbook in its current shape would require a lot of input from instructors in designing exercises and activities, which could also mean its strength in flexibility.
Table of Contents
Acknowledgments
Image Credits
Introduction

I

. Introduction: The Basics of Chinese

II

. Lesson 1: First Contact

III

. Lesson 2: Family Members and Occupations

VI

. Lesson 5: Eating and Drinking

VII

. Lesson 6: Making Phone Calls

VIII

. Lesson 7: Learning Chinese
About the Book
This open textbook is designed for beginners learning Chinese as a second/foreign language. This book aims to introduce learners to standard Chinese pronunciation, character knowledge, basic conversational phrases, grammar and vocabulary use, and cultural knowledge. Throughout the eight chapters, learners will explore: greetings and self-introduction, hobbies, nationalities, family members and occupations, inviting friends to dinner, talking about food and beverage, making phone calls, and talking about classes and exams. Learning activities include audio recordings so students can listen to the pronunciation of vocabulary words and observe dialogue between speakers. The book also includes videos with captions, allowing learners to listen, watch, and read. Original interactive activities have been created by the author to facilitate the practice of target vocabulary and dialogues.
About the Contributors
Author
Wenying Zhou, Michigan State University