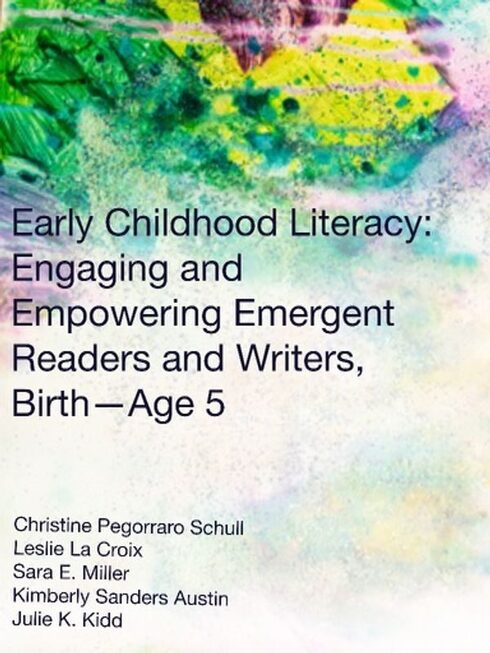 Early Childhood Literacy: Engaging and Empowering Emergent Readers and Writers, Birth – Age 5
Christine Pegorraro Schull
Leslie La Croix
Sara E. Miller
Publisher: VIVA
Language: English
Reviews
Reviewed by Toni Walters, Assistant Professor, The University of the District of Columbia on 11/21/23
All pillars of literacy are covered well. Emphasis on oral language and building vocabulary as critical areas to support early literacy development aligns well with current trends that pre-service professionals and others need in order to be... read more
Reviewed by Toni Walters, Assistant Professor, The University of the District of Columbia on 11/21/23
Comprehensiveness rating: 5 see less
All pillars of literacy are covered well. Emphasis on oral language and building vocabulary as critical areas to support early literacy development aligns well with current trends that pre-service professionals and others need in order to be effective. Would have liked to see more emphasis on the constrained literacy areas like alphabetic principle, phonological awareness, phonemic awareness with tips included for how to introduce and integrate these into the early learning spaces. Can be supplemented.
Content Accuracy rating: 5
The authors presented variety of perspectives.
Relevance/Longevity rating: 5
Yes! Content is timely and well needed.
Clarity rating: 5
The writing is clear and accessible. Don't often find that textbook writers achieve this hurdle.
Consistency rating: 5
Yes. The framework of the Nested Literacy Model is used throughout the book.
Modularity rating: 5
Sections and subsections are well put together.
Organization/Structure/Flow rating: 4
My only criticism is that theories get addressed in two separate places (Chapter 3 under literacy and chapter 7 under language development). I wonder if it wouldn't have been more meaningful to address both language and literacy development theories within the same chapter as there is much overlap between the two in a practical sense, and then follow with oral language development.
Interface rating: 5
I had no issues with the interface. Very easy to navigate.
Grammatical Errors rating: 5
Not that I noted. A carefully edited, well-written text.
Cultural Relevance rating: 5
This is my favorite part! What a thoughtful approach to the use of names, vignettes, pictures etc. from diverse cultures and experiences. Loved it! Well needed.
Comments
Great text! I will be adopting it as a resource with my graduate students in the summer course I teach on literacy.
Table of Contents
Title Page
Main Body

1. Building Connections that Support Emergent Literacy
2. Recognizing the Power of the Early Years
3. Examining Theories that Support Literacy Development
4. Understanding and Valuing Children's Home Literacy Environments
5. Building the Environment for Play-Based Learning
6. Understanding Emergent Literacy Assessment Practices
7. Language Development: Promoting Speaking, Listening & Communicating
8. Reading Development: Engaging Emergent Readers
9. Writing Development: Nurturing Emergent Writers
10. Planning for What's Next as Emergent Readers and Writers Progress
About the Book
Engaging and Empowering Emergent Readers and Writers, Birth - Age 5
About the Contributors
Authors
Christine Pegorraro Schull, PhD, Northern Virginia Community College
Leslie La Croix, PhD, George Mason University
Sara E. Miller, EdD, Longwood University