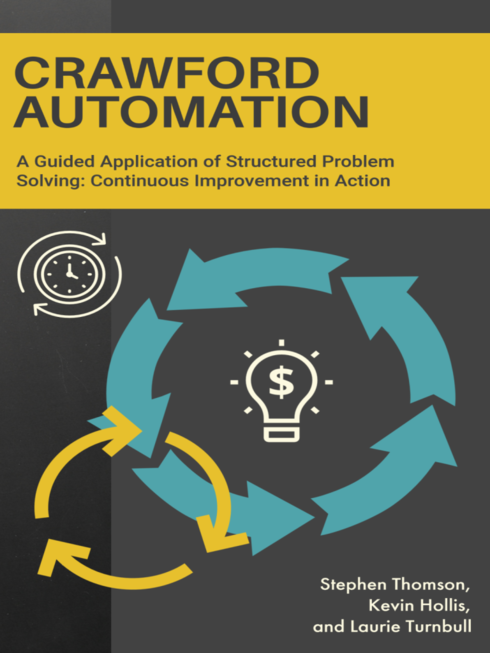 Crawford Automation – A Guided Application of Structured Problem Solving
No ratings
Stephen Thomson, Institute of Technology and Advanced Learning
Kevin Hollis, Conestoga College
Laurie Turnbull, Conestoga College
Copyright Year: 2023
Publisher: eCampusOntario
Language: English
Table of Contents
Introduction
Acknowledgements
Crawford Case
Theory: Practical Problem-Solving Approach
Activity: Apply the Practical Problem-Solving Approach to the Case Appendices 
Alternative Test for Complex Images and Figures 
About the Book
This is a multimedia-enabled case in which students will be guided, by an industry expert, to apply structured problem-solving that addresses a typical supply chain problem, missing parts.  What first appears as the issue may be a symptom of a root cause(s). The case utilizes videos, data files for analytics, audio recording, and videogame-style exercises to find the missing box of parts.  The case is a collaboration between the Conestoga Centre for Supply Chain Innovation and ATS Automation and utilizes the ATS Business Model (ABM) approach to identifying and solving root causes. The case can be used in any Continuous Improvement course or program for either Business or Engineering students.
About the Contributors
Authors
Stephen is the acting director of the Centre for Supply Chain Innovation (CSCI) (formerly known as the Magna Centre for Supply Chain Excellence) at Institute of Technology and Advanced Learning in Kitchener, Ontario, Canada. Prior to becoming the director of CSCI, Stephen was a 15-year veteran of the supply chain cluster of programs. Stephen has designed and taught courses at the diploma, degree, and post-graduate level, specializing in data analytics, data visualization, and decision support modeling. Stephen is also the college's SAP faculty lead assisting programs with integrating the topics of ERP systems, business processes, simulation games, and advanced analytics into curriculum. Over the past three years, Stephen has been a primary investigator in applied research, participating in multidisciplinary teams focusing on projects related to supply chain analytics and sustainability. Research topics have included logistics visualizations, predictive analytics, and the development of a sustainability scorecard framework. Stephen can be reached at sthomson@conestogac.on.ca.
Kevin is a faculty member in the School of Business at Conestoga College ITAL. Kevin is a fulltime professor on the Supply Chain Management – Global program team, where he helps students develop skills and prepare to embark on their future work careers. Kevin is an MBA and qualified engineer with over 30 years manufacturing and supply chain management experience across multiple manufacturing sectors, warehousing & distribution, and 3PL services. Kevin also has an industrial engineering background which he has used to help organizations analyze and improve process performance. Kevin can be reached at khollis@conestogac.on.ca.
Laurie Turnbull is a professor in the School of Business at Conestoga College ITAL with over twenty-five years of industry and academic experience in international business. He obtained his Masters of Science degree (MSc) in Operations and Supply Chain Management (2016) from the University of Liverpool. Specializing in procurement, logistics, and risk management, Laurie uses that experience to help his students develop the critical skills necessary to manage global supply chains contributing to an organization's competitive advantage. During his career in consumer goods manufacturing and the logistics service sector, Laurie frequently contributed to nationally recognized trade publications, including Canadian Transportation & Logistics and Canadian Shipper . He was awarded the CITT-Certified Logistics Professional (CCLP) designation by the Canadian Institute of Traffic and Transportation, recognizing expertise in Canadian supply chain logistics, and the Professional Materials Manager designation (P.M.M.) by the Materials Handling and Management Society. In 2014 he received the CITT Award of Excellence, given to an individual whose career has exemplified innovation in the field of supply chain logistics and who has accumulated many notable achievements. Laurie's research interests include supply chain planning and geopolitical disruptions. He is actively involved with two of Canada's leading supply chain associations, Supply Chain Canada and CITT.