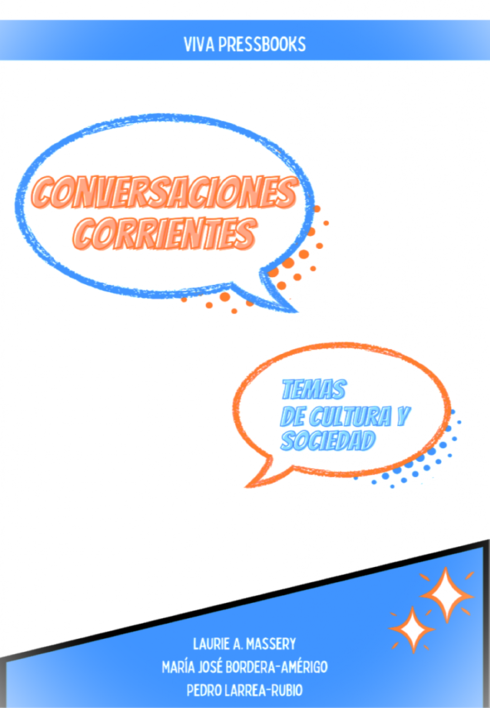 Conversaciones Corrientes: Temas de Cultura y Sociedad
Laurie A. Massery, Randolph-Macon College
María José Bordera, Randolph-Macon College
Pedro Larrea-Rubio, Randolph-Macon College
Publisher: Laurie Massery
Language: English
Reviews
Reviewed by Slav Gratchev, Professor, Marshall University on 4/8/23
See comments at the end. read more
Reviewed by Slav Gratchev, Professor, Marshall University on 4/8/23
Comprehensiveness rating: 4 see less
See comments at the end.
Content Accuracy rating: 5
See comments at the end.
Relevance/Longevity rating: 4
See comments at the end.
Clarity rating: 3
See comments at the end.
Consistency rating: 4
See comments at the end.
Modularity rating: 5
See comments at the end.
Organization/Structure/Flow rating: 4
See comments at the end.
Interface rating: 4
See comments at the end.
Grammatical Errors rating: 5
See comments at the end.
Cultural Relevance rating: 5
See comments at the end.
Comments
This book is written for Intermediate Level students at American universities.
The book consists of seven parts that make up a bulky volume of almost 400 pages. First of all, the book of such size cannot be successfully covered in one semester. If it is designed for one semester only, then it should not consist of more than 180-200 pages.
The book is essentially a collection of articles about a variety of subjects related to the Hispanic world. Articles are well written, the language is comprehensive but, in certain cases, the information provided is not relevant for American students studying Spanish for practical purposes. For instance, why do students need to know when the Royal Academy of the Galician language was established?
Questions that follow articles are well-designed, but they would be good only for advanced students, not for the intermediate ones. With my experience teaching Spanish of more than 20 years I can hardly imagine a small group of students having a lively discussion of the article based on these questions. Intermediate Level students will not be ready for such a task.
The same applies to all the videos. It is nice to show the video to students but to ask them to discuss it in small groups is another matter. To discuss a video, in many ways, is more difficult than the article as the article can be held physically in front of the eye but a video cannot.
Therefore, I would suggest dividing this book into two separate volumes: one for Intermediate Level and one for Advanced. Each should consist of no more than 200 pages and be divided into no more than three parts. Students need simple and comprehensive books to fall in love with the Spanish language and its culture.
I would eliminate parts of articles (or even the entire articles) whose information is not relevant for American students. I would keep the videos but I suggest writing a set of reaction papers on them, which would be deemed more appropriate.
In my opinion, this book as it stands today and without suggested editions, could be used only as a supplemental material but not the main textbook. As a supplemental one, it is excellent as the instructor will be able to pick and choose from there only those materials that he/she thinks are relevant for the course.
Table of Contents
About the book: description, design and teaching methodology
About the authors
Acknowledgements
Guidelines for authors and contributors
I. ¿Cuál es tu historia?
II. Caminos que se presentan
III. Controversias y polémicas del siglo XXI
IV. La diversidad del español y del mundo hispano

V

. Actividades suplementarias

VI

. Pruebas y entrevista final

VII

. Suggestions for activity design
About the Book
This book is designed to facilitate conversation in Spanish among intermediate and post-intermediate learners of Spanish. The following online textbook allows students to read about, review and discuss interesting, entertaining and relevant topics that will undoubtedly elicit conversation and friendly debate among classmates.  Topics including spirituality, family design, life choices, social norms and even history and its impact on Generation Z, are discussed.
About the Contributors
Authors
Dr. Massery received her PhD from the University of Florida, where she specialized in second language acquisition and Hispanic linguistics. Throughout her years at Randolph-Macon College, she has authored and co-authored a variety of articles in her field. Dr. Massery has successfully implemented the Controlled Random Group Generator in Conversation (CRGG-C Framework), of her own design, into her conversation courses for nearly fifteen years and has shared her methodology with other colleagues in foreign language instruction. The CRGG-C Framework has been well-received at both the secondary and post-secondary levels.
Dr. Bordera-Amérigo holds a PhD in Spanish studies with an emphasis on contemporary Spanish literature and culture from The University of Pennsylvania.  She has taught courses that integrate literature, film, and music as part of her training in cultural and professional studies. She is a native speaker of Spanish and has ample experience teaching courses such as conversation in Spanish, advanced grammar and composition, translation, medical Spanish, literature and contemporary Spanish culture.
Dr. Larrea-Rubio, originally from Spain, received his PhD from the University of Virginia. Dr. Larrea-Rubio is currently an associate professor of Spanish at the University of Lynchburg, where he specializes in Spanish literature and poetry. Dr. Larrea-Rubio teaches a variety of courses in Spanish language, literature and conversation and is a highly accomplished scholar and author in his field of study.