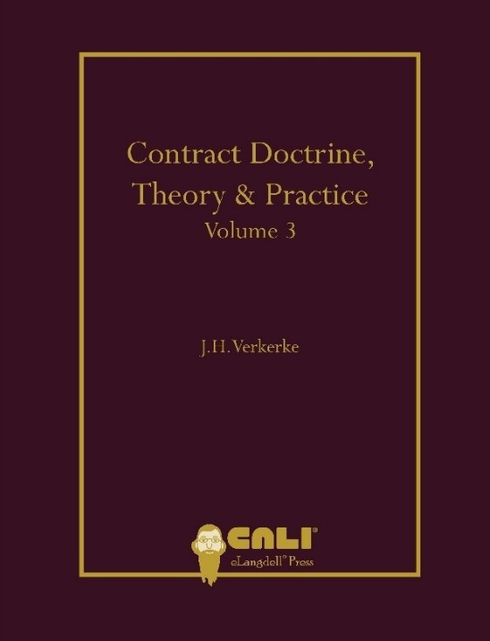 Contract Doctrine, Theory & Practice Volume 1
J.H. Verkerke, University of Virginia
Copyright Year: 2012
Publisher: CALI's eLangdell® Press
Language: English
Reviews
Reviewed by Eloise Hassell, Senior Lecturer, UNC-Greensboro Joseph M. Bryan School of Business and Economics on 12/5/16
The book is Volume I of a multi-volume work on contract principles; Vol I contains topics on contract formation (including mutuality of promises, offer and acceptance, consideration, etc) with extensive cases and inclusion of citations and... read more
Reviewed by Eloise Hassell, Senior Lecturer, UNC-Greensboro Joseph M. Bryan School of Business and Economics on 12/5/16
Comprehensiveness rating: 5 see less
The book is Volume I of a multi-volume work on contract principles; Vol I contains topics on contract formation (including mutuality of promises, offer and acceptance, consideration, etc) with extensive cases and inclusion of citations and discussions of the Restatements. No index or glossary were provided with the edition submitted.
Content Accuracy rating: 5
Content appears to be accurate and unbiased (although occasional editorial observations are not unwelcome or unhealthy).
Relevance/Longevity rating: 5
Relevant and current, adaptable to updates and revisions.
Clarity rating: 4
The concepts are complex and the cases chosen are, although necessary, by their length are not a model of clarity (Judge Easterbrook's accessible style notwithstanding). It would be helpful with intertwined issues to break them out for independent discourse and with the chosen cases a bit more distilled or edited.
Consistency rating: 4
The work appears to be internally consistent, although a bit case-heavy in Ch III. Additionally, a note of caution may well be in order in delineating the common law fill-in doctrines of intent and terms as "default rules;" while appropriately relatable for the generation reading it, they will presumably at some point also come to know that the word "default" is itself a term of art in contract law (not to mention in that other first-year universe of civil procedure) so perhaps an alternative analogous choice would be in order.
Modularity rating: 4
As referenced above, it is difficult to divide assignments when in one single chapter the reader and educator alike have the challenge of both a 26-page and 21-page case for consideration and study.
Organization/Structure/Flow rating: 4
Well-organized on the whole.
Interface rating: 4
No images or charts were included in the edition submitted (perhaps would be helpful)
Grammatical Errors rating: 5
Grammatically correct
Cultural Relevance rating: 5
Classic "oldie-but-goodie" cases juxtapose nicely with contemporary social and legal issues,and modern challenges in technology including shrink wrap and other topics will allow maintenance of cultural relevance.
Comments
Thank you for the opportunity to review this work.
Eloise McCain Hassell
Senior Lecturer
UNCG Bryan School of Business
mmhassel@uncg.edu
(336)-334-5691
Table of Contents
I. Introduction to the Legal Significance of Promise Making
1. What is a Promise?
2. Which Promises Are Enforced?
II. The Consideration Requirement and Alternatives
1. Consideration Doctrine
2. Bargain or Gift?
3. Adequacy Doctrine
4. Promissory Estoppel
5. The Material Benefit Rule
III. Contract Formation
1. Offer
2. Acceptance
3. Revocation of Offers
4. UCC Section 2-207
5. Frontiers of Contract Formation
About the Book
This is the first in a series of Contracts casebooks. It was originally titled "Collaborative Teaching Materials for Contracts."
The first semester of law school is mostly about learning to speak a new legal language (but emphatically not "legalese"), to formulate and evaluate legal arguments, to become comfortable with the distinctive style of legal analysis. We could teach these skills using almost any legal topic. But we begin the first-year curriculum with subjects that pervade the entire field of law. Contract principles have a long history and they form a significant part of the way that lawyers think about many legal problems. As you will discover when you study insurance law, employment law, family law, and dozens of other practice areas, your knowledge of contract doctrine and theory will be invaluable.
About the Contributors
Author
J.H. (Rip) Verkerke is a professor of law and director of the Program for Employment and Labor Law Studies at the University of Virginia School of Law. He earned an M.Phil. in economics and a J.D. from Yale University. He joined the UVA Law School faculty in 1991 after clerking for Judge Ralph K. Winter, Jr. of the U.S. Court of Appeals for the Second Circuit. Verkerke teaches contracts, several employment law courses and a seminar on behavioral economic analysis of law.