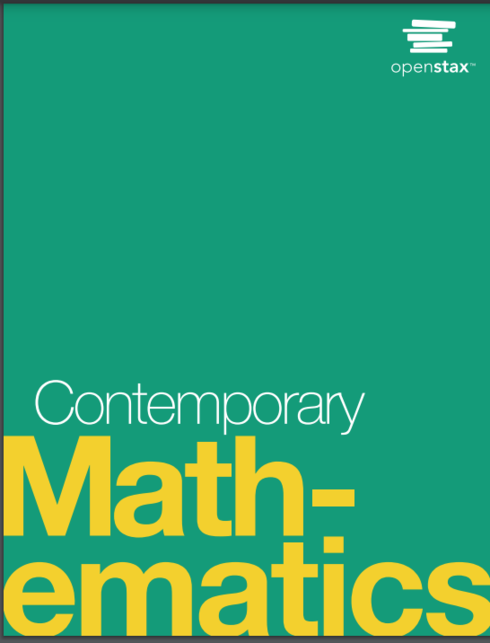 Contemporary Mathematics
Donna Kirk, University of Wisconsin
Copyright Year: 2023
Publisher: OpenStax
Language: English
Reviews
Reviewed by Emily Jones, Lecturer, University of Texas at Arlington on 12/1/23
Incredibly detailed examples, with step by step solutions an an excellent array of exercises for each section. read more
Reviewed by Emily Jones, Lecturer, University of Texas at Arlington on 12/1/23
Comprehensiveness rating: 5 see less
Incredibly detailed examples, with step by step solutions an an excellent array of exercises for each section.
Content Accuracy rating: 5
The book is very accurate, and I did not notice any errors or blatant biases.
Relevance/Longevity rating: 4
Some of the examples are a little dated in their pop culture references, especially in the voting methods chapter, but this would be easy to update or even localize for a specific year or university.
Clarity rating: 5
The clarity for both instructors seeking to implement and students learning from this text is excellent.
Consistency rating: 5
Layout is consistent in a way that makes it easy to find specific sections or items, from exercises to formulas.
Modularity rating: 5
Chapter sections are reasonable to cover 1-3 sections per lecture depending on time and student comprehension.
Organization/Structure/Flow rating: 5
I definitely approve of the logical flow of the book; concepts build naturally within chapters. I might personally rearrange the chapter order, for example putting the geometry and measurement chapters directly after the number representations chapter, but otherwise the flow works very well for building up over the course of a semester.
Interface rating: 4
PDF is searchable with video links, but doesn't appear to have any pre-set bookmarks for navigating a chapter at a time. The text is so detailed that the PDF takes a lot of time to load. Making modular by-chapter PDFs or including navigation would be a huge improvement, or something instructors could add for their own use.
Grammatical Errors rating: 5
Excellent grammar.
Cultural Relevance rating: 4
While nothing jarring jumped out at me, and I did appreciate the variety of references in examples, they are very United States-centric, and focused on mainstream U.S. culture. This is something to be aware of, but the setup makes it straightforward to localize or specialize examples for a specific student population. Additionally, the inclusion of pronunciation guides for historic mathematician names was excellent. The inclusion of Harry Potter in examples isn't ideal.
Comments
This book is an excellent template for a Contemporary Math for non-STEM majors. If your university's curriculum requirements include higher level algebra such as solving quadratics, that would need to be added, but the listed topics are covered comprehensively and accessibly.
Table of Contents
Chapter 1. Sets
Chapter 2. Logic
Chapter 3. Real Number Systems and Number Theory
Chapter 4. Number Representation and Calculation
Chapter 5. Algebra
Chapter 6. Money Management
Chapter 7. Probability
Chapter 8. Statistics
Chapter 9. Metric Measurement
Chapter 10. Geometry
Chapter 11. Voting and Apportionment
Chapter 12. Graph Theory
Chapter 13. Math and Art
About the Book
Contemporary Mathematics is designed to meet the scope and sequence requirements for a liberal arts mathematics course. This resource provides stand-alone sections with a focus on showing relevance in the features as well as the examples, exercises, and exposition. Contemporary Mathematics integrates technology applications, projects, and highlights a diverse group of contributors to mathematics, statistics, and related fields.
Print copies of this book will be available for the fall 2023 semester. You can sign up to be notified when print copies are available.
About the Contributors
Author
Donna Kirk, University of Wisconsin at Superior