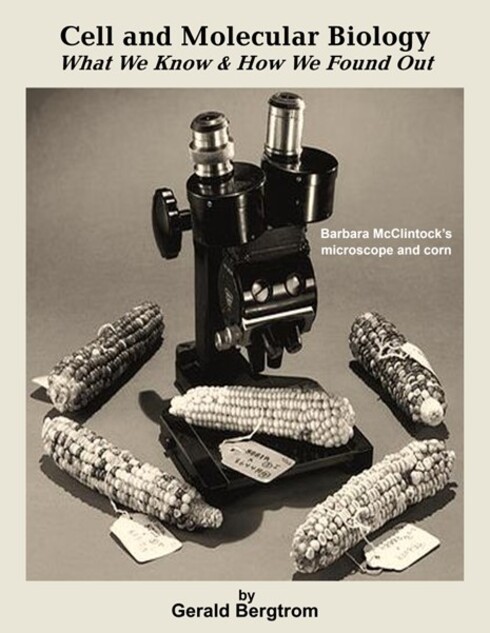 Cell and Molecular Biology: What We Know & How We Found Out - 5e
Gerald Bergtrom, University of Wisconsin, Milwaukee
Copyright Year: 2020
Last Update: 2023
ISBN 13: 9780996150279
Publisher: University of Wisconsin, Milwaukee
Language: English
Table of Contents
Preface
Chapter 1: Cell Tour, Life's Properties and Evolution, Studying Cells
Chapter 2: Basic Chemistry, Organic Chemistry and Biochemistry
Chapter 3: Details of Protein Structure
Chapter 4: Bioenergetics
Chapter 5: Enzyme Catalysis and Kinetics
Chapter 6: Glycolysis, the Krebs Cycle and the Atkins Diet
Chapter 7: Electron Transport, Oxidative Phosphorylation and Photosynthesis
Chapter 8: DNA Structure, Chromosomes and Chromatin
Chapter 9: Details of DNA Replication & DNA Repair
Chapter 10: Transcription and RNA Processing
Chapter 11: The Genetic Code and Translation
Chapter 12: Regulation of Transcription and Epigenetic Inheritance
Chapter 13: Posttranscriptional Regulation of Gene Expression
Chapter 14: Repetitive DNA, A Eukaryotic Genomic Phenomenon
Chapter 15: DNA Technologies
Chapter 16: Membrane Structure
Chapter 17: Membrane Function
Chapter 18: The Cytoskeleton and Cell Motility
Chapter 19: Cell Division and the Cell Cycle
Chapter 20: The Origins of Life
Epilouge
Appendix I: List of Figures & Sources
Appendix II: Context-Embedded Youtube Videos
About the Book
CMB5e is the latest edition of an interactive Open Educational Resource (OER) electronic textbook (iText), available under a Creative Commons CC-BY license. Like earlier editions, CMB5e opens with a short history of the discipline and a discussion of scientific method. The book remains focused on the understanding of evolution that informs all of the life sciences and continues to provide experimental support for what we know about cell and molecular biology. Having a sense of how science is practiced and how investigators think about experimental results is essential to understanding the relationship of cell structure and function, not to mention the natural world around us. CMB5e is available in three versions (plus a sample chapter):
In each chapter of the Basic CMB5e iText, an introduction includes learning objectives and context-embedded links to short explanatory voice-over PowerPoint recordings (VOPs) and other web-links of interest. QR codes allow the reader just-in-time access to the VOPs on smart phones or any camera-enabled portable device.
The Annotated CMB5e adds pre-written, interactive context-embedded Challenge boxes to the Basic version of the book. These contain open-ended questions that expand on text readings. Any or all of them can be the basis of informal class and online discussion or as graded assignments.
The Instructor's CMB5e iText adds a series of 25 Words or Less essay questions that the author used as short (i.e., easy to grade!) writing assignments to strengthen student's critical thinking and writing skills.
A CMB5e Sample Chapter.
The Art and Illustration Resource for Cell and Molecular Biology contains high resolution JPGs of figures in all CMB5 digital and print versions. JPGs are all public domain or CC-BY licensed (a source list is included).
About the Contributors
Author
Dr. Bergtrom is Professor (Emeritus) of Biological Sciences at the UW-Milwaukee and a former Teaching and Learning consultant in the UW-M Center for Excellence in Teaching and Learning. Scientific interests include cell, molecular and evolutionary biology. Pedagogic interests include the use of technology to serve active and engaged teaching and learning. He has taught face-to-face, fully online, blended and flipped classes. He also developed and co-instructed Teaching with Technology, an interdisciplinary graduate course for graduate students that might someday be teaching. In 40+ years of teaching and research, he has tested and adopted pedagogically proven teaching technologies in his courses. His scientific publications are supplemented by publications on active learning in all teaching modes. The first edition of his Cell and Molecular Biology What We Know & How We Found Out appeared in 2015. Further editions came out in 2016, 2018, 2019 and 2022.