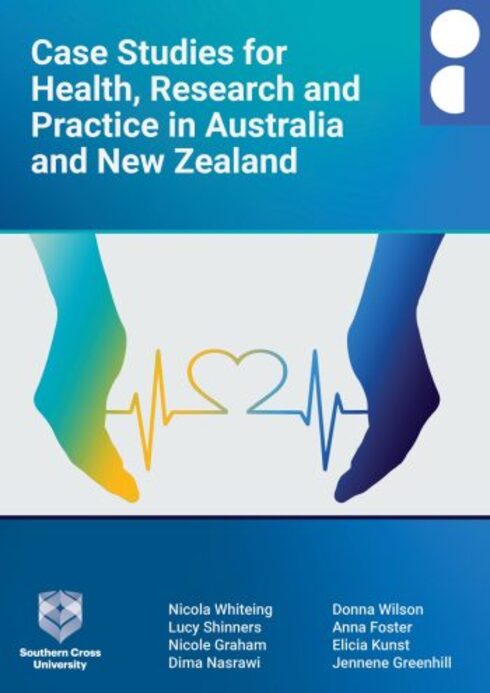 Case Studies for Health, Research and Practice in Australia and New Zealand
No ratings
Nicola Whiteing, Southern Cross University
Lucy Shinners, Southern Cross University
Nicole Graham, Southern Cross University
Dima Nasrawi, Southern Cross University
Donna Wilson, Southern Cross University
Anna Foster, Southern Cross University
Elicia Kunst, Southern Cross University
Jennene Greenhill, Southern Cross University
Copyright Year: 2023
Publisher: Council of Australian University Librarians
Language: English
Table of Contents
How to use this book
About the authors
Acknowledgement of Country
Accessibility statement
Versioning
Glossary of icons
Part 1: The Calos-Clark Family
Part 2: Lucy's Story
Part 3: The Shero Family
Part 4: The Lewis Family
Part 5: The Rossi Family
Review statement
About the Book
The OER includes case studies of 5 families from a variety of backgrounds in metropolitan and regional Queensland (QLD), New South Wales (NSW), and Victoria (VIC), Australia. Case studies have been popular in nursing to help students bring their learning to life and enhance their critical thinking. However, often case studies appear in one unit or one particular content area to aid students learning for a particular condition or point in time.
Taking a transformational, place-based approach, the OER case studies for health are set within metropolitan and regional areas, so learning is contextual and relatable. Case studies increase in complexity so that students can be introduced to and 'get to know' the families from their first year of study. As students progress through their studies, they meet the families again in different, often more complex scenarios. The families experience a variety of political and socio-economic circumstances, which helps students to learn about various healthcare contexts, build knowledge and understanding about the families' circumstances from a holistic, person-centred, interprofessional perspective, and engage at a deeper level.
About the Contributors
Authors
Associate Professor Nicola Whiteing is Course Coordinator (Interprofessional) at Southern Cross University. Nicola has worked as an academic since 2000 in both the United Kingdom and Australia. Nicola has a PhD from Central Queensland University and is a Senior Fellow of Advance Higher Education (previously the Higher Education Academy). Nicola has extensive experience in teaching and learning and curriculum design. Nicola teaches in both the nursing programs as well as coordinating the interprofessional portfolio of units across the wider Faculty of Health. Nicola's research interests include teaching and learning, curriculum, workforce development and capacity building with a particular focus on regional, rural and remote areas.
Lucy Shinners is a Lecturer at Southern Cross University. Lucy is a credentialed intensive care nurse of more than 20 years and more recently, a nursing academic. Lucy is an emerging voice in health and technology and technology research, completing a PhD that explored healthcare professionals' perceptions of artificial intelligence (AI) in the delivery of care. Lucy has a well established publication record and participates in collaborative research projects which empower healthcare professionals to harness the power of technology and aim to bridge the divide between health and technology.
Nicole Graham is a Lecturer at Southern Cross University. Nicole has a background in inpatient and community mental health nursing. Nicole has experience in interdisciplinary education and nursing leadership in a tertiary hospital and health service. Nicole also has experience in the coordination and review of transition to practice mental health programs. Nicole is a credentialed mental health nurse and is currently pursuing a PhD exploring trauma-informed care and interdisciplinary and lived experience mental health workforce. Nicole's passion is cultivating a suitably qualified and skilled workforce to optimise the care of people who experience mental illness as well as enhancing the transition to practice experience for health discipline students.
Dima Nasrawi is a Lecturer and Course Coordinator at Southern Cross University. Dima has experience in various clinical care settings in Australia and overseas. Dima has taught at the tertiary level since early 2017 across nursing programs (years 1-3). Dima has completed various postgraduate studies and is a fellow of the Higher Education Academy. Dima is also a unit assessor across nursing programs and coordinates the Bachelor of Nursing – Enrolled Nurse to Registered Nurse pathway. Dima is completing her PhD in the area of inpatient rehabilitation following cardiac surgery, holds a well-established publication record and participates in research collaborations on a national and international scale.
Donna Wilson is a Lecturer at Southern Cross University. Donna has a clinical background of over 12 years in ICU nursing and has completed postgraduate studies that support her critical care nursing and educator specialties: Graduate Certificate, Gradudate Diploma, and Master of Advanced Practice. Donna has worked in tertiary education since 2018 and has 5 years' experience in leadership roles of unit assessing in the undergraduate and postgraduate nursing education spaces. Donna is completing her PhD in the area of innovation in mobile technology that supports undergraduate nursing students in the work-integrated learning environment, and is immersed in the processes of writing, publishing and presenting her PhD work. Donna has experience in innovative education design, particularly utilising mobile technology to link theoretical concepts to the clinical environment. Donna is currently unit assessing, and teaching into the undergraduate and master of nursing programs.
Anna Foster is a Lecturer (Teaching Scholar) Southern Cross University. Anna has an 18-year background in intensive care nursing, surgical ward nursing and midwifery. Anna has completed postgraduate studies in various areas, including academic practices. Anna has been teaching in the tertiary environment since 2012, after returning from the UK, where she worked as a nurse educator with a large London-based trust. Anna has worked at Southern Cross University as a placement coordinator, lecturer, unit assessor, and course coordinator of the Enrolled Nurse to Registered Nurse Pathway Program. Anna has an interest in climate change, climate health, and workforce adaptation and resilience in the face of climate risk. Anna hopes to commence her PhD in the near future with a focus on this area.
Elicia Kunst is a Lecturer (Teaching Scholar) at Southern Cross University. With nearly 20 years' clinical experience in emergency care, Elicia's qualifications include Master of Advanced Practice (Nursing), Graduate Certificate in Health Professional Education (Nursing), Bachelor of Naturopathy (Health) and Bachelor of Nursing.
Professor Jennene Greenhill is Chair of Nursing at Southern Cross University. Jennene leads a young dynamic team across 3 campuses spanning the border of Queensland and New South Wales. Her national and international profile in rural health is a result of social accountability research and transformative education that aims to change health service culture, improve clinical practice and build the health workforce. Jennene has led several large research grants including NHMRC and Department of Aged Care Services (DACS) grants for innovation in aged care. Jennene was previously Professor of Rural Health, University of Western Australia, leading the national evaluation of the regional training hubs. Jennene was also director of the award-winning Flinders University Rural Health, initiated the Masters of Clinical Education, and was appointed by the health minister as deputy chair of the South Australian Health Performance Council. In Jennene's role as the national chair of FRAME (Federation of Rural Academic Medical Educators), she collaborated with others passionate about rural health to influence policy change.