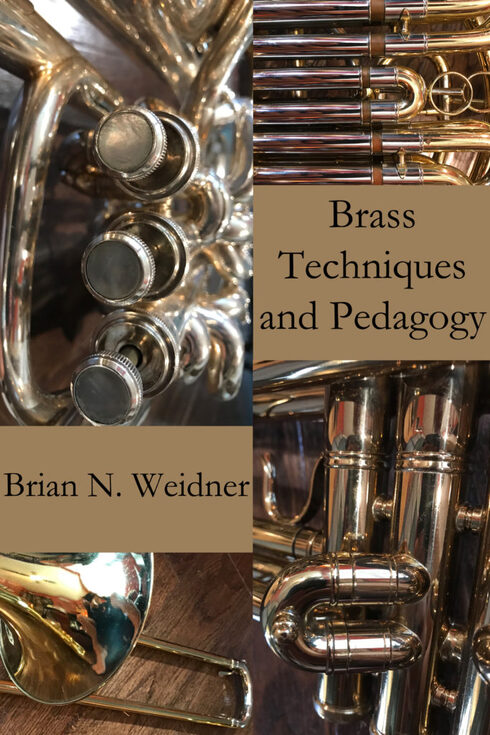 Brass Techniques and Pedagogy
Brian Weidner, Butler University
Copyright Year: 2020
Publisher: Palni Press
Language: English
Table of Contents
I. General Brass Techniques and Pedagogies
II. Instrument Specific Techniques and Pedagogies
III. Guided Practice Lessons
IV. Resources and Activities
About the Book
Textbook for undergraduate brass methods course focusing on brass instrument techniques and pedagogy.
About the Contributors
Author
Brian N. Weidner is the assistant professor of instrumental music education at Butler University. He holds a Ph.D. in Music Education from the Bienen School of Music at Northwestern University. Additionally, he holds an M.M. Music Education from Northern Illinois University, a M.Ed. School Leadership from Olivet Nazarene University, and a B.M.E. Music Education/B.A. English from Illinois State University.  
Before coming to Butler, he was a lecturer in the music and education departments at Lake Forest (IL) College. Previously, he taught at McHenry (IL) High School for 12 years, serving as its Fine Arts Coordinator, Director of Bands, and Music Theory Instructor, and is a National Board-certified teacher.
He has published articles in the Bulletin of the Council for Research in Music Education, Journal of Music Teacher Education, Journal of Research in Music Education, Music Educators Journal, Psychology of Music, and multiple state and local journals, was a contributing author of a chapter in The Music and Literacy Connection. He has presented nationally and internationally at conferences including NAfME, RIME, SMTE, and CMS. His academic interests include investigating the relationship between music and literacy, the development of independent musicianship through large ensemble instruction, and the use of disruption in self-replicating cycles in teacher education.
At Butler University, he teaches courses in the undergraduate and graduate music education program, including Brass Techniques. Additionally, he serves as the co-director of the Butler University Symphonic Band.
Dr. Weidner can be reached at bweidner@butler.edu.