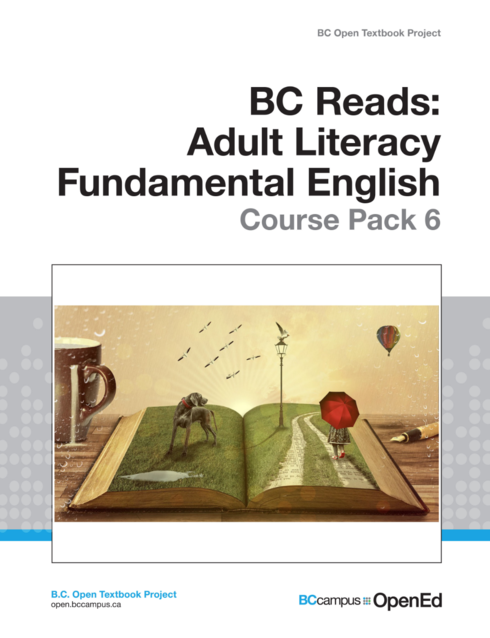 BC Reads: Adult Literacy Fundamental English Course Pack 6
Shantel Ivits, Vancouver Community College
Copyright Year: 2015
Publisher: BCcampus
Language: English
Reviews
Reviewed by Laurie Dickinson, Instructor, Lord Fairfax Community College on 4/4/21
The design of the text is digital with reading links and other course links that include an OER companion text, downloadable organizers, and technology tutorials. Many of the text readings include spotlights on previous student digital stories,... read more
Reviewed by Laurie Dickinson, Instructor, Lord Fairfax Community College on 4/4/21
Comprehensiveness rating: 5 see less
The design of the text is digital with reading links and other course links that include an OER companion text, downloadable organizers, and technology tutorials. Many of the text readings include spotlights on previous student digital stories, and include such diverse topics as AIDS, divorce, and cultural erasure. The writing tasks include cause and effect, opinion, summary, narrative, and descriptive writings. These writing tasks are broken into four processes: thinking organizing, editing, and revising. The appendixes at the end of the text also have downloadable writing checklists that students can use or as peer reviews. The grammar exercises include sentence structure, punctuation, agreement, and formal vs. informal language. The chapters also include vocabulary building and word pattern understanding with exercises that focus on vocabulary from the course readings, and word patterns such as prefixes and suffixes. Answer keys for all exercises are included at the end of each chapter. The exercises are not interactive, so students will have to type answers or write them. A possible drawback to this is that students won't complete the exercises, or if the exercises are part of the class assessment, students might copy the answers from the answer key. Overall, though, the text is an incredible learning journey, that offers thorough guidelines for creating a digital story and that includes developing skills for successful college writing in the digital age.
Content Accuracy rating: 5
The text is accurate and unbiased.
Relevance/Longevity rating: 5
The links the text offers can easily be updated and are especially beneficial to online and hybrid courses. The quizzes and other assessments will need to be copied to the instructor's learning management system as they are not interactive.
Clarity rating: 5
The text is not only clear but includes activities and links to help with understanding the course objectives.
Consistency rating: 5
Each chapter follows the same format. There are answer keys for each exercise included for self-assessments.
Modularity rating: 5
The text is organized with an end in mind--a digital story. The chapters can be used individually as guided practices for vocabulary, grammar, reading comprehension, and writing. However, due to the structure of the text which builds up to a final digital project, the text is not conducive to reorganization.
Organization/Structure/Flow rating: 5
Each chapter identifies learning goals at the beginning. Also, each chapter contains pre-reading questions that can be used for individual reflection, journaling, or class discussion; vocabulary-building exercises; word strategies; comprehension questions; grammar lessons and practice exercises; and, writing tasks.
Interface rating: 5
The text is free of interface images.
Grammatical Errors rating: 5
The text did not appear to contain grammatical errors.
Cultural Relevance rating: 5
The activities cover a wide range of cultural examples. The readings have a digital story highlight that includes stories from people of a variety of backgrounds.
Comments
This text is a great way to engage the developmental student in preparation for college writing. It covers reading, writing, grammar, vocabulary and technology--all the skills the 21st-century student needs to be successful in college writing.
Table of Contents
Storytelling Goes Digital
What's Your Story?
What's Your Message?
Setting the Tone
Writing the Script
Seeing and Hearing Your Digital Story
Getting Started With WeVideo
Bringing It All Together
Sharing Your Digital Story
About the Book
This course pack is designed to meet the learning outcomes for Adult Literacy Fundamental English Level 6 (roughly equivalent to grades 7.5 to 9 in the K-12 system). Every chapter includes a level-appropriate, high-interest reading of between 500 and 1,000 words. The readings are freely available in a separate reader with convenient links to the readings in each chapter of this course pack. Font size and line spacing can be adjusted in the online view, and have been enhanced for the print and PDF versions for easier reading. This course pack has been reviewed by subject experts from colleges and universities.
About the Contributors
Author
Shantel Ivits is an instructor in the Basic Education Department at Vancouver Community College, on the unceded territories of the Musqueam, Squamish, and Tsleil-Waututh Nations.
Shantel has designed curriculum for the National Film Board of Canada, the British Columbia Teachers' Federation, and many community-based projects.
Over the past decade, they have taught in literacy programs, university bridging programs, an ESL academy, and K-12 public schools.
They hold a Bachelor of Arts in English Literature from Trent University, as well as a Bachelor of Education and a Master of Arts in Educational Studies from the University of British Columbia.
Shantel identifies as a queer and trans person with white settler privilege. Their goal as an educator is to help people build their capacity to reach their goals and create more socially just communities.
Shantel also enjoys raising awareness that 'they' can be used as a singular pronoun!